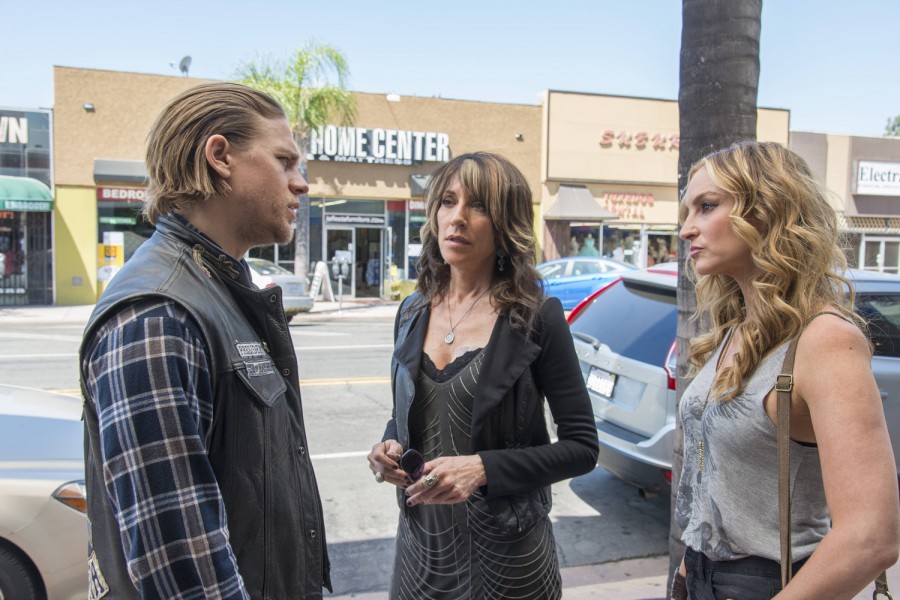 Photo: Prashant Gupta/ FX Network
[Spoiler Alert from previous season]
Tuesday September 9th marks the beginning of the end for FX's hit grit series "Sons of Anarchy" at 10PM ET/PT. For the past six seasons, we have seen many come and go; most from a bullet to the head or chest. Jax Teller (Charlie Hunnam) has been struggling to lead his motorcycle club (MC) out of the gun business. This has proven to be more challenging than expected; putting more of his loved ones in a box six feet under.
As we ride into the final season, one strong theme remains: keeping the family together. With Tara, the love of Jax's life brutally murdered, he enters into season seven with a new kind of cold blood running through his veins. Instead of the heated club leader we've come to know, Jax is more in the vein of a silent and slow-moving tiger hunting for its prey. He has one goal in mind: to seek revenge. It's just 10 days after Tara's death, with Jax in jail on a parole violation. Behind bars we are introduced to Ron Tully (Marilyn Manson), a white supremacist prison shot-caller who Jax uses to expand his power base.
Meanwhile, 'Juice' (Theo Rossi) is in hiding after Jax discovered he snitched on the club. As he shakes in his boots, Juice is staying at Wendy's (Drea de Matteo) apartment with Gemma's (Katey Sagal) permission. But with Wendy suddenly back from rehab early and good ol' Wayne Unser's (Dayton Callie) suspicions, it's only a matter of time before Juice is running through the woods with a gun to his head or he runs straight out of town.
This particular season premiere is darker and slower than usual, mostly due to the mourning of Tara. Characters tip-toe around Jax's potential short-fuse, especially the ultimate mommy dearest, Gemma. With the MC back around the table again, each member gives Jax their undivided attention and support in seeking merciless retribution.
While the club celebrates the opening of their new porn/brothel location, Jax gets a lead for Tara's potential killer. As he takes out his knives to play a game called 'revenge,' there's still no telling whether the real murderer of his beloved wife will ever come to Jax's knowledge. But since 'whatever goes around, comes around' is the norm for SOA storylines, family blood could spill yet again. It's only a question of when.
Now the real question is, who's next and will this be an 'and then there was one' final season?
Our predictions on who gets the boot: (in order of mention) Wayne Unser, Juice, Gemma.
After the season seven premiere, FX will air its live post-show, "Anarchy Afterword" immediately following at 11:50 PM – 12:30 AM ET.Hosted by comedian Chris Franjola (Chelsea Lately), the premiere episode of "Afterword" will feature interviews with SOA creator/showrunner Kurt Sutter and series stars Charlie Hunnam ("Jax") and Katey Sagal ("Gemma"), as well as show clips and other exclusive content.
By Pamela Price