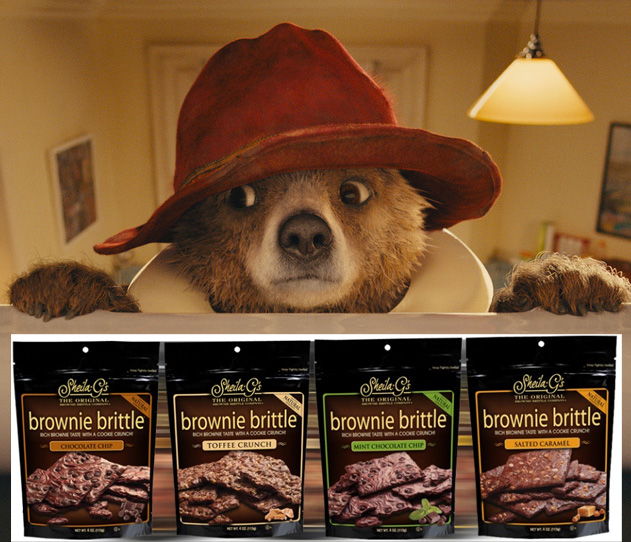 Sheila G's Brownie Brittle, the perfectly indulgent and chocolaty gourmet brownie snack (we know because we've indulged ourselves), has formed a sweet partnership with The Weinstein Company to celebrate the release of its new film, Paddington. From the producer of the Harry Potter franchise, and starring Nicole Kidman, Paddington opens in theaters December 25.
Now Mom can bring home the world's most adventurous bear in his blue duffle coat and wellies, with Brownie Brittle's limited edition Paddington six-pack, the hottest back-to-school snack. Perfect for a night at the theater, the whole family will love "the best part of the brownie" in 120-calorie single serving packs, the ultimate movie treat!
The new Brownie Brittle Paddington 6-pack will start hitting Safeway, Wegman's and many more grocers this month and is available in Chocolate Chip, the original and most popular Brownie Brittle flavor.   
Brownie Brittle and Delta Vacations also announce the Paddington Premiere Sweepstakes to celebrate the year's best family film. One lucky entrant and three guests will win a once-in-a-lifetime trip to New York City and the chance to walk the red carpet with Sheila G and Paddington Bear himself during the VIP Premiere. 
The sweepstakes begins on September 5th and runs through October 28th, 2014.  The winner will be selected October 29th, 2014. For a chance to meet Paddington Bear, simply visit http://bit.ly/BBPaddington.
Paddington tells the story of the comic misadventures of a young Peruvian bear who travels to the city in search of a home.  Finding himself lost and alone, he begins to realize that city life is not all he had imagined – until he meets the kindly Brown family who read the label around his neck that says "Please look after this bear. Thank you," and offer him a temporary haven. It looks as though his luck has changed until this rarest of bears catches the eye of a museum taxidermist.
Paddington is directed by Paul King and stars Hugh Bonneville, Sally Hawkins, Jim Broadbent, Julie Walters, Peter Capaldi, Nicole Kidman and Ben Whishaw as the voice of Paddington.
For more exciting adventures of Paddington Bear, visit www.paddington.com/gb/the-movie.
Sheila G's Brownie Brittle is available in thousands of stores across the globe and has been honored with numerous awards. In 2013 alone, Brownie Brittle was named "Editor's Pick" for The Gourmet Retailer Magazine, won a Self Magazine Healthy Food Award, was one of "7 Fabulous Finds" at Oprah.com, was "Editors' Pick" for Progressive Grocer Magazine, was selected as one of Fitness Magazine's Healthy Food Award Sweet Treats, and was named a Finalist in "Best New Snack Product" at NCSA.
Brownie Brittle is available in various sizes and flavors at major retailers including Costco, and online at www.BrownieBrittle.com.