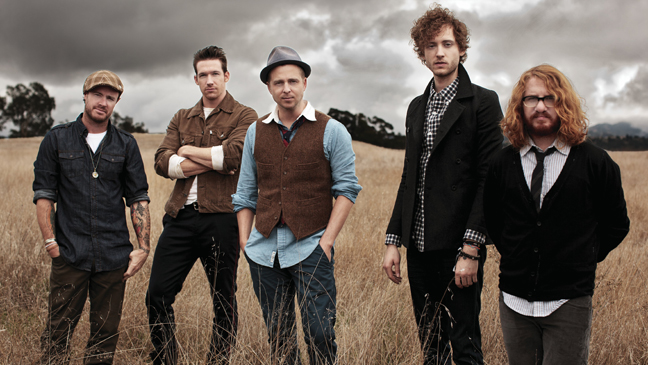 Grammy nominated artitsts OneRepublic have written a new track to appear in TWC's upcoming blockbuster, "The Giver." The new single, "Ordinary Human," is specially made for the movie which will be released August 15th nationwide.
"'The Giver' is a favorite book of ours and we're all incredibly thrilled to see it brought to the big screen, said Ryan Tedder of OneRepublic. "It's a huge honor to contribute our music to a movie that's not only an amazing story, but also has a cast of actors that we admire so much, like Jeff Bridges and Meryl Streep. We hope our fans are just as excited about it as we are."
OneRepublic released their debut set Dreaming Out Loud in 2007. The album included the smash single "Apologize," which shattered digital sales and airplay records worldwide and received a Grammy nomination. The band's sophomore album, 2009's Waking Up, produced three singles: "All the Right Moves," "Secrets" and "Good Life." OneRepublic released their third studio album, Native, in March 2013 where it debuted at No. 4 on the Billboard Top 200 chart. The set includes hits "If I Lose Myself," "Feel Again" and "Counting Stars," which reached #1 at Top 40 radio and has sold over 4.9 million downloads.  OneRepublic is currently in the midst of their Native Summer Tour in support of new single "Love Runs Out."
Directed by Phillip Noyce with a screenplay by Michael Mitnick and Robert B. Weide, the film's all-star cast includes Meryl Streep, Jeff Bridges, Brenton Thwaites, Alexander Skarsgard, Katie Holmes, Odeya Rush, Cameron Monaghan and Taylor Swift.
The haunting story of "The Giver" centers on Jonas (Thwaites), a young man who lives in a seemingly ideal, if colorless, world of conformity and contentment. Yet as he begins to spend time with The Giver (Bridges), who is the sole keeper of all the community's memories, Jonas quickly begins to discover the dark and deadly truths of his community's secret past. With this newfound power of knowledge, he realizes that the stakes are higher than imagined – a matter of life and death for himself and those he loves most. At extreme odds, Jonas knows that he must escape their world to protect them all – a challenge that no one has ever succeeded at before. "The Giver" is based on Lois Lowry's beloved young adult novel of the same name, which was the winner the 1994 Newbery Medal and has sold over 10 million copies worldwide.
Listen to the song at http://trailers.apple.com/trailers/weinstein/thegiver/