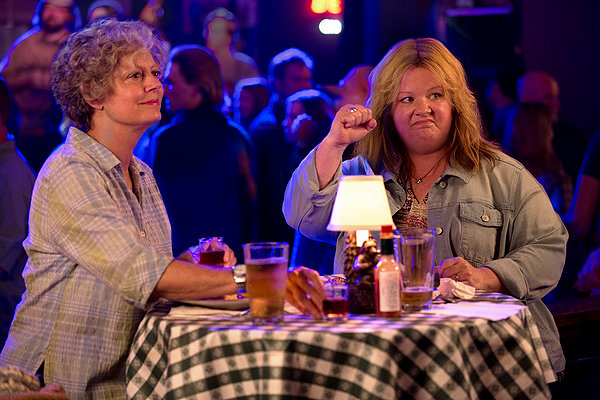 Melissa McCarthy is hands down the best female comedic actor working in Hollywood today. If you don't agree with me, then you should stop reading this review right now. But seriously, if you can come up with a better Tinsel Town funny woman, please let me know. Find me on the street. At work. Shopping for groceries. Whatever. Because between her career making performance in "Bridesmaids", and the completely unexpected hit "The Heat, " McCarthy has proven that she doesn't just make people laugh, she commands quite the presence at the box office.  With her latest farce "Tammy," co-written and directed by her husband Ben Falcone (Bad Words), the actor's larger than life shenanigans hit the road in a comedy that spans from the suburbs of Illinois to the cascading waterfalls of Niagara Falls. Strap in, grab some snacks, and prepare for a road trip that's definitely worth taking.
In typical McCarthy form, her titular character Tammy is a lovable schlub. She's one of those deeply American folk who find huge wooden sculptures of bald eagles totally awesome and has no problem eating fast food three times a day. Luckily for her, she doesn't have to go far for the latter. She works at a fast food joint!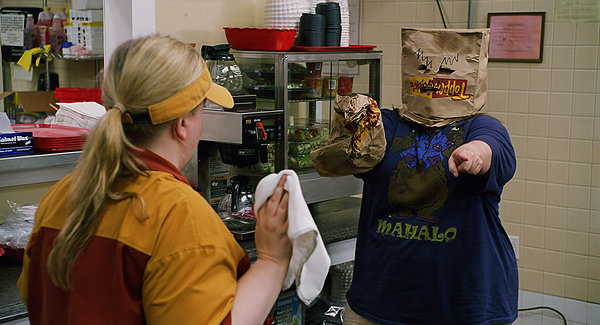 After totaling her car on her way to said establishment—known as Topper Jacks—Tammy quickly finds out that her constant tardiness has cost her a job. Her misfortunes continue to plummet as she makes her way home only to learn that her husband (Nat Faxon) is cheating on her. With nowhere to go, she heads to her mother's (Allison Janney) house after what could quite possibly be the worst string of bad luck ever.
Tammy's hardship, however, coincides with everything that is funny about the movie. Reminiscent of the late Chris Farley, McCarthy's Tammy is rough around the edges in all the right ways. Whether she's flicking dandruff on a tray full of Topper Jack cheeseburgers or staging an impromptu robbery, Tammy is so comfortable in her own skin, she doesn't care what anyone around her thinks. With a screenplay by McCarthy and Falcone, the pair holds off on dialogue driven jokes, and lets McCarthy's knack for physical comedy carry the show.
Tammy's brazen demeanor gets more than just a little workout, because soon after her homecoming, Tammy hits the road with her pill popping, alcoholic grandma Pearl (Susan Sarandon) for the cross country trip of a lifetime! Well, not really. Actually, they have no idea where they want to go. Pearl suggests Niagara Falls. Tammy, on the other hand, is incapable of thinking that far in advance. She just wants to run away and reset her life. She certainly gets a life reset during this trip. She also gets to perform a Viking burial for a jet ski among other wacky things.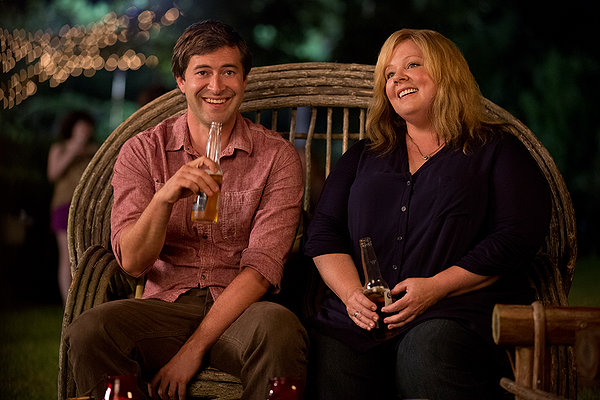 For anyone that has ever seen a Melissa McCarthy movie, "Tammy" is another comedic tour de force from the film's top billed cast member. Despite the script's shortcomings, McCarthy's energy and ability to steal every scene she's in, drives the motley duo of Tammy and Pearl from state to state.
It's also a testament to McCarthy's husband/director Ben Falcone for continuously finding the right moments to feature his wife on screen. "Tammy" might be his first feature film project, but the talented actor proves that he's equally adept behind the scenes.
As McCarthy is busy doing her thing, it's the Oscar winning actress Susan Sarandon (Thelma & Louise) that is the biggest surprise of the film. Her Pearl character is a downright rotten old drunkard, yet Sarandon is somehow able to turn these despicable traits into something that is bizarrely comforting and lovable.
McCarthy and Sarandon account for much of the screen time, but smaller roles from Kathy Bates (Misery)—hilariously playing Tammy's lesbian aunt—and Gary Cole (Office Space)—as Pearl's suitor—are definitely worth mentioning. It's also a momentous occasion whenever the '80s comedy legend Dan Aykroyd (Ghostbusters) makes a modern day big screen cameo. This time around, he is perfect as Tammy's vindictive father Don.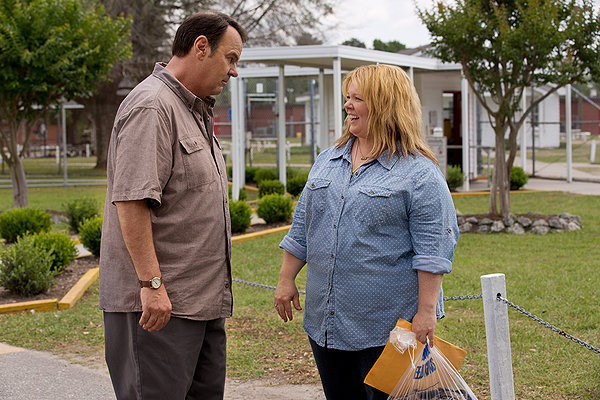 The sad and simple truth of road trip comedies, however, is that they tend to get a bit dull when the hijinks and hilarity don't ramp up with every twist and turn. Sadly, "Tammy" is unable to elude this pitfall. About midway through the film, Falcone and McCarthy try to infuse a little romance into the mix by introducing Bobby (Mark Duplass), a sweet and wholesome Kentucky farmer who may or may not be a perfect fit for Tammy. Unfortunately, whereas McCarthy is incredible with her comedic bits, she struggles when it comes to creating believable romance. Add to that a one note, awkward performance from Duplass (The League) and all of the love-dovey stuff should've just been axed all together.
Even with this inconvenient side plot, "Tammy" is perfect summer fare for the Fourth of July. It's 96 minutes of pure, American comedy. It's also by far the funniest and most fun way to take a road trip this extended holiday weekend.
By David Morris
Running Time: 96 minutes
Rated R for language including sexual references