Lenny Kravitz has announced the release of "The Chamber," the first single off his highly anticipated tenth studio album Strut. The new album will be available for pre-order on iTunes starting, June 24th with "The Chamber" provided as an instant gratis track. In addition, the artist has released the album's cover art, as well as exclusive album details including the track listing and a lyric video for "The Chamber," which is premiering on Vevo today. Lenny Kravitz has also announced details of the first leg his world tour, which will kick off October 22nd in Moscow, Russia at Crocus City Hall. Tickets for the 40-city tour of Europe, the UK and Russia begin to go on sale starting on Friday, June 27th.
Kravitz's tenth studio album Strut will be released on September 23rd, 2014 via Roxie Records/ Kobalt Label Services. The release's twelve songs includes such titles as "New York City," "I Never Want to Let You Down" and "She's a Beast." These songs wear their heart on their sleeve, and that's the way Kravitz intended it. He's had massive hits over the years and sold nearly forty million albums. Now is a perfect time to get to the heart of the matter.
"This record brought me back to a place of what I love so much about music," Kravitz says, "back to the feelings I had when I was in high school. It's a real rock & roll record – it's raw, it's got soul and it came together really quickly."
As always, Kravitz plays guitar, bass, keyboards and drums and percussion on the album, and produced and arranged it as well. To provide the final defining touch on Strut, however, Kravitz called on the legendary Bob Clearmountain to mix the album (David Bowie's Let's Dance, the Rolling Stones' Tattoo You and Bruce Springsteen's Born in the U.S.A.)  The track listing for Strut is as follows:
1. Sex
2. The Chamber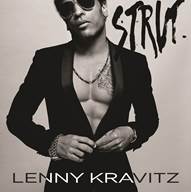 3. Dirty White Boots
4. New York City
5. The Pleasure and the Pain
6. Strut
7. Frankenstein
8. She's a Beast
9. I'm a Believer
10. Happy Birthday
11. I Never Want To Let You Down
12. Ooo Baby Baby
TOUR DATES:
Oct. 22nd                               Moscow, Russia                          Crocus City Hall
Nov. 1st                                 Minsk, Belarus                             Arena
Nov. 3rd                                Lodz, Poland                                Atlas Arena
Nov. 5th                                Berlin, Germany                           O2 World
Nov. 7th                                Frankfurt, Germany                      Festhalle
Nov. 8th                                Stuttgart, Germany                       Schleyerhalle
Nov. 10th                              Milan, Italy                                    Mediolanum Forum
Nov. 12th                              Austria, Vienna                             Stadhalle
Nov. 13th                              Prague, Czech Rep.                     O2 Arena
Nov. 15th                              Munich, Germany                         Olyumpiahlle
Nov. 16th                              Zurich, Switzerland                       Hallenstadion
Nov. 18th                              Oberhausen, Germany                 Konig-Pilsener Arena
Nov. 19th                              Amsterdam, Holland                     Ziggo Dome
Nov. 21st                              Antwerp, Belgium                         Sportpalais
Nov. 23rd                              Paris, France                               Palais Omnisport De Bercy
Nov. 25th                              Geneva, Switzerland                    Arena De Geneve
Nov. 26th                              Dijon, France                                Zenith
Nov. 28th                              Lyon, France                                Halle Tony Garnier
Nov. 30th                              Nice, France                                 Nikaia
Dec. 1st                                Marseille, France                          Le Dome
Dec. 3rd                                Bordeaux, France                        Patinoire Meriadeck
Dec. 6th                                London, UK                                  Wembley Arena
Dec. 8th                                Lille, France                                  Zenith
Dec. 9th                                Lux City, Luxembourg                   Rockhal
Dec. 11th                              Nantes, France                             Zenith Mantes Metropole
 
* Additional dates will be announced in the coming weeks
For more album and ticketing information go to http://www.lennykravitz.com/.