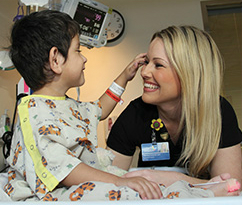 They call it "the kissing station."
It's the last moment parents are with their kids before going through the doors of the operating room. And when they say that goodbye outside the operating room—there are a lot of emotions.
Dawna Willsey, Children's Hospital Los Angeles' Education Manager sees many scared children, but their parents are always brave, reassuring their child that everything will be all right, even if they themselves are afraid. As parents release their child into the care of operating room nurses, a moment of reassurance between the nurse and parent is shared, no matter what.
This is really what nursing is all about at CHLA. She believes in operating room nurses, and they believe in what they can do together for kids and their families—so much so that for every donation made before May 31, their staff will match it dollar for dollar to support the programs at CHLA.
Help parents stay brave for their children by supporting all the work that we do at Children's Hospital, and your donation will be matched dollar for dollar by CHLA nurses and staff.
Building a relationship with patients is at the very heart of being a good nurse—but in my many years as a nurse at CHLA, I've found that some of the most important relationships I build are with the parents and families of my young patients. They need to know that we are keeping their child safe at all times while they can't—especially in the operating room, where their child is most vulnerable.
There are only a few days left to make twice the impact for children under our care. Don't miss your chance.