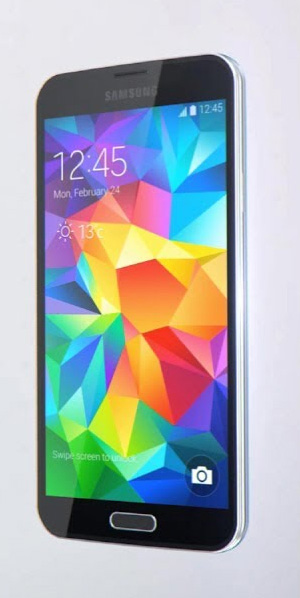 Engineered to keep up with your active lifestyle, AT&T and Samsung announce the Samsung Galaxy S® 5 Active™, the next step of the popular Galaxy S® 5 designed to withstand the bumps and bruises of everyday life. Beginning today, the Galaxy S 5 Active is available online and in AT&T stores for zero down or no annual contract. The device is also available for $27.50 per month with AT&T Next 18, $35.75 per month with AT&T Next 12 or $199 with a two-year agreement2. Additionally, customers can save $50 on a Samsung Gear Fit when they purchase the Galaxy S 5 Active.
With shock resistant, water resistant, and dust proof3 casing, the Galaxy S 5 Active has a variety of features that make it the ideal fit for active lifestyles:
Press the convenience key on the side of the Galaxy S 5 Active to launch all of your apps related to outdoor activity, in one place for easy access.
Track your heartbeat with the built-in heart rate monitor.
Keep count of your steps throughout the day, earn medals, and request on-demand nutrition tips with S-Health™.
The Galaxy S 5 Active has a 2.5GHz quad-core processor and uses Android 4.4 Kit Kat, ensuring that you can move between applications quickly and smoothly, while on the nation's most reliable 4G LTE network. Ultra Power Saving Mode allows you to still take that important call even though you're running low on battery. It shuts off the non-essential apps and turns the screen to black and white, so you get the maximum battery life.
The Galaxy S 5 Active also offers customers a wide range of entertainment features. The 5.1 inch Full HD Super AMOLED® display shows video in 1080p, so you can watch the video from your rafting trip. The 16 megapixel rear-facing camera with digital zoom makes it easy to capture the perfect picture on your next hike with stunning clarity.
For a closer look at the Galaxy S 5 Active, check out this Mobile Minute video.
The Samsung Galaxy S 5 Active earned five out of five stars on AT&T's Eco-Rating system. The system, which addresses select environmental attributes of AT&T branded handset devices, was created to empower consumer choice around sustainability. For more information about this device's rating, AT&T's Eco-Rating System, and how you can join AT&T in making a difference, please visit http://att.com/ecospace.
Visit www.att.com/galaxys5active for more on the Galaxy S 5 Active.