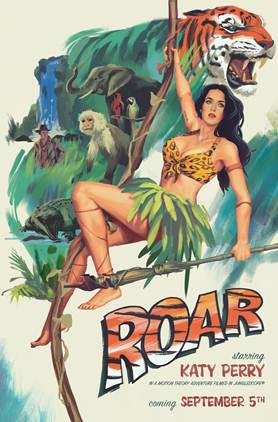 Global pop superstar Katy Perry has scored her eighth No. 1 single onthe Billboard Hot 100 with the platinum selling "Roar," from herforthcoming album, PRISM. With her previous album, Teenage Dream, Katy became the first woman in chart history to score six Hot 100 No. 1 singles from one album. The GRAMMY®-nominated album debuted at No. 1 on the Billboard 200 in 2010.
The official video for MTh's Grady Hall and Mark Kudsi co-directed "Roar" premiered today on VEVO and can be seen here: smarturl.it/ROARvid
This Friday, September 6, Katy will appear on Good Morning America to reveal the cover for PRISM on the Times Square jumbotrons.  Katy will also be making a very big announcement on the show that same day.
Katy will perform at the iHeart Radio Festival in Las Vegas on September 20 and close the iTunes Festival at The Roundhouse in London on September 30.  She recently closed out the 2013 "MTV Video Music Awards" with her first-ever live performance of "Roar."
On October 22, Capitol Records will release her new album, PRISM (preorder for the album is currently live) that follows Teenage Dream, which contained the hits "California Gurls," "Teenage Dream," "Firework," "E.T.," "Last Friday Night," "Part of Me" and "Wide Awake".