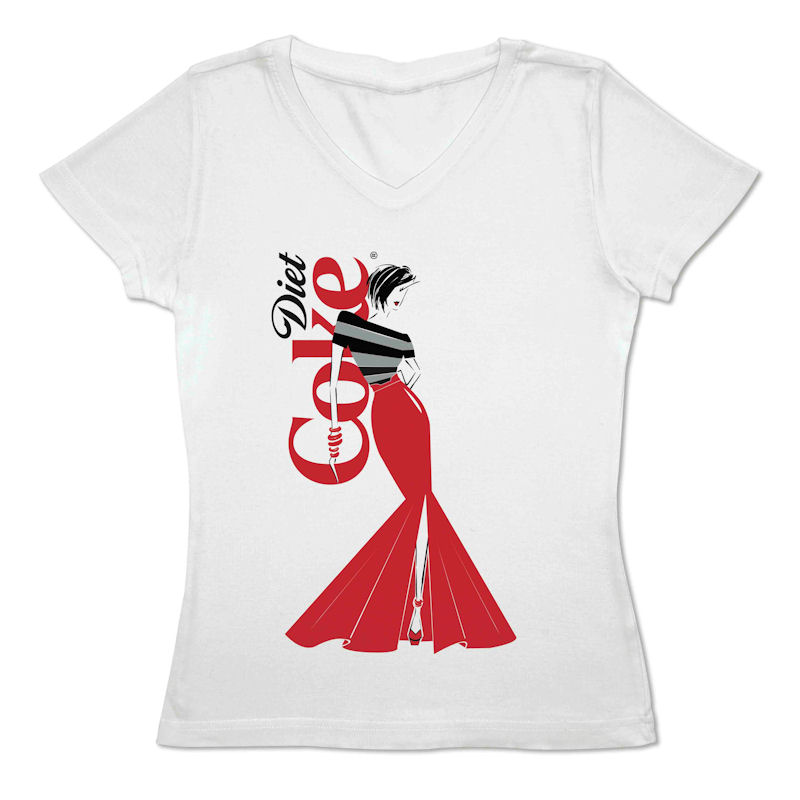 Fusing our favorite soda drink and fashion: Diet Coke will launch a new, limited-edition T-shirt available exclusively in Target stores.
The new T-shirt is the winning design from the second season of the Diet Coke Young Designer Challenge. Part of the brand's iconic "Stay Extraordinary" platform, the challenge asked creative individuals to create an original T-shirt design inspired by the extraordinary style of Taylor Swift and the people who enjoy Diet Coke every day. Hundreds of designs poured in from across the country from eager, aspiring designers looking for the ultimate career boost – to see their design on Target store shelves.

"Diet Coke is more than just the great-tasting smart boost staple in the lives of fashionistas. It's the ultimate accessory," said Caroline Kibler, senior brand manager for Diet Coke. "The brand is synonymous with style, and fashion-focused programs like the Young Designer Challenge put the extraordinary talents of our fans in the spotlight."
A public vote on social media in June narrowed submissions down to 10 finalists, and a fashionable judging panel, led by acclaimed designer Rebecca Minkoff, selected the winning design. The panel selected a creation from Brooklyn-based Julianna Bass as the grand-prize winner of the Young Designer Challenge. A rising star in the fashion world with experience working for several top designers, Bass edged out the competition with a glamorous sketch of a self-assured woman in a dramatically flaring red skirt leaning on a Diet Coke logo.
In addition to being the judging panel's favorite, Bass's design also won the popular vote online. Of the more than 135,000 votes submitted during the public voting phase, Bass's design stood out as the clear frontrunner from the beginning.
"The new Diet Coke T-shirt is a refreshing take on the classic white tee," said Rebecca Minkoff, designer and Diet Coke Young Designer Challenge season-two judge.  "Julianna's design perfectly captures the energy and boost that Diet Coke provides."
Bass will receive an extraordinary portfolio boost as the winner of the Diet Coke Young Designer Challenge. In addition to having her design sold in the beverage aisle in all U.S. Target stores beginning Sept. 1, she receives a $10,000 cash prize to pursue creative endeavors and a fly-away trip to meet Swift at one of her final U.S. RED Tour stops in Nashville, Tenn., next month.
The celebration of extraordinary style continues in New York City throughout September, when Diet Coke will sponsor multiple events to bring extraordinary taste to fans in the fashion capital of the country. Diet Coke fans also can win a new fall wardrobe simply by showing how they would style the winning T-shirt design in a Pinterest contest launching August 27. Contest rules and restrictions available at http://CokeURL.com/dv4m.