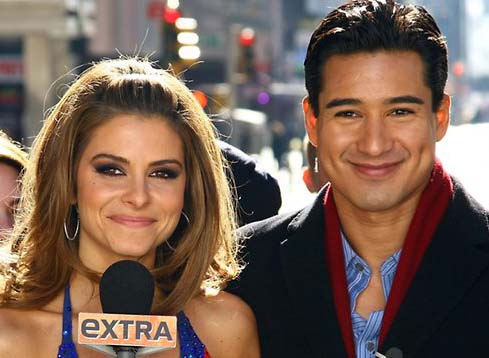 "Extra" has abruptly picked up and moved from "The Grove" to Universal Studios Hollywood. Universal will serve as the new headquarters for "Extra" as of Monday, September 9, 2013 hosted by Mario Lopez and Maria Menounos in front of a live audience. Mario and Maria will broadcast from a variety of locations throughout Universal Studios Hollywood and Universal CityWalk, home to the iconic world famous Studio Tour, groundbreaking thrill rides, chance encounters with celebrities, the world's largest working movie and television studio and a wide array of dynamic retailers and restaurants.
Fans of "Extra" and theme park guests visiting from around the world will have a chance to participate in "Extra's" daily "entertainment event," which takes place Monday through Friday from 10:00am to 4:00pm and will include live appearances from A-List film and television actors, musicians, athletes and newsmakers. Fans will also be able to interact with Mario and Maria, with a chance to ask questions, pose for pictures, get autographs, enjoy live musical performances and see their favorite stars up close and personal.
Celebrity guests kicking off the month of September will include, Hugh Jackman, Vin Diesel, Eva Longoria, Jack Black, Sofia Vegara, Ariana Grande, plus more.
"Extra's" Senior Executive Producer Lisa Gregorisch-Dempsey says, "We are thrilled to partner with Universal Studios Hollywood which symbolizes everything 'Extra' is about. It's a place people go to be a part of the Hollywood experience and that's what we do on 'Extra,' we give our audience a chance to mingle with celebrities and be part of a daily event."
"As the Entertainment Capital of LA, our goal is to deliver first-class entertainment that brings the world of Hollywood movie making magic within arm's reach of our guests," said Larry Kurzweil, President of Universal Studios Hollywood and CityWalk. "As the broadcast headquarters for this very exciting venture with 'Extra,' we are thrilled about the unimaginable opportunities that our guests will have when they visit us and know there's a chance they too can 'rub elbows' with Hollywood's A-List."
New for season 20, a signature franchise called "Ride the Headlines," where each member of the "Extra" team from coast to coast will come to our virtual rollercoaster to play "can you top this" with a hot gossip item of the day. It will be an action packed segment where we will ride the headlines of the day. Returning franchise segments include "Now Trending," "The A-List Interview," "Extra, Extra," and "Beauty by the Numbers."
"Extra's" popular giveaway series, "Friends with Benefits" will get even bigger. The audience will play celebrity trivia games with Mario and Maria for a chance to win millions of dollars in merchandise from vacations to designer clothing and jewelry, electronics and much more.
"Extra" is helmed by Senior Executive Producer Lisa Gregorisch-Dempsey. Her senior production team includes Executive Producers Theresa Coffino and Jeremy Spiegel. "Extra" has fully staffed bureaus in New York and Las Vegas. With correspondents and producers around the globe, the show offers a half-hour edition every weekday and an original hour-long weekend installment. Seen in more than 98% of the country, "Extra" airs on major market affiliates, including the key NBC Television Owned-and-Operated Stations. "Extra" is produced by Telepictures Productions and distributed by Warner Bros. Domestic Television Distribution.
More information about "Extra" at Universal Studios Hollywood, The Entertainment Capital of L.A., is available at www.UniversalStudiosHollywood.com or on www.extratv.com For up-to-date insight, Like Universal Studios Hollywood and Extra on Facebook and follow us on Instagram and Twitter at @UniStudios, @ExtraTV and #UniversalExtra.