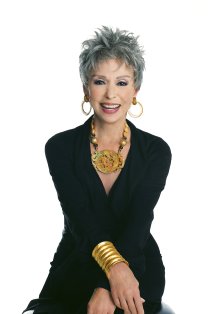 Groundbreaking actor, singer, dancer, author and educator Rita Moreno has been named the 50th recipient of SAG-AFTRA's highest tribute– the SAG Life Achievement Award for career achievement and humanitarian accomplishment. Given annually to an actor who fosters the "finest ideals of the acting profession," the SAG Life Achievement Award will join Moreno's rare catalog of preeminent industry and public honors, which also includes an Oscar, two Emmys, a Tony, a Grammy, the Presidential Medal of Freedom and the National Medal of the Arts. Moreno will be presented the performers union's top accolade at the 20th Annual Screen Actors GuildAwards, which will be simulcast live on TNTand TBS on Saturday, Jan. 18, 2014, at 8 p.m. (ET), 7 p.m. (CT), 6 p.m. (MT) and 5 p.m. (PT).
At 81, Rita Moreno continues to embody the creative diversity that has been the hallmark of her nearly 70-year career. One of only 11 artists and the only Hispanic performer to have won the entertainment industry's four top competitive awards, she earned her Oscar in 1962 for her iconic portrayal of saucy Anita in "West Side Story", a role which drew on memories of the racial taunts she endured as a young Puerto Rican immigrant living in a Bronx "barrio." Her 1972 Grammy honored her performance on "The Electric Company Album", based on the long-running PBS children's literacy television series on which Moreno played multiple roles in a memorable cast that included Bill Cosby and Morgan Freeman. The Tony came for her 1975 satiric turn as flamboyant, talentless Puerto Rican bathhouse singer Googie Gomez in Broadway's "The Ritz". A six-time Emmy nominee, she won her first of the Television Academy's honors in 1977 for one of her many guest appearances on "The Muppet Show". The following year, she earned a second Emmy for her dramatic guest performance on "The Rockford Files".
For more, head to http://sagawards.org.