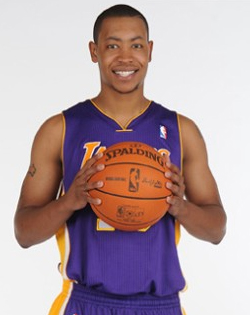 Los Angeles Lakers guard Andrew Goudelock was today named the 2013 NBA Development League's Most Valuable Player, as voted by the NBA D-League's 16 head coaches, for his efforts as a member of the Rio Grande Valley Vipers and Sioux Falls Skyforce. 
Goudelock (6-3, 200, College of Charleston) played in 37 games, all starts, for the Vipers this season, averaging 21.4 points to go with 5.8 assists, 4.1 rebounds and 36.7 minutes, while leading the team in scoring 16 times.  Selected to play in the 2013 NBA D-League All-Star Game, Goudelock was traded in January to Rio Grande Valley from the Sioux Falls Skyforce, where he played in 14 games.  In all, Goudelock appeared in 52 regular season NBA D-League games, averaging 21.1 points, good for third best in the NBA D-League, to go with 5.2 assists, 3.9 rebounds and 37.1 minutes. 
Prior to earning a GATORADE Call-Up to the Lakers on April 14, Goudelock appeared in one postseason game for Rio Grande Valley, scoring 27 points in 47 minutes in victory over the Maine Red Claws.
Goudelock was named the NBA D-League Co-Player of the Month for games played in March and honored with the Performer of the Week award on April 1.
Originally selected by the Lakers in the second round of the 2011 NBA Draft, Goudelock returned to the team having played in 40 games for Los Angeles during the 2011-12 season, when he averaged 4.4 points and 10.5 minutes a game. Currently on the Lakers playoff roster, he has appeared in one game for the Lakers this season.
"Andrew truly had a standout season in the NBA D-League this year," said Chris Alpert, Vice President of Basketball Operations and Player Personnel for the NBA D-League.  "His tireless work ethic, dedication to development, and impressive skill set were not only a huge asset for his team, but earned him an NBA D-League All-Star selection and a Call-Up to the NBA.  I congratulate Andrew on his tremendous season this year, and on returning to the NBA with the Lakers."