ck one global makeup artist Hung Vanngo created a variety of fresh and effortless looks for actress AnnaSophia Robb, as she conducted a series of interviews for her hit show 'The Carrie Dairies' in NYC. A new episode airs tonight on the CW.
Below please find the products and steps used to get her looks, as well as quotes from Hung and AnnaSophia. ck one color cosmetics is available at www.ulta.com
"AnnaSophia Robb likes low maintenance, minimal makeup but wanted to look polished and cool for her appearances. She likes a pop of color in her look, but doesn't want it to be too heavy. We created two different looks for AnnaSophia, keeping the eyes the same, but changing the lip color for a bold statement," Hung said. 
"I love that ck one has make up now. I like a natural look with a pop of color," AnnaSophia said.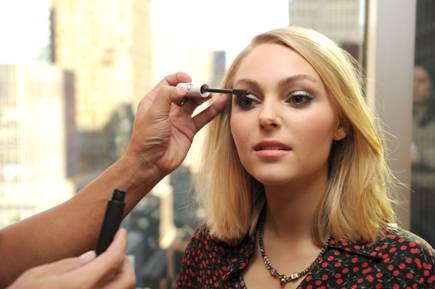 Here's how you can get the look with these products:
FOUNDATION: ck one 3-in-1 face makeup SPF 8 in porcelain
POWDER: ck one airlight pressed powder SPF 8 in porcelain
CONCEALER: ck one mousse concealer in porcelain
BROW: ck one brow pencil + gel duo in clever blonde
MASCARA: ck one mascara in show
CONTOUR: ck one cream + powder bronzer duo in warm glow
BLUSH: ck one cream + powder blush duo in breath
HIGHLIGHT: ck one skin illuminator in cool
LIPS: ck one pure color lipstick in dollface; ck one pure color lipstick in little liar
EYE SHADOWS: ck one powder eyeshadow quad in heat
Hung's step-by-step guide:
I began by prepping the skin with a moisturizer and eye cream
I first applied the ck one 3-in-1 face makeup SPF 8 in 'porcelain,' applying it very lightly to the skin
I then used the ck one mousse concealerin 'porcelain,' to even out any blemishes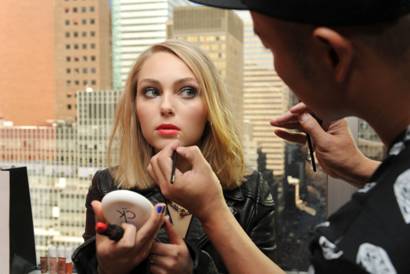 Anna Sophia has very full brows, so I used the ck one brow pencil + gel duo in 'clever blonde' to lightly fill in and enhance certain spots where needed
For the eyes, I used the ck one powder eyeshadow quad in 'heat,' using the greenish shade within the palette. I applied the eyeshadow all over the eye starting from the crease, as well as a bit underneath the eye as well
I then applied 2 coats of the ck one mascara in 'show' on the upper and lower lashes
For the cheeks, I used the ck one cream + powder blush duo in 'breath' on the cheekbones, starting with the cream, and then using the powder to set
I then used the ck one skin illuminatorin 'cool,' applying it to cheekbones, temples, a little on the lips and the nose
We created three different looks for Anna Sophia, keeping the eyes the same for all, but changing the lip color
For the first look, we used ck one pure color lipstick in 'sin city'
For the second look, we used ck one pure color lipstick in 'dollface'
And for the third look, we used ck one pure color lipstick in 'little liar'
Each look was finished with a light dusting of the ck one airlight pressed powder SPF 8 in 'porcelain'