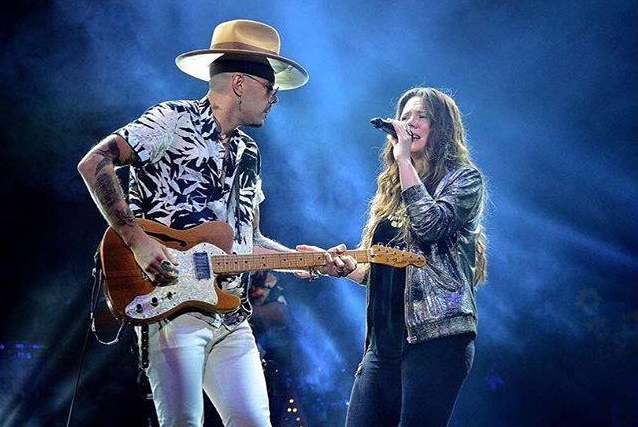 The Latin Recording Academy® announced nominations for the 17th Annual Latin GRAMMY Awards® in all 48 categories. Leading with four nominations each are Julio Reyes Copello, Djavan, Fonseca, Jesse & Joy, and Ricardo López Lalinde. The winners will be revealed Nov. 17, 2016, live from the T-Mobile Arena in Las Vegas, and broadcast on the Univision Network from 8–11 p.m. ET/PT (7 p.m. Central).
"Nominations day is always a proud moment for The Latin Recording Academy because it reminds us of how much growth and diversity Latin music and its global community have achieved throughout the year," said Gabriel Abaroa Jr., President/CEO of The Latin Recording Academy. "This year's group of nominees showcases the craftsmanship of the artists in front of the microphone and behind the soundboard, a true testament to the dedication of our voting body and their commitment to recognize creative individuals on all levels."
For the first time, The Latin Recording Academy offered digital voting to its membership of creators across all disciplines of music — recording artists, songwriters, producers, and engineers. Following today's announcement, the final round of voting for the17th Annual Latin GRAMMY Awards opens Sept. 27 and closes Oct. 13 at 6 p.m. PST.
Album Of The Year
Tour Terral Tres Noches En Las Ventas — Pablo Alborán
Cinema (Edición En Español) — Andrea Bocelli
Mil Ciudades — Andrés Cepeda
Vidas Pra Contar — Djavan
Conexión — Fonseca
Los Dúo 2 — Juan Gabriel
Un Besito Más — Jesse & Joy
¿Dónde Están? — José Lugo & Guasábara Combo
Buena Vida — Diego Torres
Algo Sucede — Julieta Venegas
Record Of The Year
"Cuestión De Esperar" — Pepe Aguilar
"Se Puede Amar" — Pablo Alborán
"Me Faltarás" — Andrea Bocelli
'Si Volveré" — Buika
"Vidas Pra Contar" — Djavan
"Duele El Corazón" — Enrique Iglesias Featuring Wisin
"Ecos De Amor" — Jesse & Joy
"Lado Derecho Del Corazón" — Laura Pausini
"Iguales" — Diego Torres
"La Bicicleta" — Carlos Vives & Shakira
Song Of The Year (A Songwriter's Award)
"A Chama Verde" — Patty Brayden, Ned Claflin & John Finbury, songwriters (John Finbury Featuring Marcella Camargo)
"Bajo El Agua" — Manuel Medrano, songwriter (Manuel Medrano)
"Céu" — Celso Fonseca, songwriter (Celso Fonseca)
"Duele El Corazón" — Enrique Iglesias, Patrick A. Ingunza, Silverlo Lozada, Servando Moriche Primera Mussett, Hasibur Rahman, Francisco Saldana & Wisin, songwriters (Enrique Iglesias Featuring Wisin)
"Ecos De Amor" — Jesse & Joy, Danelle Leverett, Jason Reeves & Rune Westberg, songwriters (Jesse & Joy)
"En Ésta No" — Sin Bandera, songwriters (Sin Bandera)
"Es Como El Día" — Kevin Johansen, songwriter (Kevin Johansen + The Nada)
"Hermanos" — Moska & Fito Páez, songwriters (Fito Páez & Moska)
"La Bicicleta" — Andrés Castro, Shakira & Carlos Vives, songwriters (Carlos Vives & Shakira)
"La Tormenta" — Flavio Cianciarulo, songwriter (Los Fabulosos Cadillacs)
Best New Artist
Sophia Abrahão
Alex Anwandter
The Chamanas
Esteman
Joss Favela
Ile
Mon Laferte
Manuel Medrano
Morat
Ian Ramil
Best Contemporary Pop Vocal Album
Tour Terral Tres Noches En Las Ventas — Pablo Alborán
Un Besito Más — Jesse & Joy
El Mundo Y Los Amantes Inocentes — Pablo López
#Tumano — Luciano Pereyra
Des/Amor — Reik
Best Urban Fusion/Performance
"Una En Un Millón" — Alexis y Fido
"Cumbia Anthem" — El Dusty Featuring Happy Colors
"Hasta Que Seque El Malecón" —Jacob Forever
"Pra Todas Elas" — Tubarão Featuring Maneirinho & Anitta
"Encantadora" —Yandel
Best Alternative Music Album
Cambio De Piel — Bebe
Caótica Belleza — Esteman
L.H.O.N. — Illya Kuryaki & The Valderramas
Mon Laferte — Vol. 1 — Mon Laferte
Amor Supremo — Carla Morrison
Best Salsa Album
35 Aniversario — Grupo Niche
Intensamente India Con Canciones De Juan Gabriel — India
¿Dónde Están? — José Lugo & Guasábara Combo
Mi Ritmo Es Bueno — Bobby Valentín
Tronco Viejo — Johnny Ventura
Best Norteño Album
Hecho A Mano — Joss Favela
Highway — Intocable
Tierra Mojada — Los Ramones De Nuevo León
Desde El Azteca — Los Tigres Del Norte
Tributo A Los Alegres De Terán — Pesado
Best Sertaneja Music Album
Amanhecer — Paula Fernandes
Bar Do Leo — Leonardo
Adivinha — Lucas Lucco
Baile Do Teló — Michel Teló
Sóis — João Victor