After achieving success with the launch of his toothpaste, Zion Health's founder decided to create a Healing Body and Skin Care line using Kanwa (Calcium Montmorillonite edible grade clay) to offer the greatest benefits of healing.
Starting with the soaps. I tried:
The Ancient Clay Soap with Rosemary Lavender 6oz – Moisturizing Natural Soap
Ingredients Benefits: 
Ionic Minerals (Pure Calcium Montmorillonite Clay)
Than 57 trace minerals to help stimulate skin cell renewal.
Shea Butter is full of vitamins and fatty acids to help nourish and moisturize the skin.
Coconut oil is rich in nutrients to help prevent dry skin.
Why are Rosemary and Lavender so good?
Rosemary is reported to help with skin irritations and healing of wounds and bruises. Lavender has strong antibacterial and antiseptic properties. Its scent is known to promote relaxation and a state of wellbeing.
---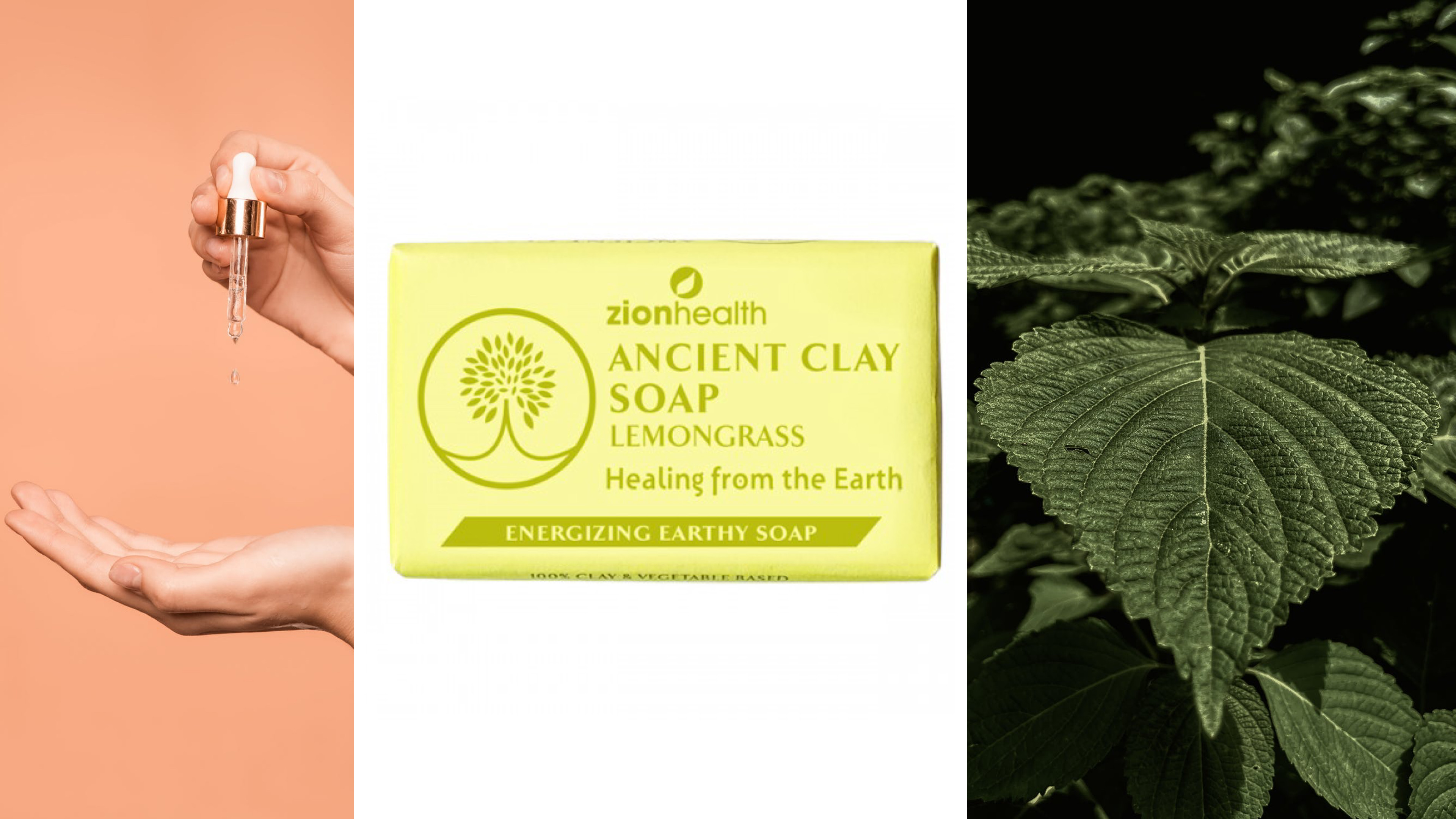 Ancient Clay Soap – Lemongrass 6oz Ancient Clay Soap
This refreshing Lemongrass Soap has a grassy-citrus scent with an Earthy undertone. Lemongrass helps to open pores while the astringent properties help to unclog them. Great for balancing oily skin.
Ingredient Benefits:
Ionic Clay Minerals (Pure Calcium Montmorillonite Clay) contains more than 57 trace minerals to help stimulate skin cell renewal.
Shea Butter is full of vitamins and fatty acids to help nourish and moisturize the skin.
Coconut oil is rich in nutrients to help prevent dry skin.
Cocoa butter is high in fatty acids and hydrates the skin deeply. It contains oleic, palmitic, and stearic acids, all of which nourish the skin.
Oatmeal is a soothing anti-inflammatory and redness remover when applied to the skin. It helps with skin itching caused from various skin problems such as dry skin, chicken pox, eczema, and more.
Sage Oil it functions as an effective antibacterial agent, helping inhibit the growth of bacterial infections.
Lemongrass Oil is one of the best astringents. It removes oil buildup, tighten up saggy skin and prevents breakouts.
---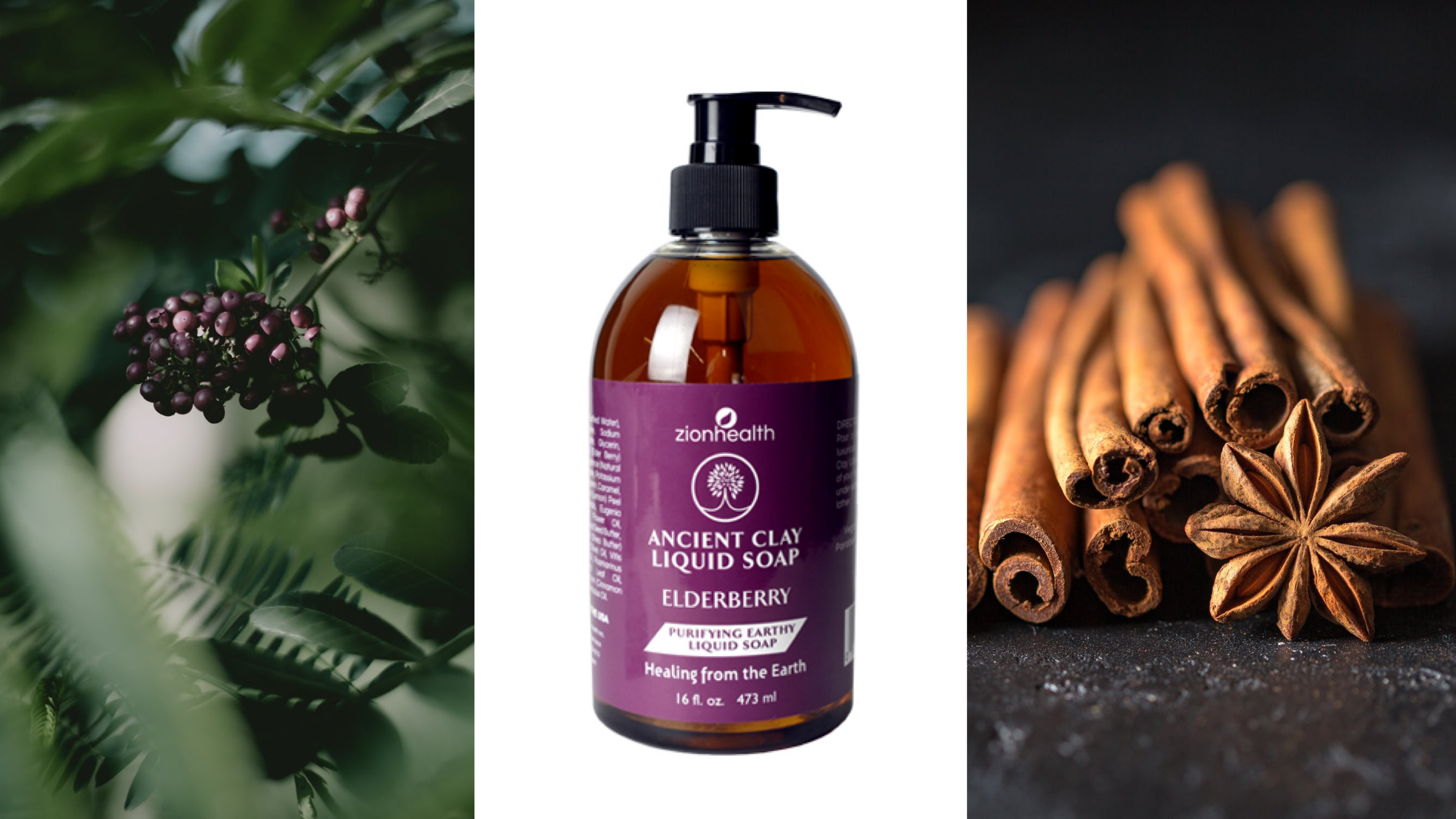 Ancient Clay Liquid Soap Elderberry A Purifying Earthy Liquid Soap
These soaps are 100% natural, vegan, gluten free with no sulfates or parabens.
Ingredient Benefits:
The berries and flowers of elderberry are packed with antioxidants and vitamins that may boost your immune system. This super fruit also contain high levels of vitamin A. Elderberries may soothe the skin, help ease the appearance of age spots, and prevent or lessen wrinkles. They could help tame inflammation, lessen stress, and help protect your heart, too.
Ionic Clay Minerals (including more than 57 trace minerals) help to extract impurities, absorb excess oils, reduce inflammation, and feed skin with nutrients to make way for cell renewal and general health improvements.
Shea Butter is an emollient that is filled with antioxidant vitamins and fatty acids. Superior healing abilities include helping correct the body's inflammatory response and activating regulatory cytokines to fight irritation and prevent infection. Through balancing oils, slowing collagen deterioration, and rectifying dryness and dullness, shea butter can repair compromised skin and lessen the appearance of wrinkles and age spots.
Clove Essential Oil can be described as a warm, spicy, and stimulating deodorizer. It includes anti-inflammatory flavonoids and has an extremely high antioxidant value. Its eugenol compound adds antibacterial and antifungal qualities. As an astringent, it helps to regulate oil and tighten complexion. Through utilizing these properties and enhancing circulation, clove oil offers relief for acne, itching, and pain.
Cinnamon Essential Oil improves mental and physical wellness with its anti-inflammatory, circulation-boosting, and antioxidant effects. As a powerful antibacterial, it can be effective at targeting even the most resistant types.
As a bonus, it helps to naturally preserve the other ingredients and their effectiveness. Rosemary Essential Oil is a detoxifying agent that helps remove bacterial, fungal, and viral stressors while helping to activate antioxidant activity to prevent future damage. Its cortisol-reducing, anti-inflammatory plant compounds assist with stress and pain relief. Through cleansing, hydrating, and balancing oils, rosemary helps to heal and prevent acne and other skin sensitivities.
I just love them all!  Stay tuned for part 3.
For more info go to: https://adamaminerals.com/