Jill Eikenberry presenting. Gown by Anne Barge from the Black Label eveningwear collection
The 7th annual Hollywood Beauty Awards (HBAs), founded by CEO Michele Elyzabeth, took place on Saturday, March 19 at the Taglyan Complex in Los Angeles. The HBAs honor the architects of beauty, recognizing talent in hair, makeup, photography and styling for film, TV, music, the red carpet and editorial.
Jill Eikenberry, who is returning to the reboot of L.A. LAW, presented to the legendary makeup artist Sue Cabral-Ebert, who received Outstanding Achievement in Makeup & SFX Makeup.
A four-time Emmy nominee, Sue Cabral-Ebert's legendary career spans well over four decades. A trailblazer in the industry, she entered the IATSE Local 706 at a time when the union was just beginning to allow women as make-up artists. Upon completing her training, she worked with AFI's first Director's Program and on the set of no-budget horror films. After joining the union, Sue became Department Head on the hit series DALLAS for five seasons.
Sue went on to work with John Candy for SPACEBALLS, ARMED AND DANGEROUS, WHO'S HARRY CRUMB? and more.
Serving as Department Head for L.A. LAW, Sue headed makeup for DEAD POETS SOCIETY, before becoming personal makeup artist to Diahann Carroll on THE FIVE HEARTBEATS and Timothy Dalton on THE ROCKETEER.
Earning her first Emmy nomination for ER, Sue's skills then brought the deadly virus to life on OUTBREAK with Dustin Hoffman. Working with Rene Russo yet again on TIN CUP and RANSOM, Sue created makeup for ROMY AND MICHELE'S HIGH SCHOOL REUNION and PLEASANTVILLE before receiving an Emmy nomination for AND THE BEAT GOES ON: THE SONNY AND CHER STORY.
Rising to new heights, Sue became Makeup Department Head on ERIN BROKOVICH and THE PERFECT STORM. Emmy nominated for her work on MADTV, Sue created makeup for Kirsten Dunst on Crazy/Beautiful, special makeup effects on K-PAX and lead makeup on THE SUM OF ALL FEARS.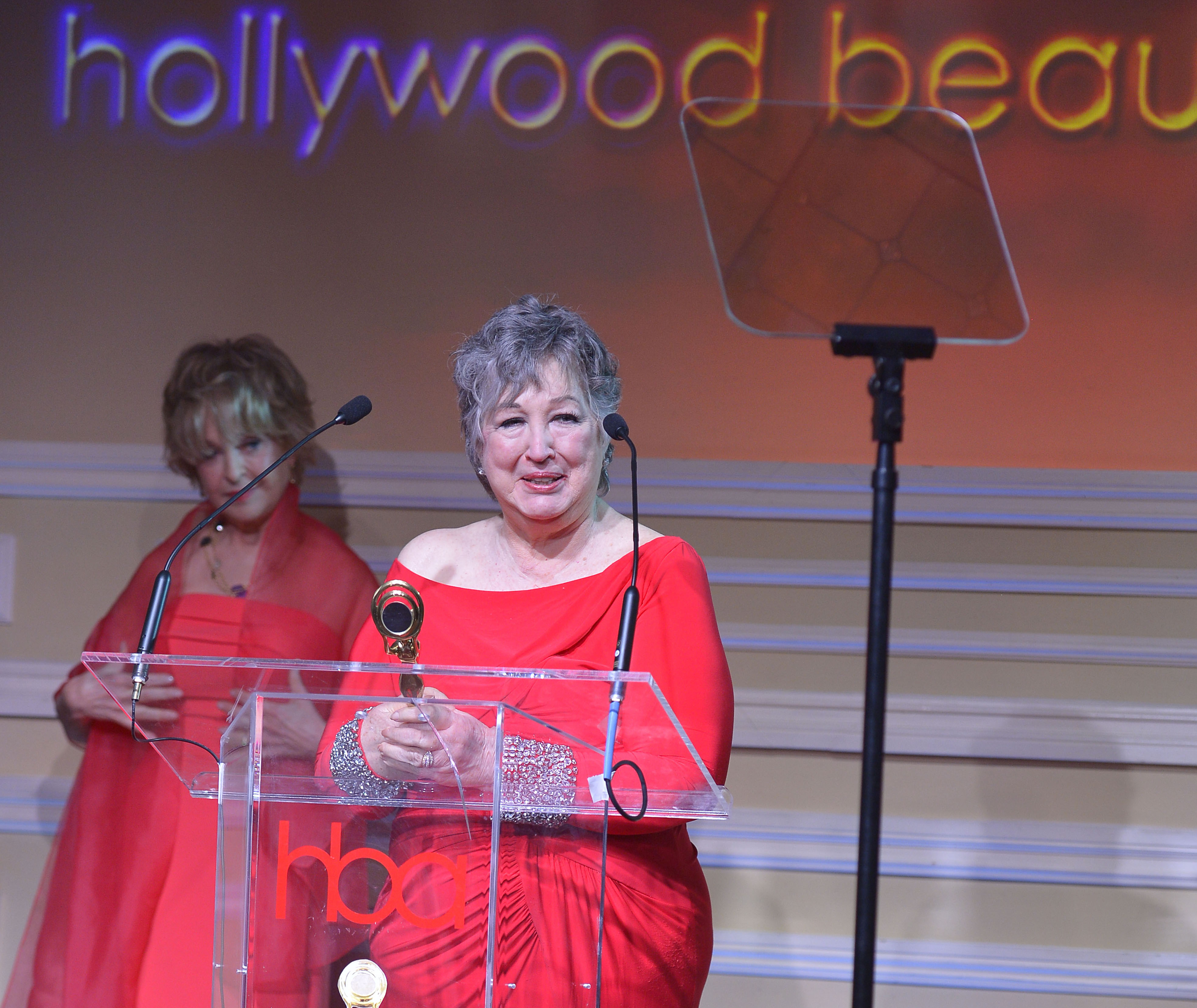 Having served an impressive 15 years total as President of the Guild, she founded the Make-up Artists and Hair Stylists Guild Awards and continues to produce the acclaimed ceremony. Sue is also noted for her legislative advocacy, especially the California Film and Television Tax Incentive.
From aging Old Rose on TITANIC to balding Sigourney Weaver on ALIEN 3, Sue Cabral-Ebert's gruesome and beautiful work will go down in film history as some of the most memorable makeup moments.
Award highlights include: Lizzo made a surprise appearance for Makeup winner Alexx Mayo, Laura Dern presented to longtime film hairstylist Frida Aradottir, Henry Golding announced the winner of the premiere Groomer of the Year award and presented to friend, Melissa DeZarate.
The 2022 winners included: AM + DM (Ahmad Barber & Donte Maurice) (Neal Preston Photography Award), Jo Baker (Sue Cabral-Ebert Makeup Award), Jenny Cho (Frida Aradottir Hairstyling Award), Melissa DeZarate (Groomer of the Year), Alexx Mayo (Norma Patton-Lowin Makeup Award), Tym Wallace (Lawrence Davis Hairstyling Award) and Wayman + Micah (Wayman Bannerman & Micah McDonald) (Sharen Davis Styling Award).
The 2022 honorees included: Ann-Margret  (The Timeless Beauty Award), Frida Aradottir (Outstanding Achievement In Hairstyling), Sue Cabral-Ebert (Outstanding Achievement In Makeup & SFX Makeup), Lawrence Davis (Outstanding Achievement In Hairstyling), Sharen Davis (Outstanding Achievement In Costume Design), Drew Elliott (MAC Cosmetics) (Product of the Year), Diane Gomez-Thinnes (Galderma) (The Beauty Enhancement Award), Marco Parsiegla (Amouage) (The International Beauty Award), Norma Patton-Lowin (Outstanding Achievement In Makeup), Neal Preston (Outstanding Achievement In Photography), Stefanie Spodek (Fragrance of the Year on behalf of Estee Lauder's Luxury Collection).
The 2022 presenters included:  Saisha Beecham, Dyan Cannon, Larry Cherry, Christine Chiu & Dr. Gabriel Chiu, Laura Dern, Jill Eikenberry, Yolonda Frederick-Thompson, Henry Golding, Bobby Holland, Candice Lambert, William Lauder, Marissa Marino, Molly Ringwald, Angelica Ross, Saniyya Sidney, Larry Sims, Troye Sivan, Courtney B. Vance, Jon Voight, Anne Winters, Kiyah Wright, with celebrity appearances by Corbin Bernsen (Actor, LA Law), Karina Brez (Founder of Karina Brez Jewelry and Former Miss USA), Logan Browning (Actress), Casey Dandridge (Model), Cesar Deleon Ramirez (Former HBA Hairstyling Winner), Drew Elliott (Creative Global Director of MAC Cosmetics), Nabil Hayari (HBA's Official Couturier, HAYARI PARIS), Reema Khan (Brow Bar by Reema), Jaime King (Actress), Lizzo (Artist), Taryn Manning (Actress), Aida Rodriguez (HBA Host), Renaud Salmon (Chief Experience Officer of Amouage), Vincent Spinnato (Founder of Vincenzo Skincare), Chrissy Teigen (Model/Personality) and more.
Danielle Lauder, actress, entrepreneur and the great-granddaughter of Estée Lauder, officiated as the Ambassador for this year's Hollywood Beauty Awards.
Galderma is the Title Sponsor of the 7th Hollywood Beauty Awards.
Christopher Guy is the official designer of the HBA's Holly statuette.
Every year, the award ceremony benefits Helen Woodward Animal Center (HWAC) for their incredible efforts in rescuing animals from natural disasters and finding their forever homes. For direct donations and to support HWAC through HBAs, visit: www.animalcenter.org/hba