August 21st is Global Climbing Day. Now that the Olympics have put a spotlight on rock climbing, thousands of people are getting into bouldering, lead climbing and beyond. The question many have is… where can I climb?
Other than your local climbing gym, Southern California is a hub for incredible bouldering. You just have to know where to go, and that means having the right guide book…
LOS ANGELES COUNTY BOULDERING is a labor of love written and researched by Matthew Dooley, Dimitrius Fritz and William Leventhal. Published by K. Daniels Associates, LACB is a must-have for your bouldering adventures.
Prior to picking this book up, I was relying on the Mountain Project app and, quite frankly, disappointed. Ending up in all of the wrong places and getting lost on multiple approaches, I knew I needed a properly written guide by climbers who knew the lay of the land.
The book is broken down by crags, from TEMPORALS, MALIBU CREEK and TUNNEL BOULDERS in the West to HORSE FLATS in the San Gabriel Mountains, and of course one of the bouldering mecca's: STONEY POINT.
Features:
GRADES/RATINGS: If you're just getting into bouldering, this will help you to understand the V rating system.
AREA OVERVIEW: A great, easy-to-read map.
LA GEOLOGY: Fantastic local facts and a breakdown of the type of rock you'll be climbing.
COLOR ROUTES: Each boulder image has a color route and rating. Once you've sent it – check it off!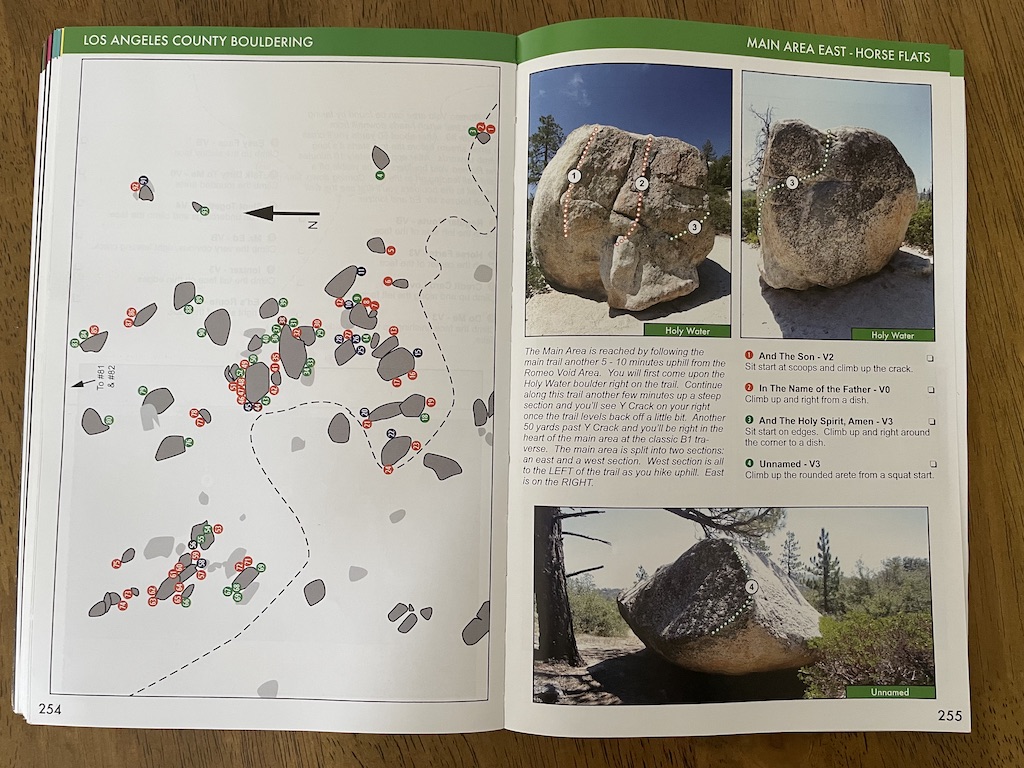 A trust-worthy bouldering book, LACB was certainly a passion project and a multi-year effort to write.
"We released everything in 2017. Bill and Dimit had been working on the guide before I joined up. Guidebooks always take longer than expected it seems, but we're stoked with how it eventually came together," Dooley said.
It's clear from the layout of each chapter to the photographs that the team made sure to dot the i's and cross the t's from start to finish. It did not come without its challenges.
"Hardest part is making sure you have compiled all the information to get going. Layout after that was just a passion project toiling over the layout and getting things right and watching it all come together in the finished product. Kevin was great and super patient with us throughout all of this," Dooley added.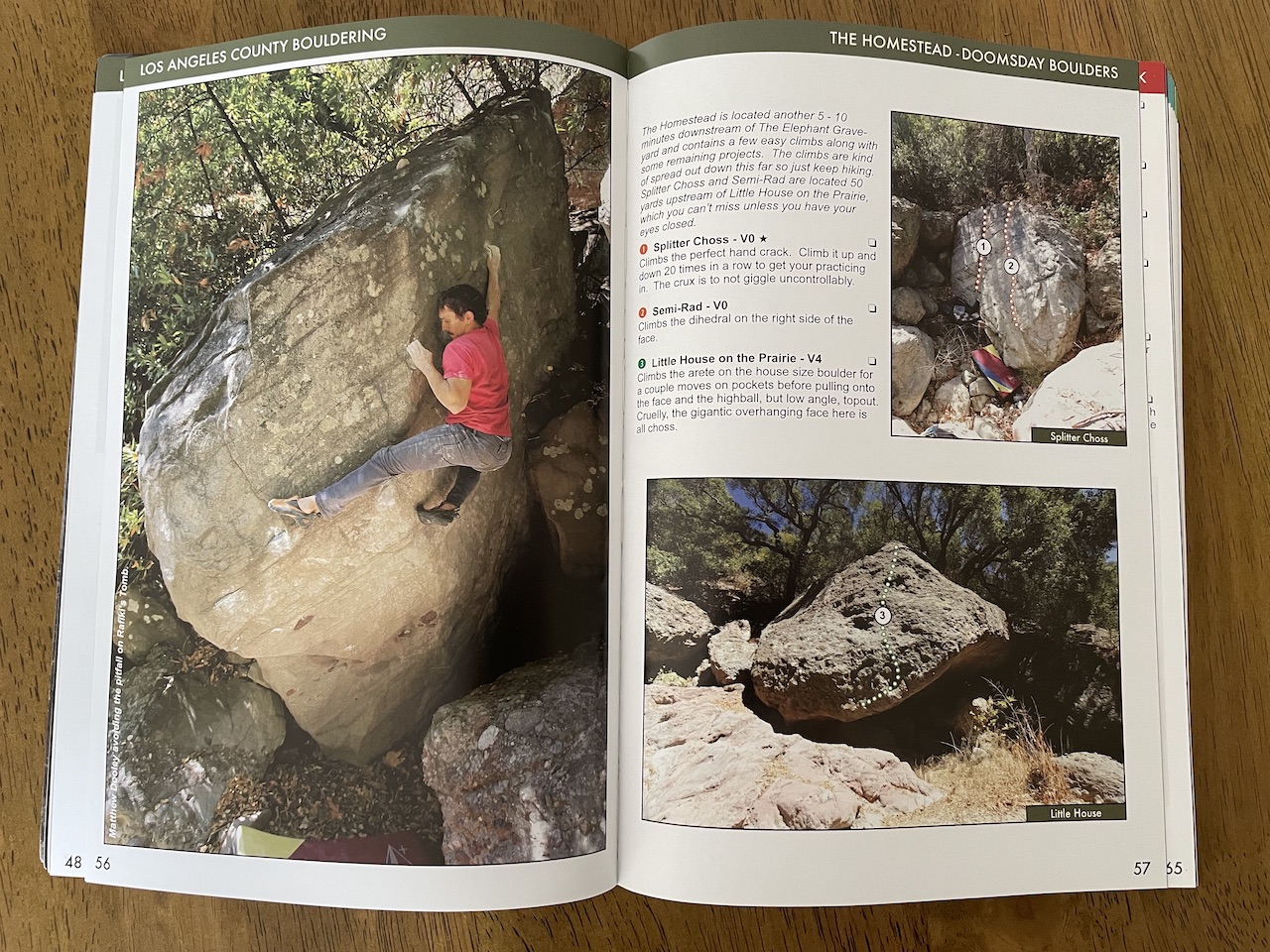 While reading the book and using it as my go-to map for climbing around the Los Angeles area, I found myself with plenty of dog ear bookmarks for my favorite areas.
I was curious if they compiled a list of their favorite places to climb while writing LACB.
"We all have favorite areas. Mine personally have been Purple Stones and Tunnels just as I've spent a LOT of time in both locations," Dooley said. Although we live in a world where we rely on our Google Maps and apps to get us places, when it comes to climbing… I highly recommend having a book with quality photographs, maps and information written by climbers for climbers. They won't take you off the beaten path and you'll be sending it before you know it.
To purchase, visit: https://kdanielspublishing.com/cart/index.php/guide-books/los-angeles-county-bouldering.html
Follow them on IG: @LACountyBouldering
*Stay tuned for a potential updated edition of LOS ANGELES COUNTY BOULDERING in the future.