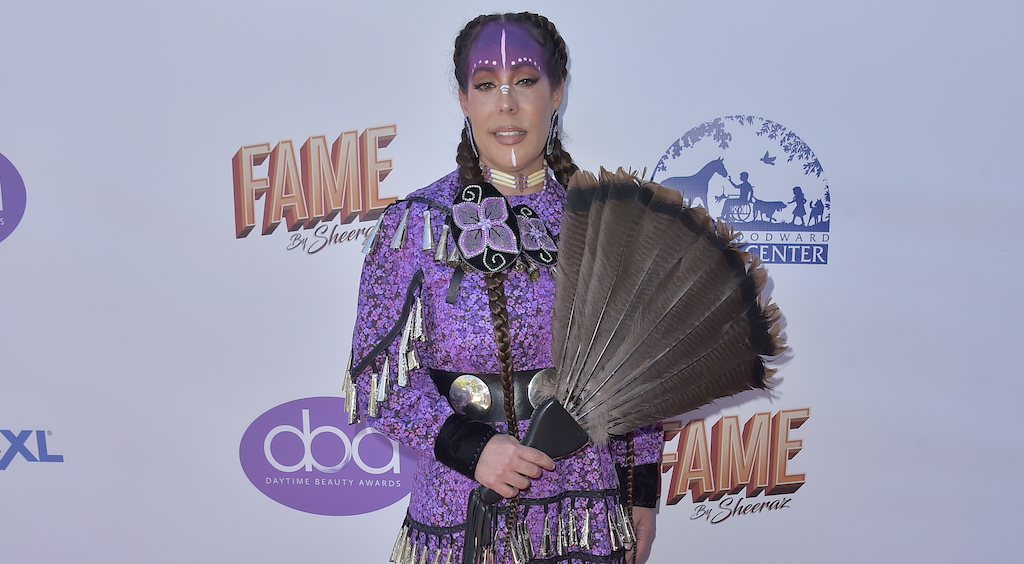 Erica Skynn on the red carpet at 2021 Daytime Beauty Awards
Meet Erica Skynn, the founder of Derm by Erica and the recipient of The Innovation Award at the 2021 Daytime Beauty Awards. A tribal member of the Little River Band of Ottawa Indians, Erica was born and raised in Los Angeles where she started a career in business working in the entertainment industry. After her mother was stricken with cancer, she began researching solutions for the burns caused by radiation. Determined to find a solution to the problem, she decided to dedicate her life to the aesthetic world after growing fascinated with dermatology. Time had come to switch careers; she received a scholarship to the renowned International Dermal Institute to become a skincare therapist. Under the guidance of Jane Wurwand, founder of Dermalogica, who became her mentor, she earned all her certifications. Obsessed with her research, Erica became an expert in skincare and especially skin disorders for men and women of color. In 2011, she opened her first business, The Long Beach Medispa which was funded by her tribe before creating Derm by Erica.
After treating and investigating the skin issues of her patients, Erica a pioneer in her own right, saw an ever-growing demand for skincare that would treat melanated skin and seized the opportunity.
With the help of World Boxing Champion Floyd Mayweather, she launched Derm 7: A full line of products addressing acne, scarring, melasma, blemish bleaching and anti-aging. She has become one of the most respected aestheticians in Los Angeles, helping men and women regain their self-confidence by alleviating these problems.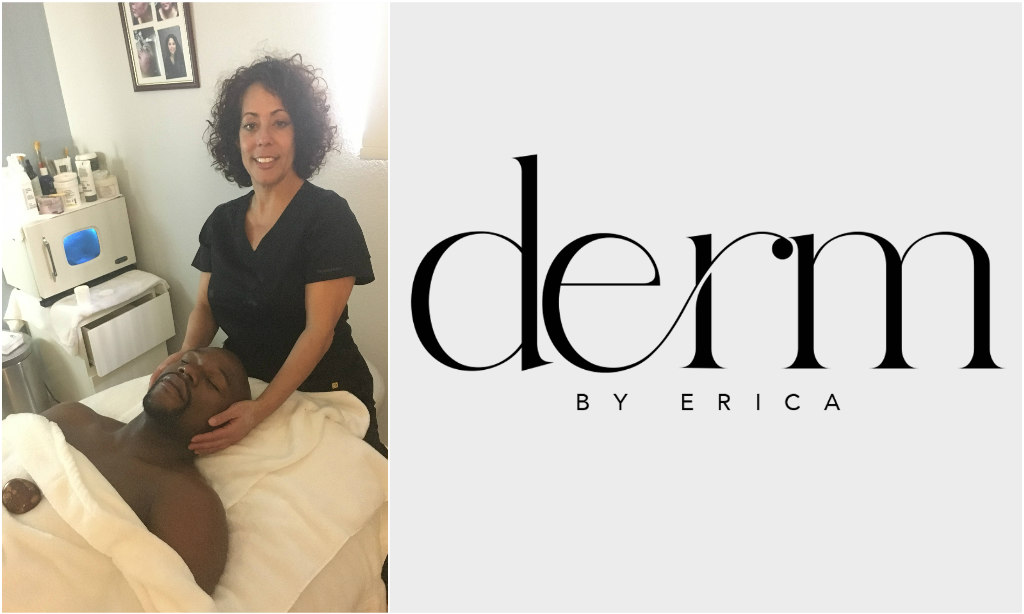 Erica working her skincare magic on Floyd Mayweather
I had the opportunity to speak to Erica about acne, a concern which affects over 50 million people in the U.S. alone, from teens to adults. Here is what she had to say.
You have developed a line specifically designed to combat adult acne. How do you know that you have adult acne?
I specifically developed a clarifying cream for all 4 stages of adult acne. There are several stages of adult acne that can be linked to triggers such as diet, stress, products, environment, and can even be hereditary. If you are breaking out in your 20's, 30's and 40's then you can be sure this is considered adult acne or post-adolescent.
What regimen do you recommend for people dealing with adult acne?
My collection, Derm7, which includes an entire skincare regimen: Cleanser, Toner, Moisturizer, Sunscreen and a Clarifying Cream. It is simple to do and it works on most everyone.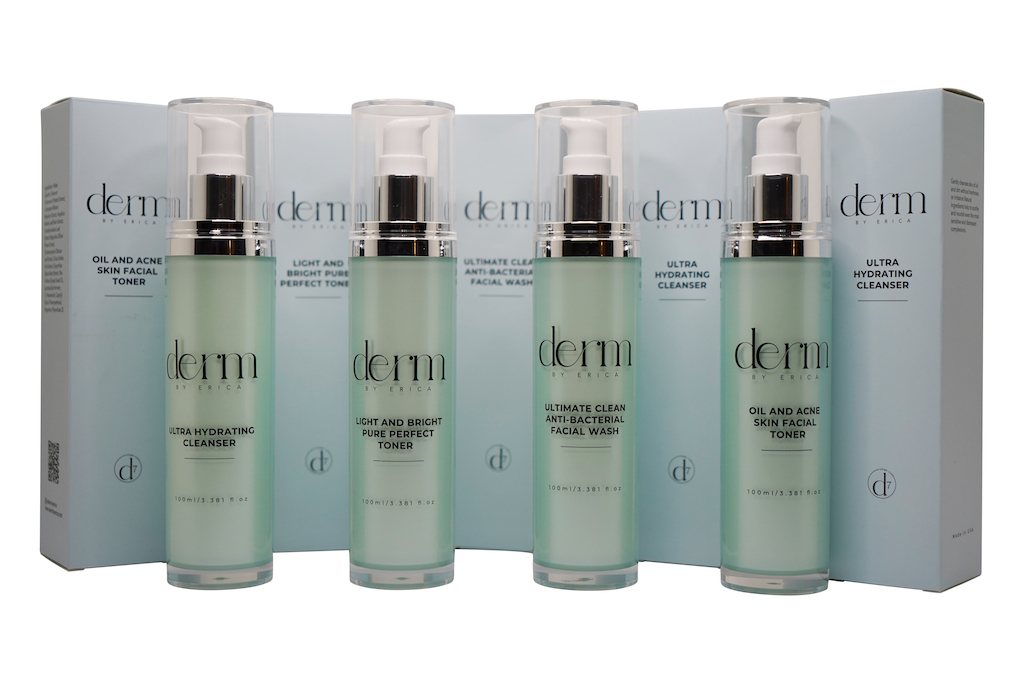 Some people have acne that continues from childhood to adulthood. Why is that?
Acne is determined by skin type, skin condition, what you're allergic to, what you eat, what your stress levels are and what products you're using. For example: If dairy triggers acne, which it does in 85% of people; you're eating pizza as a kid and you're eating ice cream as an adult… then you're still going to have acne. Even if a dermatologist prescribes medication and you haven't cut dairy, then the acne will not go away. Therefore, you need to find out what your triggers are as an adolescent. Take note, that your triggers can change as you grow into adulthood. If you have acne-prone skin, then there are different triggers, and you need to understand them.
What and where does adult acne come from?
Adult acne, for the most part, is caused by the same things that causes teenage acne. Women often experience adult acne more than men due to fluctuating hormones around their cycle, pregnancy, birth control, stress, and pre-menopause.
What is the first thing you need to do?
Seek professional help, meaning go to an aesthetician or a dermatologist. You can also go to a skincare therapist or another medical professional who specializes in skin. Thanks to technology, you can consult with people all around the world. I consult on Zoom, Whatsapp, Duo, Facetime and even Instagram.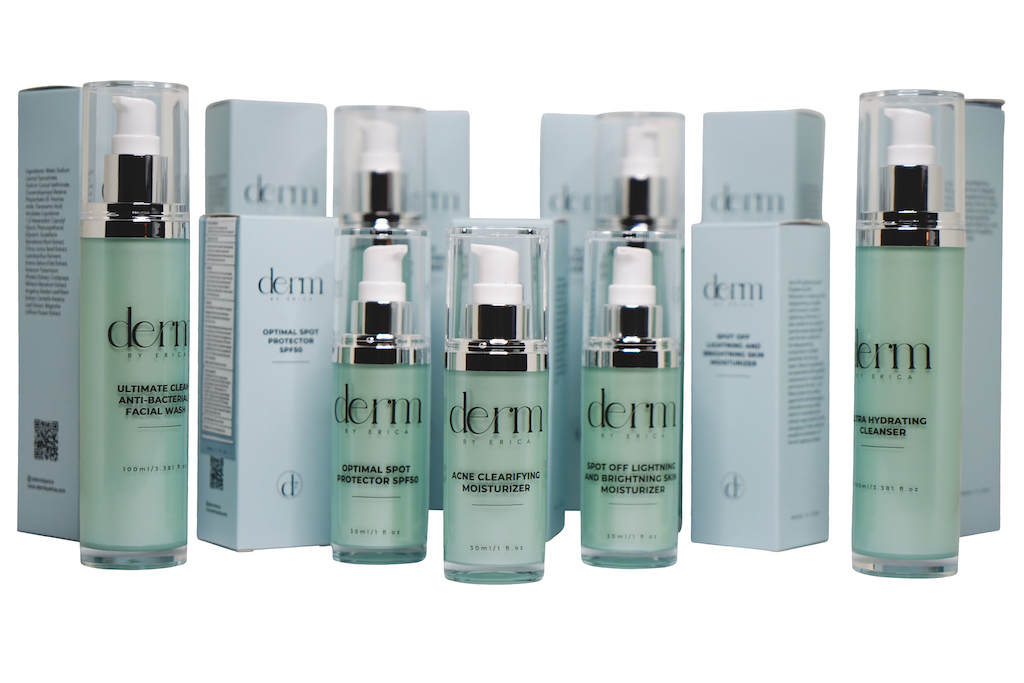 After starting the Derm7 treatment, how long is it until you see results?
Acne treatment needs time to work because there are so many different variables. It is impossible to gauge because everyone is different. The cycle of new skin coming is called mitosis, which takes 4-6 weeks. I would say a minimum of 4-6 weeks because it is the process of new skin forming. It all depends on the individual. Don't get discourage, just keep it up until you find the cause of the problem. You eventually will.
Sage advice!
Her celebrity clientele includes Tamar Braxton, Toni Braxton, New Orleans Saint Marcus Williams, former WNBA player Ty Young and LA Sparks player ​​Te'a Cooper, to name a few.
For more info please go to: https://dermbyerica.com/