Guess what I did this weekend?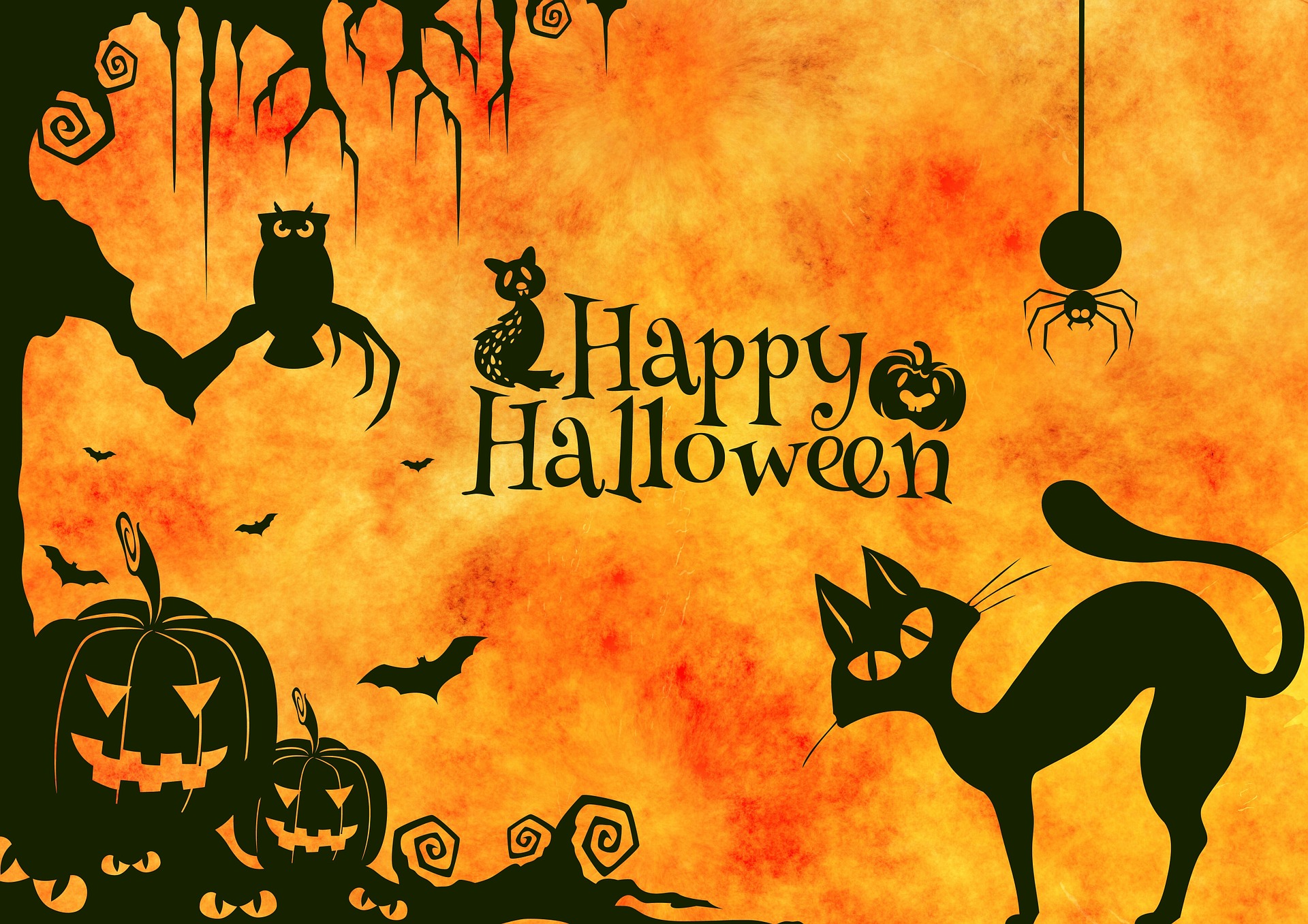 October 1st marks the beginning of the holiday season. From that time on, each month celebrates a special holiday starting October 31st with Halloween, which brings back the child in all of us. A fun day when children and grownups can pretend to be someone else. Then comes Thanksgiving on November 25th when family and friends get together for a gargantuan dinner. And last, but certainly not least, the biggest Holiday of them all, Christmas on December 25th, my favorite time of the year.
I love this time of year. Like millions of Americans, I am spending time decorating my home to give it a festive atmosphere. But like anything worthwhile, it takes time and effort. Each year I add a thing or two to my collection and this year is no exception. I happened upon a company called "Lights4fun" which has unique light decorations. Of course, as soon as I started perusing their website, I found quite a few things that I had to have, which I knew would enhance my fireplace.
I selected 4 items which complemented my collection.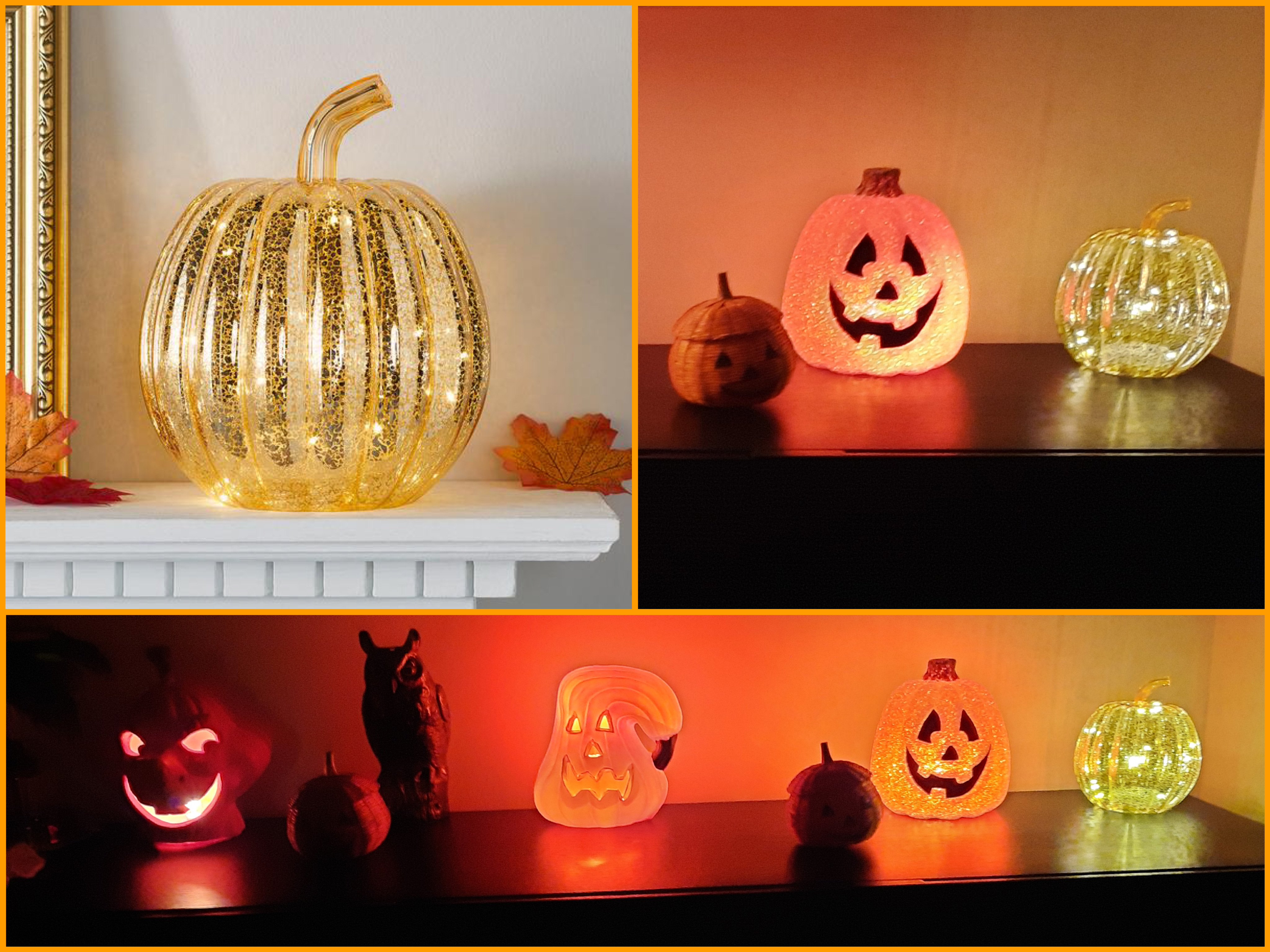 First, I chose a white ceramic pumpkin, perfect for Halloween or as a centerpiece on your Thanksgiving dinner table. I used mine on the side buffet of the fireplace with other pumpkin décor. Measuring at 5.5'' tall and housing one warm white LED, it radiates a soft glow wherever it goes. Simply insert its batteries and set to the 6-hour timer for fuss-free illumination at the same time each day. Simply beautiful!
Gold Mercury Glass Pumpkin
With a metallic mercury finish, this gold glass pumpkin is a showstopping centerpiece. Once again, it can be used as the focal point for any table or as I did, on my fireplace! This pumpkin is crafted from extra-fine glass & is hand-finished, making each one unique in its design. Lit or unlit, this impressive feature looks lovely either way. Its reflective surface makes it shimmer in the daylight and creates a warming ambiance when you switch it on in the evening. Simply insert 3 AA batteries. Quite Gorgeous and elegant.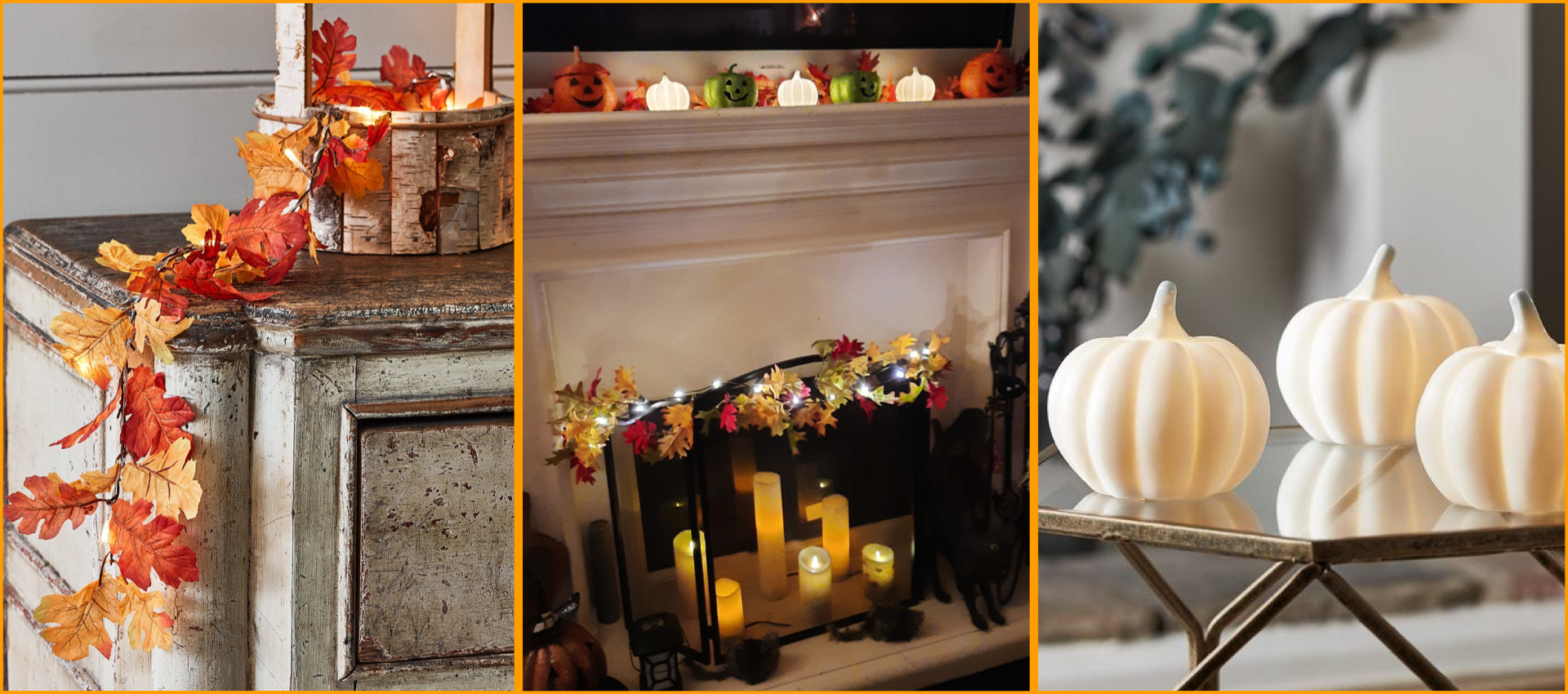 Light Up Ceramic Pumpkin (Set of 3)
This trio of cute ceramic pumpkins are a great addition to the décor of any home. Measuring at a height of 3.5" and width of 3.7", they are the perfect size for accents on table tops or on the mantle of my fireplace with other pumpkins. Made from ceramic and complete with a pumpkin stalk finished in gloss, they each house a warm white LED to illuminate them with a subtle glow. With the batteries included, simply switch on and use the optional 6-hour timer for automatic illumination day after day. The included batteries will supply 100 hours of illumination time before they will need recharging.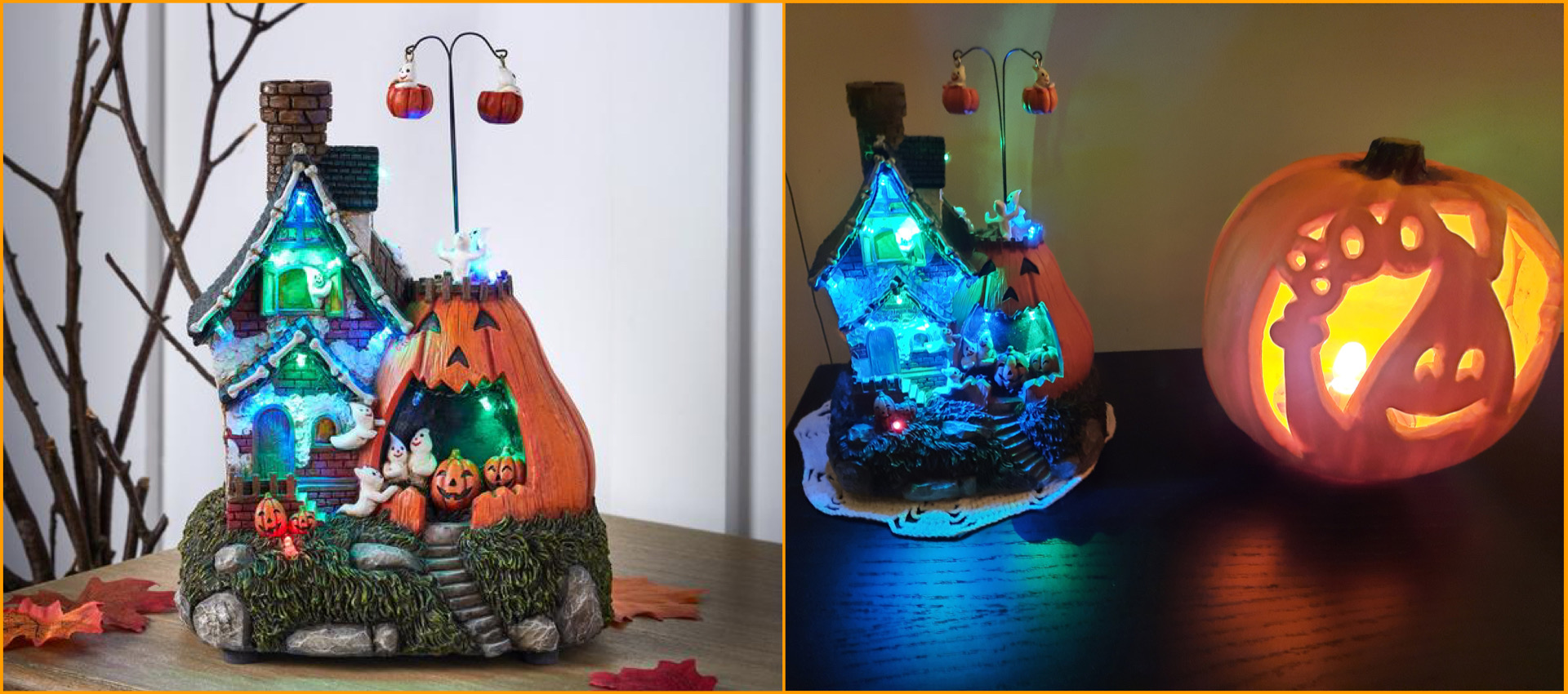 Now for my favorite:
The Pumpkin House Halloween Miniature Village
Since I can remember, I always loved miniatures, so as soon as I laid my eyes on the Pumpkin House, I had to order it. Hand-painted in bright colors and finished with glowing LED lights, it will look spook-tacular whether displayed on a mantle or as a tabletop decoration. With 13 multicolored LED bulbs, this decoration will stay cool to the touch making it super-safe for displaying around fabrics, foliage, and little fingers. To illuminate, simply insert 3 AA batteries into the base and switch to 'ON' for uninterrupted illumination or opt for the handy 'TIMER' for 6 hours of automatic shine at the same time every day.
Finally, I went for the:
Orange & Yellow Fall Leaf Pre-Lit Garland
Which Combines the fall seasonal colors and makes for a great display throughout Halloween and Thanksgiving. Measuring at a length of 4.5 feet, it's ideal for styling on mantles, windowsills and along staircases. It features 15 warm white LEDs, the garland illuminates with a soft glow to add a cozy feel to your home. The LED lights remain cool to the touch, so it's super-safe to display around little ones and can be left glowing throughout the season! Simply insert 3 AA batteries and switch to the handy 6-hour timer, before tucking the battery box out of view using the 1.6-foot lead cable.
I ordered my decorations on Wednesday, and they came on Friday. It was extremely fast, and the products were well-priced. We are at the beginning of the month so don't waste anytime getting on the website www.lights4fun.com and ordering yours.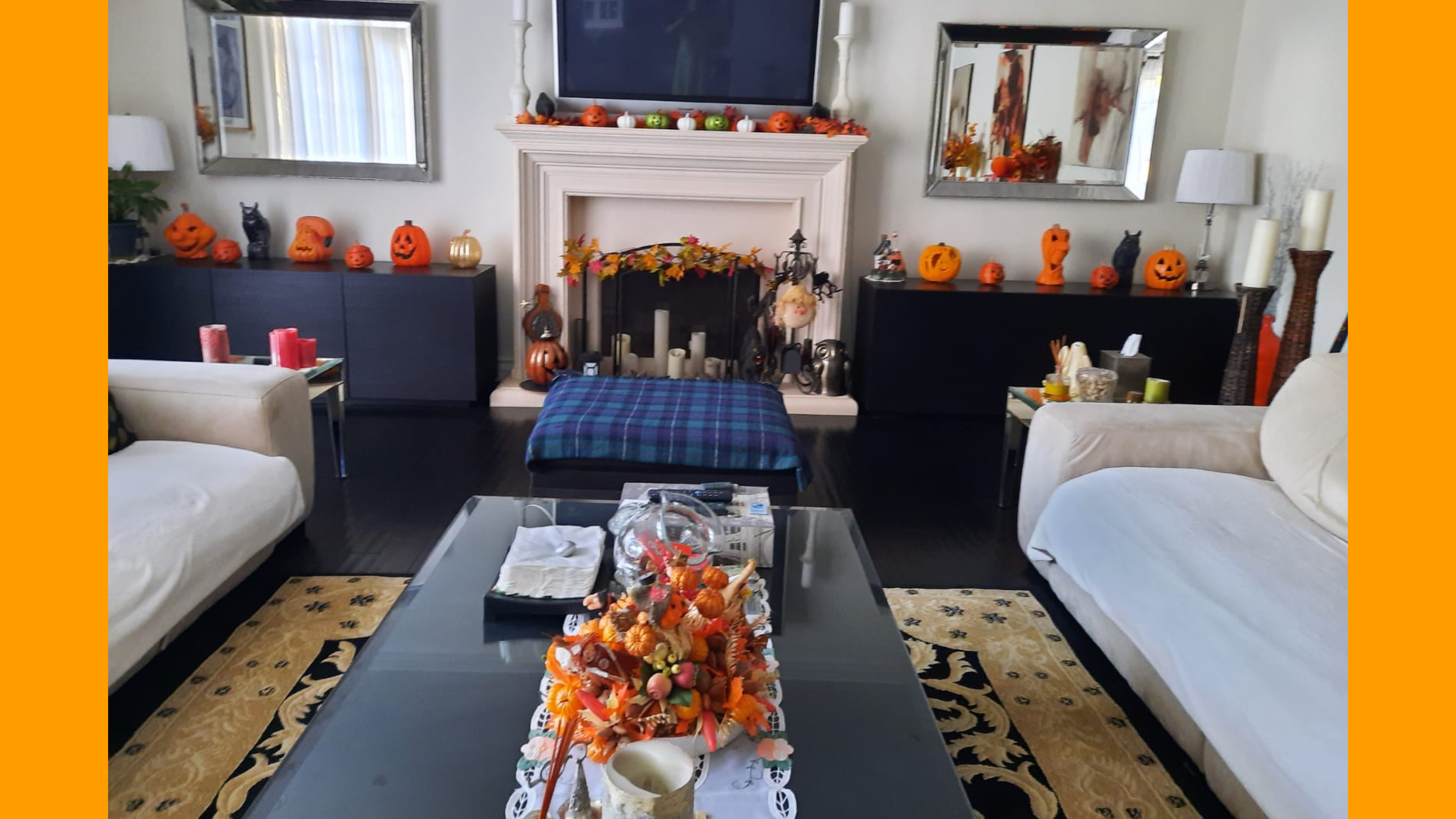 You will absolutely love it. Check out my photos and send me yours. We will publish them throughout the month of October.
HAPPY HOLIDAYS!
WATCH THE LIGHTS4FUN UNBOXING HERE on INSTAGRAM