It's not everyday that Austin Powers steps onto the red carpet! Richard Halpern as Austin Powers appeared at the 3rd annual Daytime Beauty Awards to present Outstanding Achievement in Dentistry to Gary Archer.
The award show recognizes science behind beauty and spotlights health and wellness professionals in the fields of dentistry, medicine, health and fitness, aesthetics, skincare, color and styling, cannabis, beauty innovation and more. OmegaXL by Great HealthWorks served as the event's title sponsor. The award statuette, better known as the 'Holly,' was designed by Christopher Guy.
Other presenters included: Regina Hall, Cheryl Hines, Kurt Rambis, Jordin Sparks and more. Danielle Lauder officiated as the award show's Ambassador.
A pioneer in dental prosthetics, Gary Archer has created some of the most memorable smiles in Hollywood history. Hailing from London, Gary came to Los Angeles following in his father's footsteps. He became a dental technician and eventually a specialist in dentures, partials and teeth and appliances for major film studios.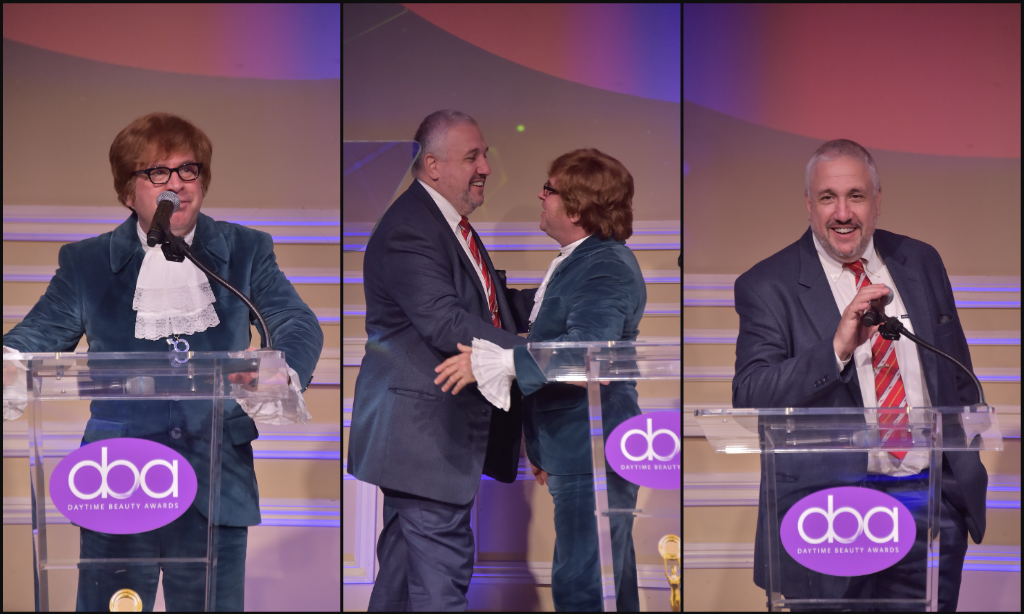 Catching his big break, Gary worked with the legendary Robin Williams in MRS. DOUBTFIRE before making his mark with Mike Myers in the AUSTIN POWERS trilogy. Pioneering methods for fake braces, safe-t-grills and temporary acrylic veneers, his work has been seen on Drew Barrymore in NEVER BEEN KISSED, Tom Hanks in CAST AWAY, THE GREEN MILE and CHARLIE WILSON'S WAR, as well as Adam Sandler's biggest box office hits. Other notables include, JK Simmons in SPIDER-MAN 3 to George Clooney and Don Cheadle in OCEAN'S THIRTEEN, Sir Anthony Hopkins in NIXON and Chris Messina in BIRDS OF PREY.
Most recently, Gary's collaborative work on Viola Davis in MA RAINEY'S BLACK BOTTOM earned the creative team an Academy Award. In TV, he's designed for X-FILES, RAY DONOVAN, THIS IS US, WATCHMEN and more.
From the small screen to the silver screen, Gary Archer's dental magic is undeniable.