Tammy Huynh
David and I had a chance to speak to LUXIE Beauty's CEO Conor Riley this morning about the incredible success of the company.
LUXIE has come a long way since 2014, when Tammy Huynh first developed and successfully sold out her prototype makeup brushes which she was selling at a pop-up kiosk in the Valley Fair Mall in San Jose.
Still headquartered in California, LUXIE is lead by Conor Riley, with Chairman of the Board Claudia Poccia, known for her work with Shiseido, Bare Escentuals, Stila, and Laura Mercier. They have offices in US and Singapore with fulfillment centers all over the world.
Known for their sleek design, Luxie brushes are soft, made of synthetic bristles which hold their shape perfectly. They're cruelty-free, and 100% vegan. They are considered high-performance makeup brushes which are praised by the likes of makeup artists such as Valerie Noble, known for her work on Octavia Spencer, Viola Davis, Vanessa and Laura Marano… Anthony Pazos, trusted by Khloe Kardashian, Beyoncé, Gretchen Rossi, and Ashley Greene as well as Lynn Simpson, known for her work with Jessica and Ashlee Simpson.
LUXIE's brushes are designed for industry insiders and offered to beauty fans worldwide. They have an array of 120 brushes to choose from. You can either purchase a single brush or a set.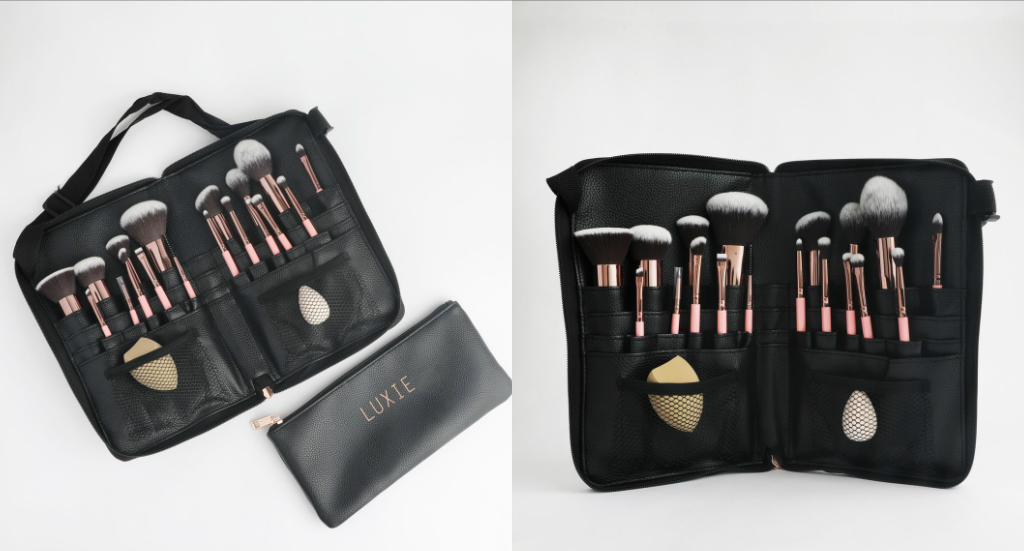 I went with the LUXIE 20-piece Expert Artist Kit ($225), Featuring 20 signature rose gold brushes organized in a slim zippered shell with two storage pockets to keep all your beauty essentials readily available in a removable zip-front pouch.
What is in the near future for LUXIE? Brow brushes and a cleaning product. Can't wait to try!
In the meantime, watch my interview with Conor here.
For more info go to: www:luxiebeauty.com