Dr. Jeffrey Tucker and his Chiropractic Office
I met Dr. Jeffrey Tucker by chance… yes, by chance while searching for a laser called Theralase. The reason I was looking for this particular laser, is because two years ago, I had to have a hip replacement on my right side and while I was told that the surgery was "no big deal," it was in fact a major operation; which was extremely painful and made walking a challenge for me for a period of two months.
I was told before the surgery that I may have to go through another procedure on my left side, but I remained optimistic. Unfortunately, a year and a half later, the symptoms that I had experienced before returned. I wanted to try to avoid the surgery and find another solution. I had heard about stem cells so I tried that, even though I had been warned that it did not work for everyone, which was my case.
Six months later as I started experiencing chronic pain on my left side, I had to see what else was available. Fortunately I knew a laser expert: Tamim Hamid, former NASA scientist and inventor of the Theradome Helmet. After talking to him, he brought to my attention the Theralase, which he described as a miracle treatment or close to it. It was worth a try. He claimed that its performance had no equal and he assured me that after 10 sessions, I would definitely notice a major change.
Unfortunately, no one seemed to know anything about Theralase in Los Angeles. We reached out to the manufacturer in Canada and found out that only one chiropractor had this laser in LA and this is how I met Dr. Jeffrey Tucker. He had vast interests which included the art and science of Pilates, yoga, stretching, medicine balls, stability balls, rubber tubing, balance training, chi gong, weight training, cardio training, endurance training, diet, chiropractic, performance enhancement, muscle and massage therapy. His practice includes chiropractic, postural assessment/conditioning, gait analysis, therapeutic exercise, and muscle/soft-tissue therapy.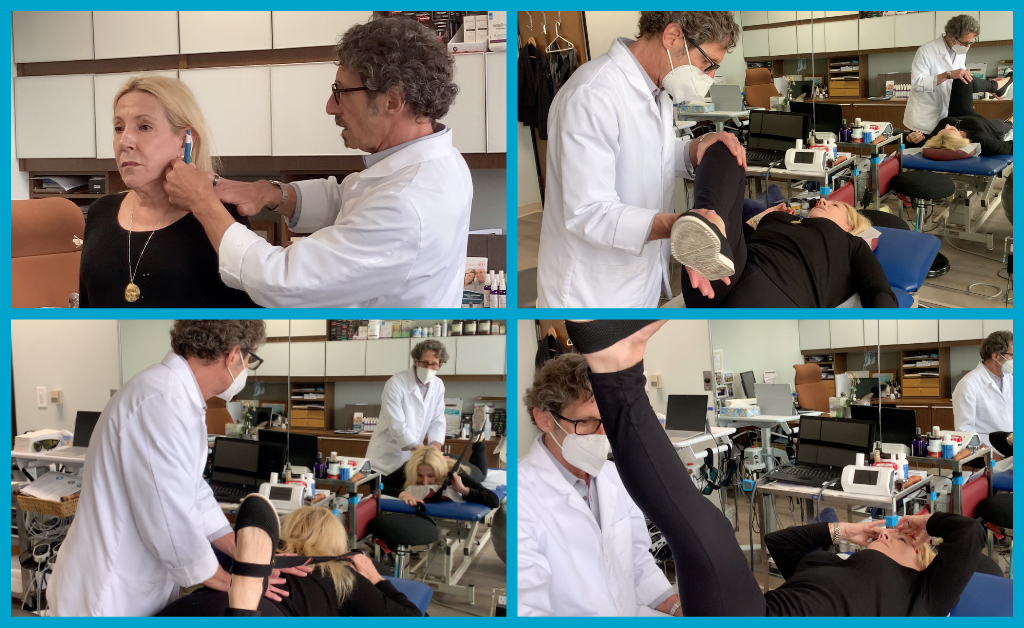 My initial visit with Dr. Tucker. Mobility and Posture assessement
A native of Los Angeles, Dr. Tucker completed his Chiropractic training at Los Angeles College of Chiropractic. He has a post graduate Diplomate degree in Rehabilitation and is certified in chiropractic spinal trauma. He is a past-president of the Santa Monica Chiropractic Society and is the current president of the American Chiropractic Association Rehabilitation Council. His accomplishments are numerous; a member of the California Chiropractic Association and the American Chiropractic Association. He won a KARMA award and was named Chiropractor of the Year from the Los Angeles Alternative Medicine group. He is the designated and selected Chiropractor for The Massage Therapy Center in Los Angeles. He is author of numerous articles and publications on soft tissue injuries, as well. He has been in continuous active practice for the past 30 years in the west Los Angeles area. He has completed advanced education and clinical training in rehabilitation, sports medicine, nutrition, and functional exercise training.
Most patients with chronic musculoskeletal pain have tried many treatments before and nothing has had a real lasting effect. It is his goal to help people return to a more active lifestyle again. So he became a laser aficionado and has many of them which he strategically incorporated into his individually designed treatments.
I have had seven sessions so far and it has been a life-changer. I wanted to share my experience with people out there who need help and introduce Dr. Jeffrey Tucker to the public.
When did you start your business?
I started private practice in 1983. I have been in multi-disciplinary practices for the past 25 years.
What is your specialty?
I am a specialist in Sports Medicine, Exercise therapy, wellness concepts, biohacking health optimization, diet and nutrition. I have enhanced training as a hands on (high touch) practitioner and I continue to be an early adopter of advanced technology. I teach other practicing doctors around the world in proper diagnosis, exercise as medicine, and healthy aging.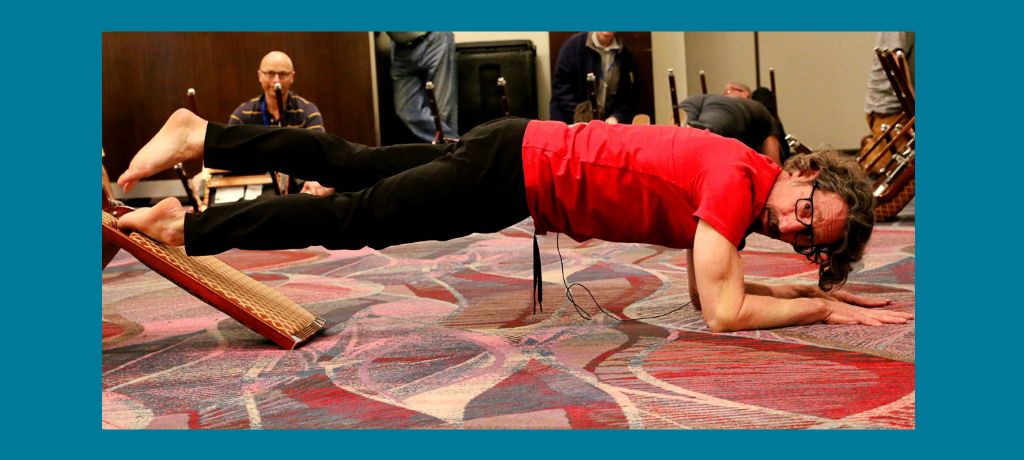 Dr. Jeffrey Tucker teaching & demonstrating a proper plank at a seminar
Who typically are your clients?
Professional men and women that have seen other practitioners such as physical therapists, chiropractors, and acupuncturists for muscle and joint pain. These people are looking to reach their greatest (fullest) potential, decrease stiffness, increase core strength, and slow down the aging process. I am well trained to treat chronic pain. People come to see me because I have laser therapy, pulse wave (shockwave) therapy, lymphatic therapy, vibration and sound therapy, and PEMF therapy. I am helpful at decreasing pain, decreasing muscle stiffness, improving your disc hydration (ELDOA exercise training), losing weight, helping patients get active and stay active, and improving overall performance.
How did you get interested in lasers?
I was an early adopter because I knew that light therapy results in beneficial therapeutic outcomes like alleviation of pain, decreasing inflammation, improving immunomodulation, and promotion of wound healing and tissue regeneration. It was a game changer for my arthritic patients.
What are the benefits of lasers?
Photobiomodulation (Laser therapy, light therapy) is a regenerative cell therapy in our body. Laser light therapy, when in contact with the skin, increases oxygen to the tissues. Laser light therapy reacts with white blood cells, proteins, cytokines, and red blood cells which increases mitochondria function and the tissue oxygen supply.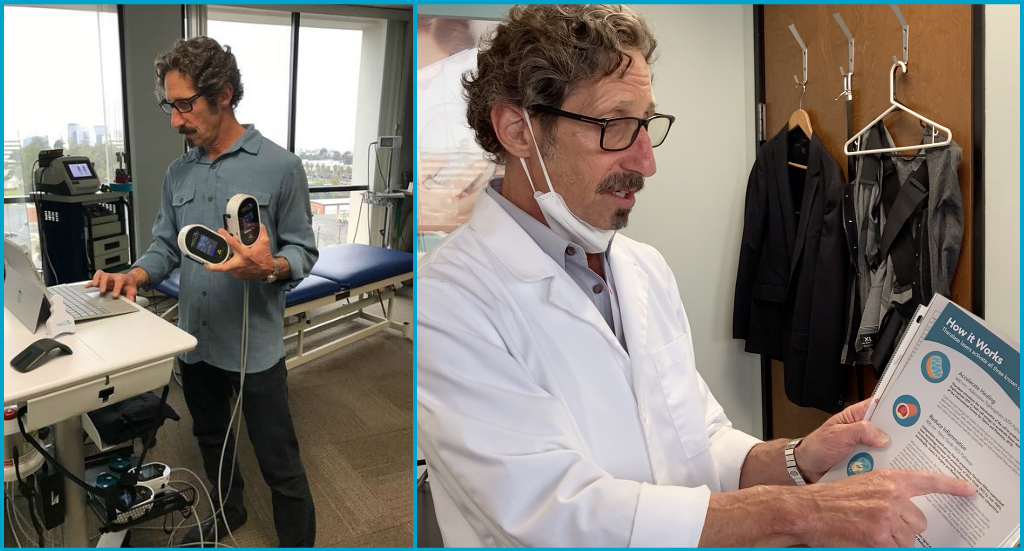 What lasers are you using and why?
Laser is used to treat many of my patient cases regarding the blood vessels, muscles, tendons, nerves, and joints. Laser therapy decreases pain and works on stimulating anti-pain mechanism mediated by serotonin and our endogenous opioid systems.
When did you start to incorporate them into your practice?
I started using laser also known as photobiomodulation 10 years ago when they first got FDA approval in the US.
Is laser the future in medicine and especially for chiropractors?
Light therapy is definitely going to see more and more health and healing applications. It's getting more mainstream and people should seek out doctors that understand the benefits of this safe and effective therapy.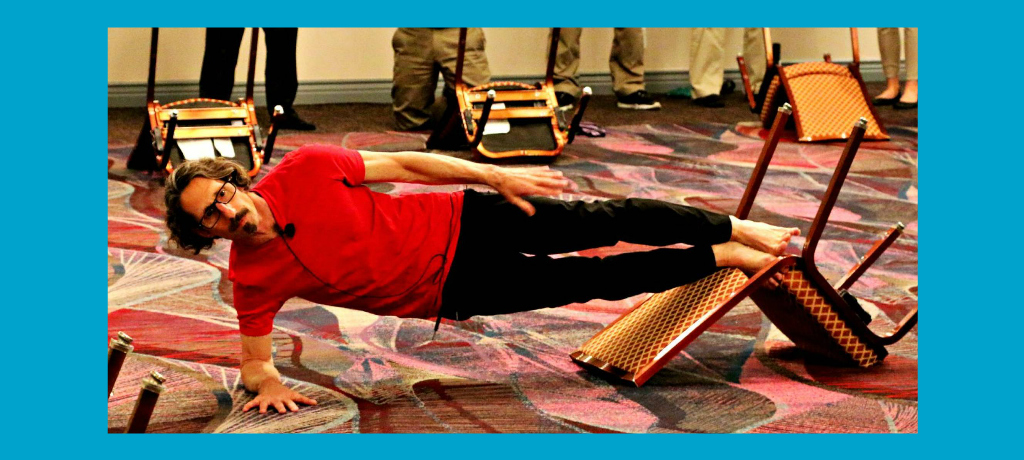 Dr. Tucker teaching & demonstrating a proper side plank at a seminar
You teach on a regular basis. What do you teach and do you like teaching?
I regularly teach hands on training courses to doctors and lecture to the public about healthy aging. I enjoy topics such as posture improvement through exercise, the latest protocols in chiropractic and physical therapy, and nutrition. My seminars are practical courses about in-office tests to make a proper diagnosis, and treatments that blend new technology such as shockwave, laser, electrical stimulation, sound therapy with ancient methods.
You are closely associated with nutrition. What role does it play in your practice and why?
Many patients come in complaining of multiple aches and pains i.e. "I have a pain in my knee, my hip hurts, my low back aches and I have a sore shoulder." These patients are often just 5-10% over weight (increased fat) and there joints are 'smoldering' with inflammation. These patients need anti-inflammatory nutrition and I have a full time weight loss person working with me in the office. We focus on the ketogenic diet for our weight loss patients. I also make sure I review patients supplement programs for optimal health.
---
At the end of the day if you experience pain it is worthy to seek alternative treatments and if you happen to live in L.A., a visit to Dr. Jeffrey Tucker is a must. I highly recommend it.
Next, we will share a series of LATF TV segments about Dr. Tucker's practice, the Theralase and my follow up since the beginning of my laser treatment.