Earlier this month, I introduced you to Gloria Pope, a certified Health Coach who, besides helping people discover the life-changing power of real food, exercise and natural medicine, is a strong believer in the benefits of CBD which she incorporates into her daily ritual. CBD is scientifically known to decrease chronic inflammation in the body.
Similar to our Nervous System, we have a system called the Endocannabinoid System (ECS) and it's responsible for harmonizing our entire body and bringing us back into balance. Cannabidiol (CBD), the most abundant cannabinoid in hemp, nourishes the ECS so it can do its job.
After practicing the addition of CBD into her daily routine, Gloria decided to create her own company: Mbrace.cbd, which was crafted to appeal to the CBD purist who is looking for the ultimate all-purpose supplement; free of flavorings, colorings and additives.
"We use just two ingredients in each of our bottles: Broad Spectrum CBD oil and MCT coconut oil. The MCT oil helps promote the absorption of nutrients into our bodies while the CBD oil carries an array of health benefits. Our extra strength 'relieve' 1200mg, is a Full Spectrum for those that need extra support," says Pope.
She adds, "Our products are derived from organically USA grown hemp and processed in a FDA approved lab. It is important to us that our brand is as pure as possible."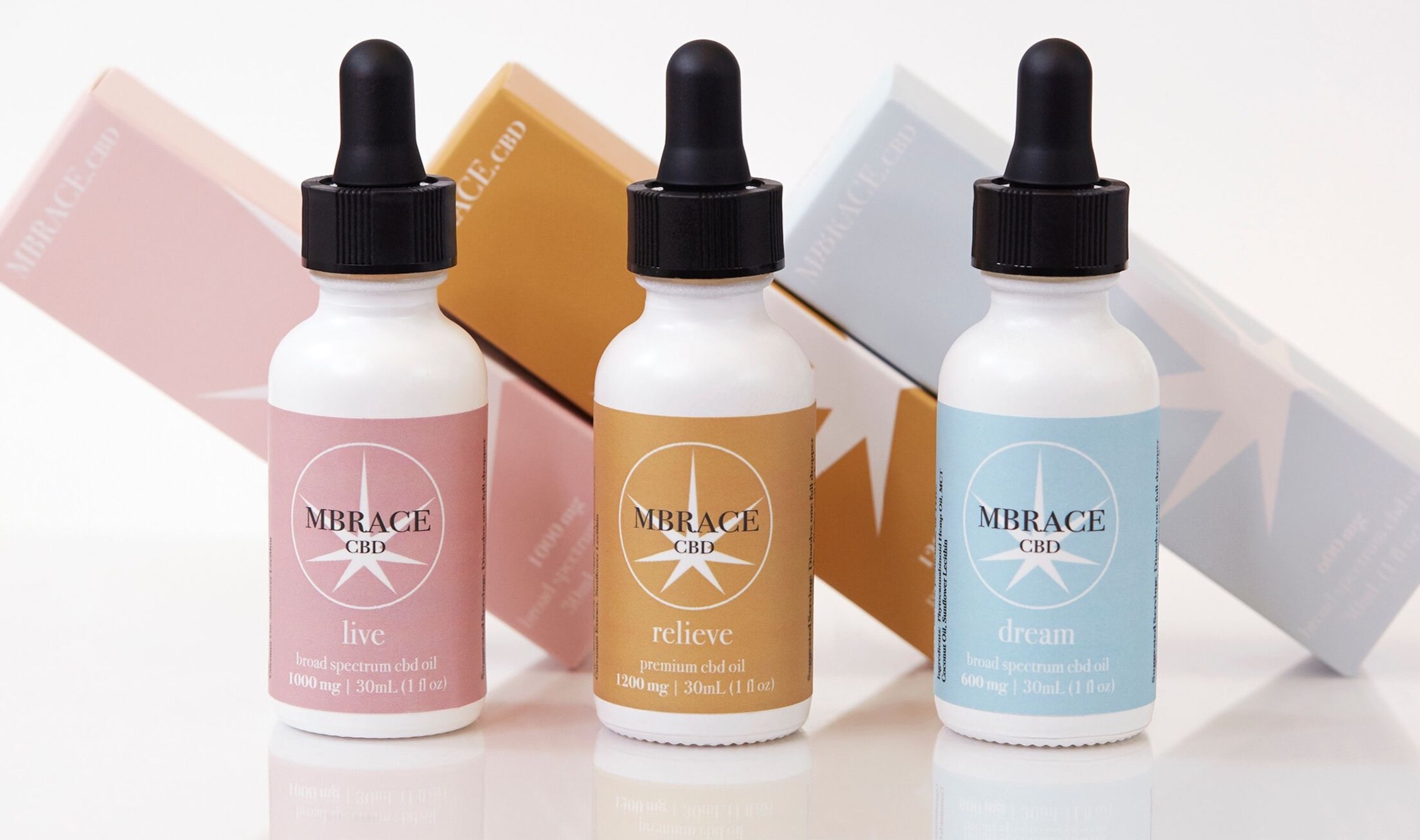 Mbrace offers 3 tinctures:
"DREAM" 600 mg Broad Spectrum is used to reduce stress, anxiety, mood swings or aches and pains that keep you from getting a good night's sleep.
"LIVE" 1000 mg Broad Spectrum is a stronger version than "Dream" and can soothe the stress and anxiety we feel throughout the day so that these negative emotions never take over completely. Take one full dropper when you feel anxious, stressed or when you feel mood swings are coming on and everything is just a little too much.
"RELIEVE" 1200 mg Full Spectrum can be very beneficial for those who suffer from chronic pain, have muscle recovery needs, or are dealing with high levels of stress. It can be taken once or twice a day (half to a full dropper) depending on your needs.
It's imperative that you take CBD consistently daily to achieve maximum results.
THC-Free – each tincture contains 30 servings – 30 ml – MCT coconut oil – Free of solvents, heavy metals, and pesticides – No additives or preservatives – Broad Spectrum: CBD, CBG, CBN, and CBC and Non-GMO.