"What's that?" my friend asked as soon as she walked into my 'home gym.' Pointing at my FeetUp® Trainer, she looked perplexed.
"Try it," I said as I showed her how to dip her head through the center of the chair and use her core to bring her body into a handstand-like position.
The next week, my friend sent me a photo of her new FeetUp® Trainer. This uniquely designed contraption is catching quite a bit of attention in the athletic world via social media and word-of-mouth.
It might look small and simple, but the FeetUp is mighty and useful for anyone looking to strengthen their core and mobilize their body more through the power of stretching. As an American Ninja Warrior competitor and rock climber, one of my most consistent goals is to better my hand-stand and center. This creation helps you to do that and then some.
Not just for yogis (even though their tagline is "Turn Your Yoga Upside Down"), athletes and weekend warriors of all levels can benefit from the FeetUp.
Why?…
You can go upside down without any pressure on your neck and spine.

Fantastic for hip-opener stretching for runners and dancers.

Master inversions safely and easily, within minutes.

Build strength, flexibility and balance daily.

It allows you to center yourself and practice steady breathing.
Available in various colors, I chose the red cushion, faux-leather (vegan). It's extremely easy to assemble the classic wood frame. The frame is made from multi-layered beech wood. In a load-bearing test at Technical University of Braunschweig (Germany), the Trainer™ resisted a load of 2000 lb (over 900 kg).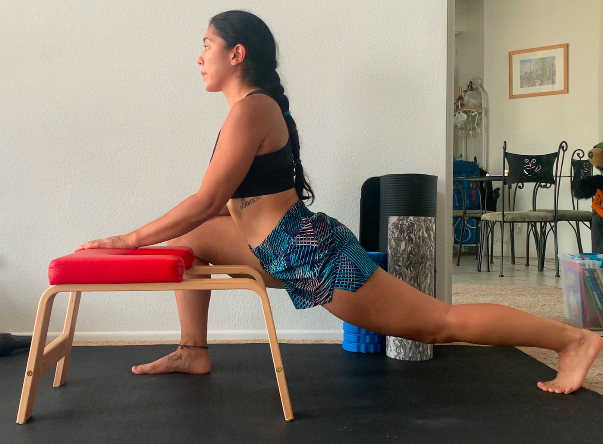 Daniel Scott, Director of Community Development for FeetUp.com guides new users through a series of informative blog posts. They also offer free classes on their Youtube Channel; a great way to connect and get moving if you're working from home!
I recommend checking out their channel and watching the 101 video hosted by FeetUp® Ambassador, Kilian Trenkle. He walks you through the basics of easily inverting.
When I say, this is for everyone: I mean it. You want to work on your splits and flexibility? This helps. You want to strengthen your core? This helps. You want to stretch the safe way? This helps! You get the idea…
Check it out for yourself at: https://feetup.com/