Netflix has become my best friend; not only is there no shortage of programs in English and in other languages, but if you want to learn just about anything on any subject, they have some sort of documentary about it. Being in the midst of preparing "The Fathers of Cannabis," I have been actively checking out the documentaries relating to cannabis and CBD. This is how I discovered Sträva Craft Coffee crafted in the city of Denver.
Coffee has long been a social custom in communities around the globe. I could not conceive my life without a good cup of coffee, but one infused with CBD has to be even more perfect.
I recommend starting your day with an incredible cup of Sträva CBD infused coffee to awaken mind, body and soul.
How different is it you ask?
First get to know your CBD ingredients: Cannabidiol (CBD) is a natural molecule that is extracted from the flower of mature hemp plants. Along with CBD, hemp flowers contain trace amounts of around 120 other natural molecules collectively known as cannabinoids. From raw hemp extract, there are three primary categories of finished products that contain cannabinoids:
1. Full-spectrum hemp extracts contains all the naturally occurring cannabinoids and terpenes from the plant, including small amounts of Tetrahydrocannabinol (THC). These extracts contain the most complete representation of natural molecules that are credited as delivering the most efficacious "entourage effect."
2. Broad-spectrum hemp extracts have been distilled to remove most terpenes, plant cells and select cannabinoids including THC. Broad-spectrum extracts are often golden in color and contain beneficial oils, antioxidants and concentrated amounts of CBD and trace amounts of CBC, CBG, CBN and other cannabinoids. Broad-spectrum products are desirable for those who wish to ensure they are not consuming THC but still seek the natural benefit of the "entourage effect" that comes from cannabinoids working together.
3. CBD Isolates are pure powdered CBD molecules (often 99%+ concentrations). Isolates are the end result of extensive distillation and are generally colorless and odorless. Isolates are frequently used in mass-market CBD products because they are cheap and easy to blend into tinctures, edibles, vape cartridges and topicals. CBD isolates are considered the least effective for consumers because they lack the "entourage effects" generated by the interplay of various cannabinoids.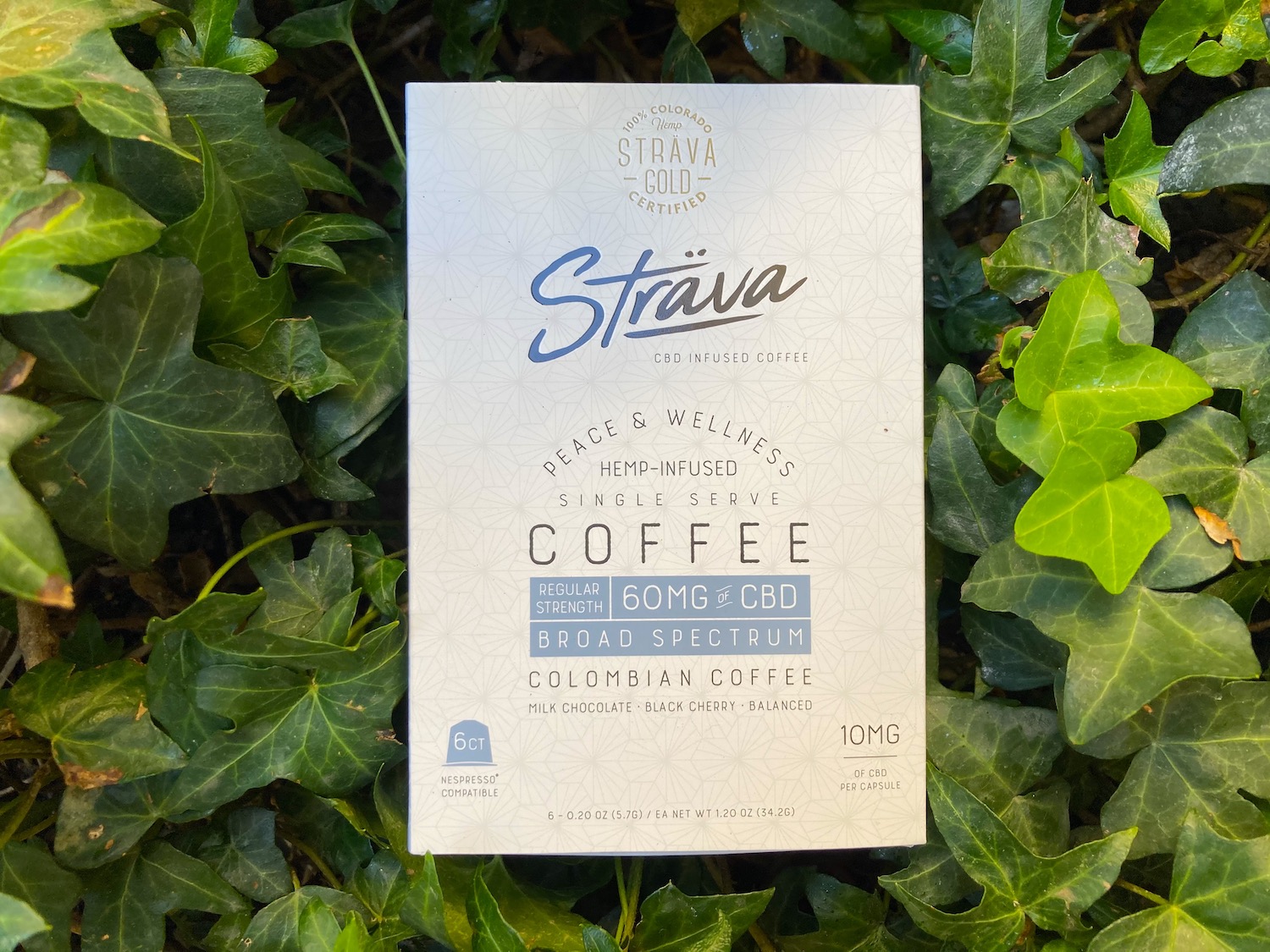 Sträva's coffees are infused with broad-spectrum hemp extracts that come from organically grown Colorado hemp crops.
Each crop, depending on the specific strain of hemp grown, and the particulars of the distillation process, may present slightly different cannabinoid profiles, with key and trace cannabinoids present in varying ratios and total quantities. Sträva's goal is to deliver products that contain as natural and robust a spectrum as possible, with no THC, while still pairing beautifully with their coffee.
The Sträva collection includes Columbian coffee, medium and dark roast which can be purchased in either whole beans or ground. They also offer decaf as well as K-Cup Compatible Capsules. Its benefits are multiple.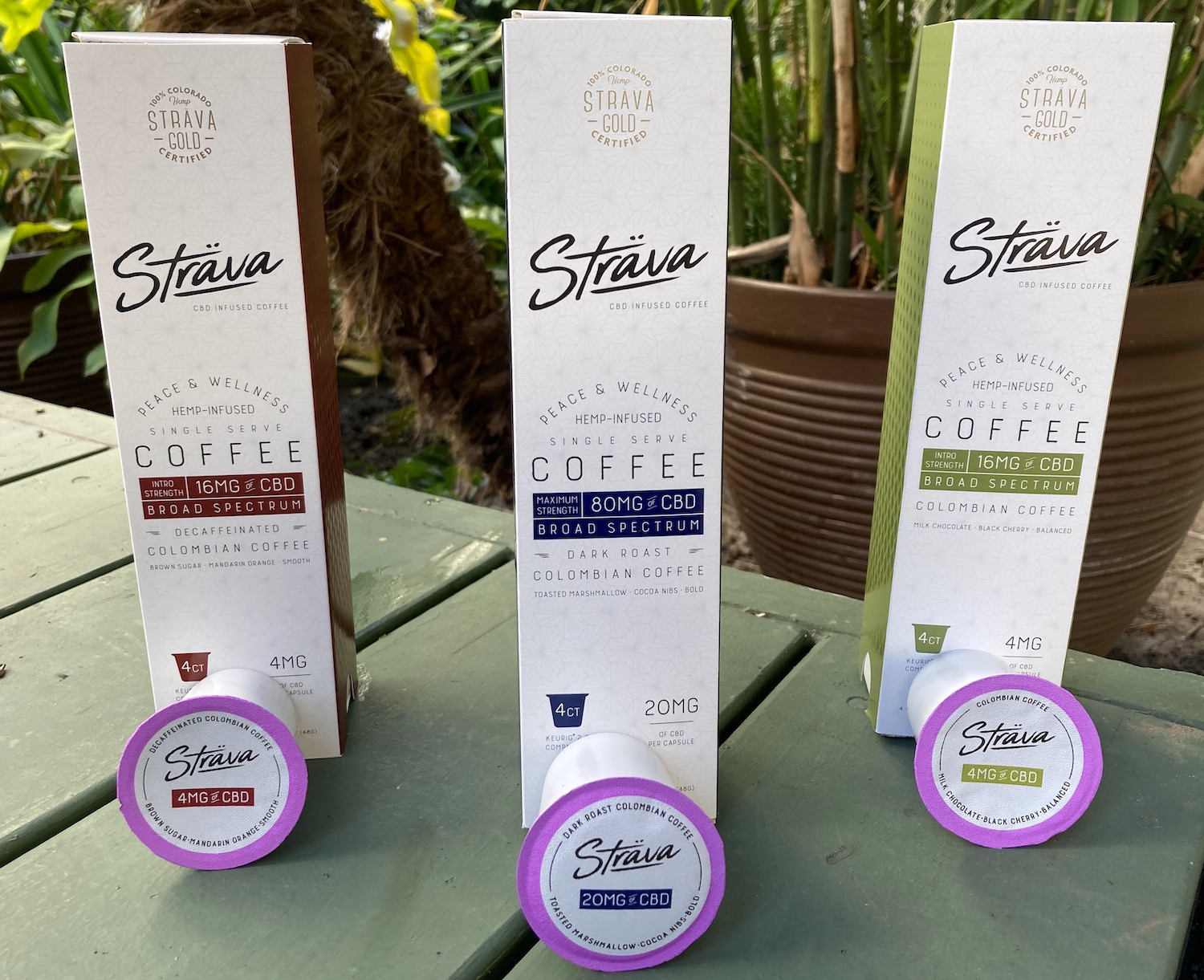 You will feel calm, relaxed and focused. It will ease the body inflammation and discomfort. The taste is smooth with notes of Milk Chocolate and Black Cherry which lingers on the palate.
100% Arabica Coffee, Organically-Grown Broad-Spectrum Hemp Extract (No THC) I highly recommend it.
It is the perfect gift for anyone who loves coffee and/or cbd. Order online www.stravacraftcoffee.com you won't regret it.