Gift dad a box of delicious chocolates from Maribel Lieberman. As Father's Day quickly approaches on June 21st many families may still remain apart to ensure safety. There is no better way to celebrate your Dad than heading to the MarieBelle website, getting dad the Father's Day Grand Chocolate Gift Box ($67), and having it delivered anywhere in Manhattan. You also have the ability to customize a confection to one's own specifications which is what sets MarieBelle New York apart. There is nothing Dad will appreciate more than having his name and a short message inscribed on a chocolate-when he might not be up for meeting in public.
Maribel, hails from Honduras, where her early love for confections was evident as she began selling candies to her neighbors at the tender age of 8. However, living with her mother and grandmother, who were both seamstresses, led her to pursue a career in fashion-arriving in the US at 17 to attend Parsons School of Design. Lieberman felt unfulfilled leading her to search for meaning in the field of gourmet cuisine. Soon thereafter, she opened a store "Lunettes et Chocolat" in 2000 which combined her love for chocolate with her friend's collection of eyeglasses under one roof. Alas Maribel had found her niche and struck out on her own in December 2001: renting a small gallery space in Soho that would continue to serve as her flagship for the subsequent 18 years.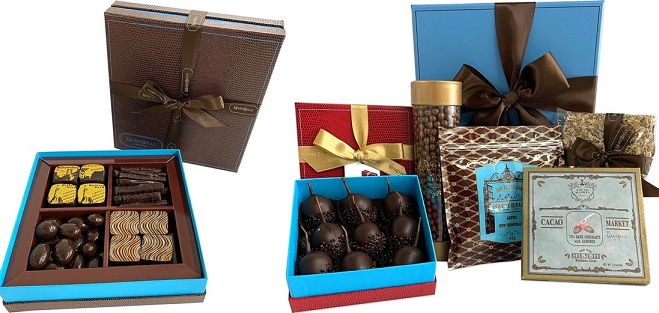 What makes this chocolate so special? The superb ingredients of Criollo cocoa beans, Tahitian vanilla, Japanese matcha and Puerto Rican Rum produce an unrivaled product that draws customers from around the globe.
This year MarieBelle New York introduced a High Tea concept which allows customers to partake in this British tradition while indulging in lite bites, chocolate fondue, scones and assorted sandwiches such as Salmon and dill cream cheese. A Cacao Bar nestled in the rear of the Soho Store is similarly decadent as desserts, pastries and hot chocolate await.

Other Father's Day items available are the Father's Day Quartet Box (45) or the classic Chocolate Ganache 16-Piece Box ($48).
https://mariebelle.com/

MarieBelle New York (SoHo)
484 Broome Street
New York, NY 10013
(212) 925-6999 x1

MarieBelle at the Kitano Hotel (Midtown)
66 Park Avenue
New York, NY 10016
(212) 885-7177