Don't tune in, smoke in…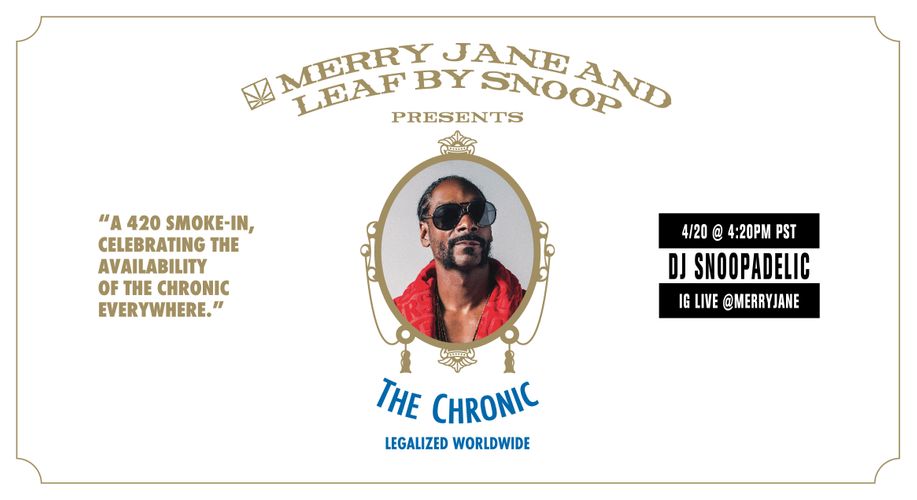 Global media platform MERRY JANE, is proud to announce a livestream DJ set on Instagram @merryjane featuring Snoop Dogg aka DJ Snoopadelic in celebration of 4/20 and the worldwide digital release of Dr. Dre's seminal debut album The Chronic this Monday, April 20th, at 4:20pm.

For all his fans around the world to livestream at home, Snoop will be doing a DJ set and "smoke-in" at 4:20 PM (PST). As the most featured artist on the groundbreaking and chart-topping 1992 album (appearing on 13 of the 16 tracks), Snoop became a household name before his own debut album, Doggystyle, dropped the following year. Snoop will celebrate The Chronic and its classic, West Coast, G-Funk sound — as well as everybody's favorite topic on 4/20 — during this historic stream sesh.

"As MERRY JANE is now the #1 media source for all things cannabis-related, we wanted to pay tribute to the innovators who paved the way for today's fastest growing industry. Dr. Dre's The Chronic is widely considered the most well-produced album of all-time. From its name, artwork, and introduction of Snoop Dogg's artistry, The Chronic revolutionized modern cannabis culture, and we are proud to provide our global audience a digital experience for a responsible, 4/20 holiday," said Scott Chung, MERRY JANE's COO.

MERRY JANE, as a culture and lifestyle leader, has partnered with Entertainment One (eOne) to celebrate The Chronic and its 2020 re-release on all streaming platforms. The record first dropped 28 years ago on Death Row Records and acclaimed by both critics and fans to be one the greatest albums in music history. Earlier this month, the US Library of Congress — America's most pristine historical archive — announced that the album would be added to the National Recording Registry. The LP helped define West Coast rap, and introduced the world to Snoop Dogg, Daz Dillinger, Kurupt, Nate Dogg, Warren G, Lady of Rage, D.O.C, RBX, and others. It is an honor to share The Chronic and promote its imprint on history to a global audience during the most important day in cannabis culture.

The livestream is sure to be the premier 4/20 event and will spark its own legacy for years to come. Tune in to MERRY JANE's Instagram (@MERRYJANE) to watch Snoop's DJ set, and visit our website for a series of articles about the landmark album.