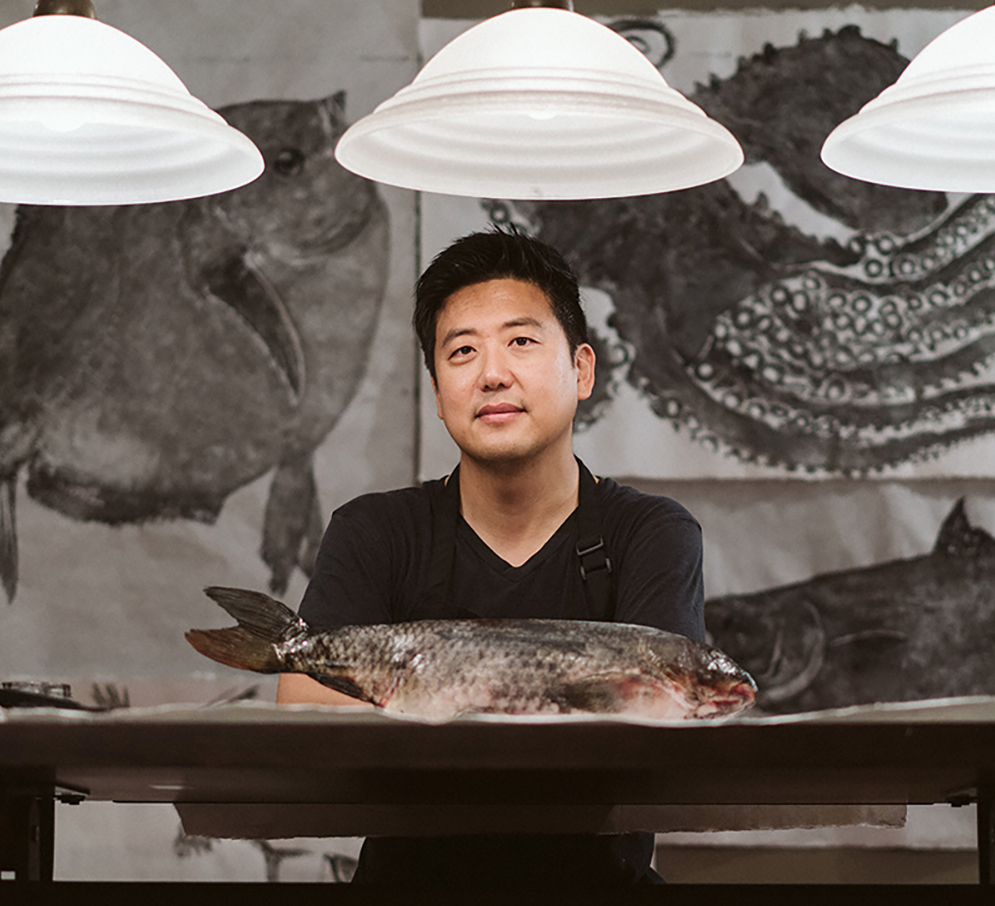 The Catalina Island Museum presents Soot and Water: Gyotaku Records of Catalina, an exhibition featuring the centuries-old Japanese craft of Gyotaku by Dwight Hwang, one of the last artists practicing this traditional form of printmaking. The exhibition will showcase Hwang's gyotaku prints representing 23 species from the waters surrounding Catalina Island. Soot and Water: Gyotaku Records of Catalina will be on view from March 28, 2020 – November 1, 2020.
"Catalina Island Museum is delighted to collaborate with Dwight Hwang to present Soot and Water," said Julie Perlin Lee, Executive Director of the Catalina Island Museum. "As an institution dedicated to preserving the island's legacy through art and history, this exhibition offers visitors the unique opportunity to experience ocean life beneath the surface and introduces this incredible art form to future generations."
A technique dating back to the early 19th century, traditional Gyotaku consists of swabbing the surface of a fish with calligraphy ink, called sumi, created from pine soot and water, and pressing a sheet of traditional Japanese paper made from mulberry bark, called washi, onto the inked surface to produce a print. Originally used as a way for Japanese fishermen to record their extraordinary catches, Hwang reestablishes a sense of life and motion to these underwater creatures through this lost craft. He has mastered not only the traditional side profile portrayal of fish, but has also developed a "twisted" variant to showcase the animal from its belly or back.
23 species of fish found in the waters around Catalina Island are represented in the exhibition including the Striped Bass, Albacore Tuna, Yellowfin Tuna and the very rare Paper Nautilus. Attributed to his love of fish, Hwang's prints are able to mimic and portray the specimen during a split second from when it was still living, bringing life into each of his art pieces as a "snapshot" of the specimen during its most magnificent moment.
Soot and Water: Gyotaku Records of Catalina will be on display in the Catalina Island Museum's Artists' Plaza Gallery from March 28 through November 1, 2020, and is accessible with general admission museum tickets. Tickets are $17 for adults, $15 for seniors (60+), students (with valid ID), and members of the military (active and veterans). Children 15 years and younger receive free admission with adult admission. Members of the museum receive free admission.
Visitors will have the opportunity to witness a live in-person gyotaku demonstration from Hwang during the Museum Open House & Exhibition Opening on Saturday, April 4 from 1 p.m. – 5 p.m. Raffle tickets will be sold for a chance to take home the print created during the demonstration. Soot and Water curator Michael VanHartingsveldt will also be present to give a gallery talk about the art of gyotaku and this specific exhibition. Admission to the Museum Open House & Exhibition Opening is $25 for adult non-members and $10 for non-members ages 3 to 15. Members of the museum receive free admission.