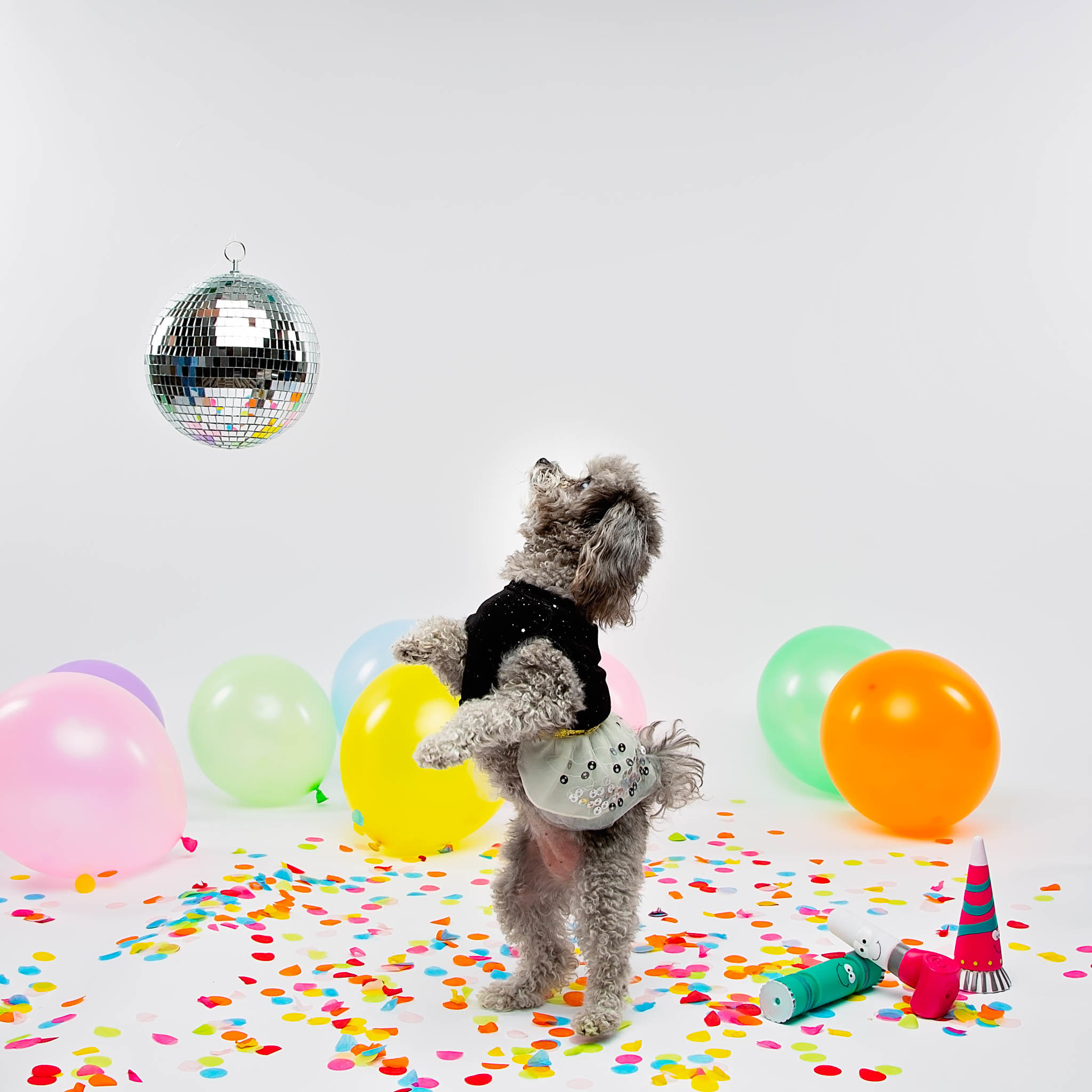 The end of a decade is near, and PetSmart is bringing pets in on the biggest New Year's celebration in years. PetSmart, the leading pet specialty retailer in North America, has launched a New Year's Eve collection for dogs complete with dazzling outfits and festive toys.
For pups in search of a dapper look to ring in 2020, they can look no further than the Top Paw® Holiday Tuxedo Pet Vest, which adds a touch of luxury to any occasion. For a glitz and glam look, pet parents can help their dogs look fabulous in the Top Paw® Holiday Glitter Velour Pet Dress, featuring a skirt of stars and topped off with a shiny bow. If hats are more your pet's style, the sparkly Top Paw® Holiday Party Top Hat or Top Paw® Holiday Party Hat slip on and off easily and offer a comfortable fit courtesy of their adjustable straps.
For the pet who is less about dressing up and more about play, PetSmart's New Year's Eve collection offers an assortment of toys featuring festive drinks, dressed up animals and LED technology. Your dog can join in on the midnight toast with the Top Paw® Holiday Party Champagne Dog Toy, which is adorned with the phrase "Pop, Fizz, Clink!" The Top Paw® Holiday Party Sloth Dog Toy is an adorable plush squeaker toy, which is perfect for a photo opp with your party animal. Or, your pet can ring in the New Year with the Top Paw® Holiday Party LED Flamingo Dog Toy. Its colorful lights and squeaking sounds are sure to keep your pet entertained and engaged while you wait for the ball to drop!
Before getting dressed up in party attire, make sure your pet is set up for a safe night. Fireworks and celebrations can cause anxiety for pets. You can help keep them relaxed by using a calming spray like Only Natural Pet® Just Relax Botanical Calming Dog Spray or calming chews like Only Natural Pet® Hemp Calming Support Soft Dog Chews. You can also create a safe space away from party guests in the form of a crate, bed or couch. Make sure your pet's information and microchip details are up-to-date.