With the support of Traci's Paws, Helen Woodward Animal Center has been able to surprise eleven families of service members with "Secret Santa" covering the cost of adoption fees.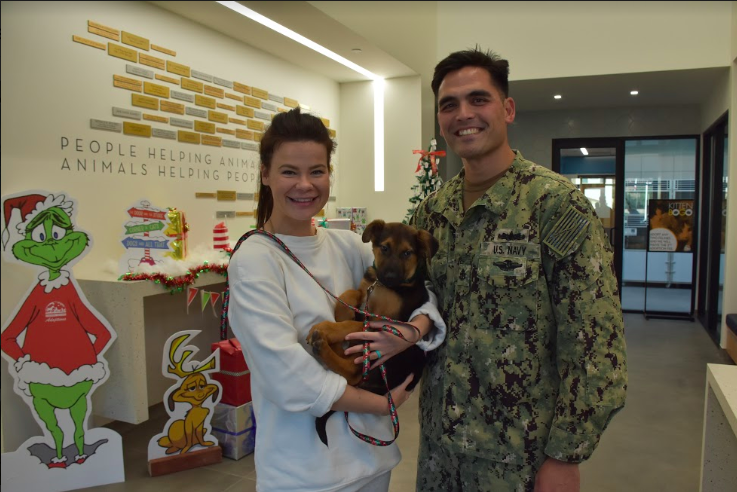 The smiles and happy hearts have been a true reminder of what Christmas is all about.
Over the past few years, Helen Woodward Animal Center has been honored to be a part of special military adoption weekends. Traci's Paws founder, Traci Wilkerson Steckel, teams up with local animal shelters to fulfill her organization's mission of "Saving The World, One Animal At A Time," by providing sponsored pet adoption fees for current, former/retired and/or immediate family members of the: Army, Navy, Air Force, Marines, Coast Guard and National Guard.
Both organizations share a belief in the wonderful healing quality of animals and the many ways they improve the lives of their human families. The unconditional love of a pet provides years of comfort, laughter, joy and devotion – crucial elements to assist military members and their families whose lives have been dedicated to dangerous careers and necessary bravery. The families, in turn, are lifesavers to orphan pets longing to find their forever homes.
The idea to request "Secret Santa" covered adoption fees from Traci's Paws came from Helen Woodward Animal Center Operations Director Jennifer Shorey who had witnessed many of these moving unions.
"The holiday season is emotional for so many reasons but probably doubly so for our military," explained Shorey. "In these weeks, many service men and women are celebrating right before an upcoming deployment or have just returned from a challenging mission. They are experiencing worry and fear and maybe some depression. The laughter and joy a new furry family member can provide is second-to-none."
With the blessing of Traci's Paws, Helen Woodward Animal Center began surprising military families on November 27th. Adoption fees have been covered for eleven families totaling over $5,000 with the "Secret Santa" surprise gift announced at the cash register as the adopters are pulling out their wallets to pay.
"We have loved knowing that these families were coming in to bring home an orphan pet with absolutely no knowledge that the pet's adoption fee would be covered," stated Helen Woodward Animal Center Adoption Service Manager Dora Dahlke. "We see such an excitement in their faces to bring home this special new family member and the gift of covering the fee is just icing on the cake. It feels like the very least we can do for these wonderful men and women who keep us safe, not just during the holidays, but all year long."
For more information on Helen Woodward Animal Center or to adopt an available orphan pet, please contact the Adoptions Department at: 858-756-4117 ext. 1, visit www.animalcenter.org or stop by at 6461 El Apajo Road in Rancho Santa Fe.