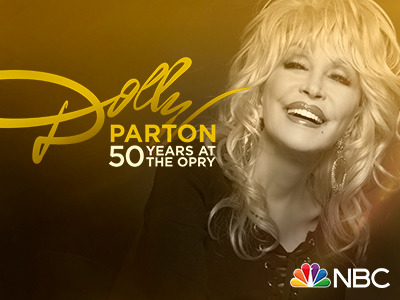 Country music legend Dolly Parton is returning to NBC and will perform at one of the most iconic stages in the world when "Dolly Parton: 50 Years at the Opry" airs Tuesday, Nov. 26 from 9-11 p.m. ET/PT.
The special is a celebration of Parton's 50 years as a member of the Grand Ole Opry. It will feature new interviews as well as a performance from Parton on the Opry stage where she'll deliver some of her biggest hits in front of a live audience. In addition, her superstar friends – Dierks Bentley, Emmylou Harris, Chris Janson, Toby Keith, Lady Antebellum, Margo Price, Hank Williams Jr., and others – will also be on board to celebrate Parton's career and perform.
"I'm so thrilled to be celebrating my 50-year anniversary with the Grand Ole Opry," Parton said. "I'm also excited that NBC wanted to share in this milestone with me. Together we hope to entertain a broader audience on what the Grand Ole Opry is and what it means to me. We have some special treats, surprises and great performances by some very talented artists and I'm looking so forward to sharing it with you."
"Dolly Parton's impact on country music is beyond description, and she remains a cherished icon," said Doug Vaughan, Executive Vice President, Special Programs, NBC Entertainment. "Dolly will always have a home at NBC and we can't wait for her to deliver her wonderful collection of hits to the Opry stage."
"Since officially joining the Opry 50 years ago, Dolly Parton has taken the country music world — and the world, for that matter — by storm, taking her Opry roots with her," said Dan Rogers, Opry vice president and executive producer. "We are thrilled that the girl who grew up listening to the Opry with her family in the Smoky Mountains will be sharing the heart of the Opry live this week on the Opry stage and with millions of fans next month on NBC."
Justin Gorman, Matthew Hickling and Hannah Dodson will executive produce. Man Alive Entertainment is producing.
The special kicks off NBC's "Oh What Fun" holiday slate, which runs from November through Jan. 1 and includes the network's perennial specials and other holiday programming.