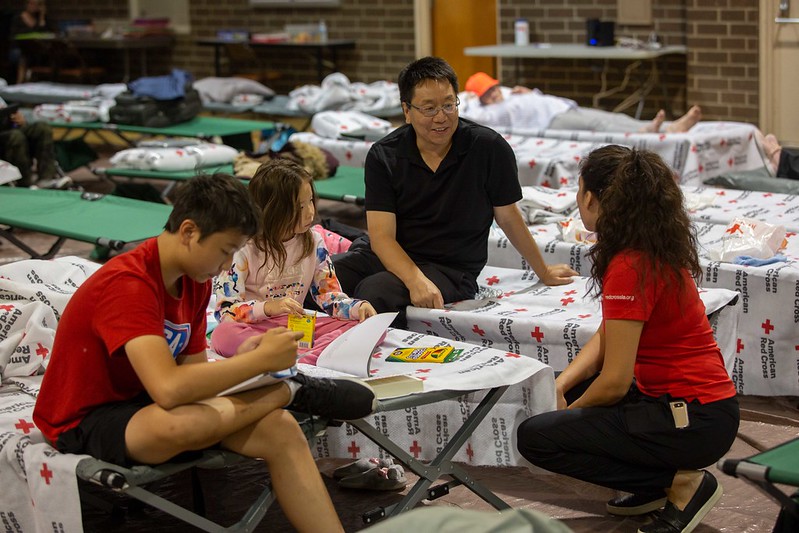 The American Red Cross Los Angeles Region will close its remaining shelters at Sylmar Recreation Center (13109 Borden Ave., Sylmar, CA 91342), Granada Hills Recreation Center (16730 Chatsworth St., Granada Hills, CA 91344) and Northridge Recreation Center (18300 Lemarsh St., Northridge, CA 91325) effective immediately. The Red Cross has been working with all shelter residents to make sure they have made plans for their next steps by either returning home or moving into a more comfortable and longer-term housing solution.
Red Cross emergency shelters are designed to meet the immediate, short-term needs of impacted residents until long-term efforts can get underway. The Red Cross also plays a critical role in helping families and communities recover in the weeks and months after a disaster. For the past three days, the Red Cross mobilized more than 30 disaster workers – 90 percent of which were volunteers – to help neighbors affected by the Saddleridge Fire, and it:
Opened four shelters
Provided more than 440 shelter stays
Served more than 3,200 meals and snacks
Distributed more than 490 comfort kits
Volunteered mental health, health services and spiritual care professionals, who provided more than 470 people with support and care
The Red Cross LA Region has partnered with the Los Angeles Fire Department Foundation and ABC Channel 7 to launch a fundraising campaign to aid to those affected by the devastating Saddleridge Fire. Your gift will help provide tools, equipment and immediate disaster relief resources for responders and those who were displaced or affected as they begin their recovery. Please text: FIRE to (310) 929-6907 to donate.
The Saddleridge Fire serves as a reminder of the importance of being prepared for disasters big and small. The Red Cross offers these safety steps you should follow:
A wildfire can spread quickly, leaving you little time to get to safety. Be prepared to evacuate at a moment's notice and obey all evacuation orders from officials.
Back your car into the garage or park it outside, facing the direction of your evacuation route.

Confine pets to one room, so you can find them if you need to evacuate quickly.

Limit exposure to smoke and dust. Keep indoor air clean by closing windows and doors to prevent outside smoke from getting in.

Don't use anything that burns, such as candles, fireplaces and gas stoves.
Don't return home until officials say it's safe to do so.
Inspect the roof immediately and extinguish any sparks or embers. Wildfires may have left embers that could reignite.

Check your home for embers that could cause fires. Look for signs of a fire including smoke or sparks.

Avoid damaged or downed power lines, poles and wires.

Keep your animals under your direct control. Hidden embers and hot spots could burn them.

Wet down debris to minimize breathing in dust particles.

Wear leather gloves and shoes with heavy soles.

Throw out any food that has been exposed to heat, smoke or soot.
For more information and preparedness tips, visit redcross.org/wildfire.