It is said that "Necessity is the mother of invention," and that must have been the case in 1926 when C.G. Johnson, apparently tired of manually raising and lowering his heavy garage door, invented the first electric overhead garage door opener.
Living in the mid-western city of Hartford City, Indiana, the cold of winter and the humidity-filled heat of the summer inspired C.G. to do something about the inconvenience of getting out of his car in the various weather conditions and lifting his garage door. Although this was a ground-breaking invention, the Electric Garage Door Opener did not become popular until Era Meter Company of Chicago produced one after World War II, where the overhead garage door could be opened via a key pad located on a post at the end of the driveway or a switch inside the garage. Since its advent, there have been many companies along the way that have manufactured these devices with varying degrees of quality and success.
I have owned a few garage door openers as a homeowner and realize how necessary and convenient they are for opening and closing the garage door. I was recently in the market for a new opener after the one I had started to malfunction, getting stuck opening and closing and even somehow jumping off the track, to the point that it wouldn't open at all. I spoke with several repair companies who specialize in replacing garage door openers and everyone, without exception, recommended LiftMaster, or the Chamberlain brand as the industry leader in quality and durability. They also informed me that my new opener has to be in compliance with California Senate Bill 969, and The Chamberlain Group (CGI) makes those style of openers. CGI is the name behind LiftMaster, as well as the Craftsman brand, which is also highly regarded. Established in 1954, CGI is one of the world's largest, if not the largest manufacturer of garage doors and associated equipment and devices. They have methodically bolstered their hold on the market by acquiring many of the competitors and building a company unrivaled in technology and quality-control, therefore becoming the industry model for exceeding customer expectations.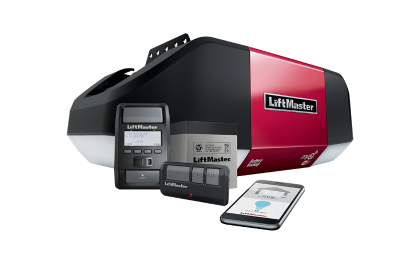 I can attest to the fact that they do exceed expectations after acquiring my LiftMaster WLED Garage Door Opener with myQ technology. From beginning to end, the experience of getting my new garage door opener has been nothing short of… amazing!
After contacting a representative at CGI, I was walked through every process. They recommended the LiftMaster WLED, one of their top-of-the-line openers, which is an ultra-quiet belt driven unit with 3,100 lumen LED lighting to illuminate the entire garage. It has maximum lift power for heavier doors with a lift force equivalent to 1-1/4 HP. Other fabulous features include; Built-in Wi-Fi® which enables smartphone control with myQ app® and an Integrated Backup Battery to open and close the garage door even when the power is out. By the way; installing an Integrated Backup Battery in their Garage Door Openers also demonstrates CGI's industry-leading standard of being "ahead of the game," because they implemented these systems long before the new California mandate. And with this opener, I will officially be in compliance with California Senate Bill 969, which states that "all newly sold or installed garage door openers in residential applications in California must have a battery backup as of July 1, 2019." Finally, there is a motion-detector that turns on the lights when someone enters the garage.
After convincing me to choose this great opener, CGI arranged for a local installer to come out and professionally install my garage door opener. The installer was from "On Trac Garage Door Company" of Riverside, California and his name was Ralph Rodriguez. He was scheduled for 9:30 am and arrived 15 minutes early. He was not only knowledgeable about the LiftMaster garage door opener, but every aspect of installation; how they worked, life expectancy of the product (which is more than 15 years with regular use), adjusting the torsion spring, balancing and lubricating the garage door, plus everything in between. He practically gave me a seminar on installation, as I watched and learned how these devices are installed and calibrated. He was very thorough as the installation took approximately 1 ½ to 2 hours. When it was completed, he demonstrated how everything worked and I was impressed by how smooth and quiet the door was going up and down. However, there was one glitch; we experienced some difficulty syncing the myQ app with my cell phone, but it was just a small setback. I contacted CGI to provide an update and enthusiastic report on the installation, while also detailing the problem we had encountered.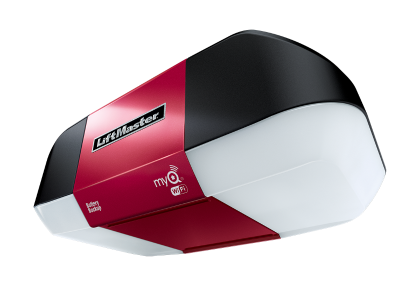 Undaunted, CGI assured me it was no problem and immediately contacted Carlos, a technician from CGI, and arranged for him to call me early the next morning to troubleshoot and resolve any issues. As promised, Carlos called and talked me through syncing the myQ app to the system and I was up and running. The app is really handy because if you happen to forget whether you closed your garage door or not, you can see with the app if it's open or closed, and if it's open, you can close it from anywhere in the world with your cell phone. How cool is that?! He also sent me a device they recommend called a "HomeLink Repeater," which allows automobiles manufactured before 2012, to sync HomeLink systems to the LiftMaster WLED. LiftMaster has covered all the bases when it comes to garage door openers, accessories and their operational efficiency. And I challenge anyone to find a more professional and customer-friendly company than The Chamberlain Group and associates. In fact, I wish every product and service I use in my home could be as quality-conscious, service oriented, and eager to please as LiftMaster has been. But unfortunately, everything is not backed by the high-quality standards of The Chamberlain Group.
LiftMaster Rocks!