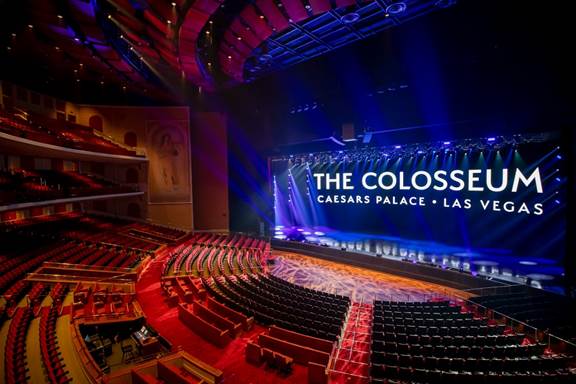 The Colosseum at Caesars Palace unveiled significant technical and design upgrades with two sold-out shows on Friday, Sept. 6 and Saturday, Sept. 7. Featuring four-time GRAMMY Award winner Keith Urban and his acclaimed "GRAFFITI U WORLD TOUR," the performances also marked the first use of the venue's new general admission capability on the main floor, creating a high-energy entertainment experience for fans.
Presented in partnership with Live Nation, the No. 1 live entertainment promoter in the world, and Caesars Entertainment, Urban's dynamic performance also showcased The Colosseum's new state-of-the-art sound system, new moving light fixtures and high-definition LED video wall. While the newly reimagined landmark venue now features the latest in audio and lighting advancements, entirely refurbished seating, none of which is more than 145 feet from the stage, and the ability for flexible configurations through the city's only automated lift seating system, the enhanced design of the venue still preserves the integrity, celebrated character and prestige of the iconic theater.
Urban electrified the sold-out crowd with many of his greatest hit records from his reign atop the charts, including "Never Comin Down," "Blue Ain't Your Color," "The Fighter," "Stupid Boy" and latest single "We Were." Between remarkable guitar solos and engaging with fans from stage, Urban shared his excitement to be playing Las Vegas and The Colosseum at Caesars Palace.
In addition to the new general admission floor space capability, the world's top venue of its size also now offers VIP banquette seating with cocktail service. For added convenience, the lobby bar has increased in size, allowing for faster service when ordering specialty cocktails, beverages and snacks, and merchandise areas have moved to better accommodate the flow of guests into the theater.
Since opening in 2003, The Colosseum has welcomed nearly 10 million fans and changed the live music experience on the Las Vegas Strip by pioneering the modern artist residency model and successfully welcoming entertainment's biggest superstars to the city. Urban joins a superstar list of talent slated to play the venue, with more exciting announcements to follow. Announced lineup for 2019 through 2020 as follows:
Luis Miguel – Sept. 12, 13, 15, 16
Enrique Iglesias – Sept. 14
Rod Stewart: The Hits – Sept. 18, 20, 21, 24, 30 and Oct. 2, 4, 5
Jerry Seinfeld – Sept. 27, 28
Steve Martin and Martin Short: "Now You See Them, Soon You Won't" – Oct. 6
Journey: The Las Vegas Residency – Oct. 9, 11, 12, 16, 18, 19, 23, 25, 26
Joe Bonamassa – Oct. 27
Guns N' Roses – Nov. 1, 2
Jeff Dunham: Seriously!? – Nov. 3
Madonna – Madame X Tour – Nov. 7, 9, 10
Jerry Seinfeld – Nov. 15, 16
Mariah Carey: "All I Want For Christmas Is You" – Nov. 22, 23, 27, 29, 30
Jeff Dunham: Seriously!? – Dec. 1
Reba, Brooks & Dunn: Together in Vegas – Dec. 4, 6, 7, 8, 10, 11, 13, 14
Journey: The Las Vegas Residency – Dec. 27, 28, 30, 31
Van Morrison – Jan. 31 and Feb. 1, 2, 7, 8
Mariah Carey: "The Butterfly Returns" – Feb. 14, 15, 19, 21, 22, 26, 28, 29
Jeff Dunham: Seriously!? – March 15
Sting: My Songs – May 22, 23, 24, 27, 29, 30 and June 3, 5, 6 and Aug. 19, 21, 22, 26, 28, 29 and Sept. 2
For more information on shows and tickets, visit www.caesars.com/caesars-palaceor in-person at The Colosseum at Caesars Palace box office.