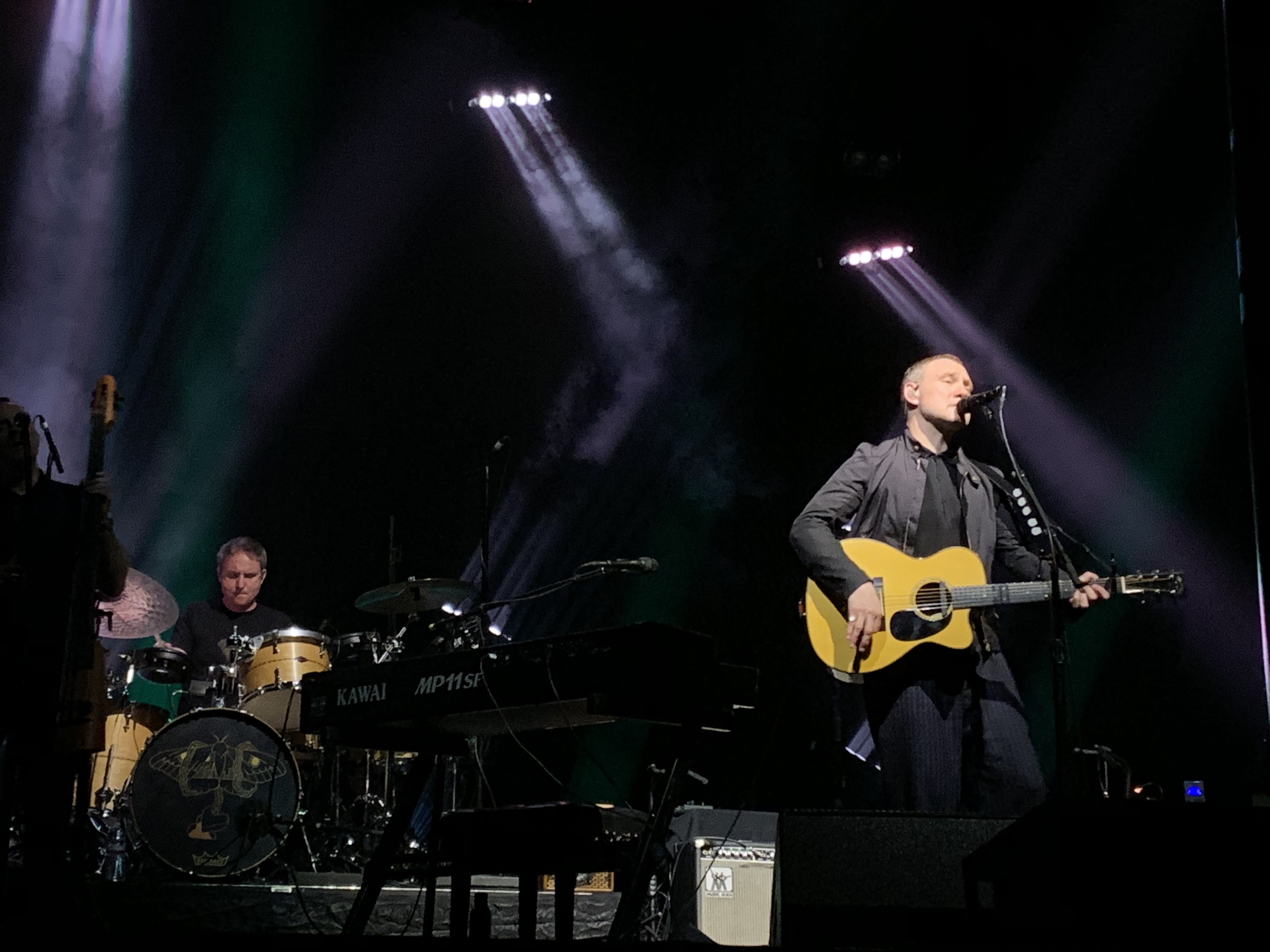 Over David Gray's 25+ year career in the music industry, the acclaimed British singer-songwriter has accrued an impressive fanbase of loyal followers worldwide. He proved his popularity once again, filling up the beautiful Orpheum Theatre in Los Angeles at the tail end of his World and North American tour, which finished up in San Diego at the end of June.
Celebrating his eleventh album, Gold In A Brass Age, Gray opened the show with "Mallory," the first track of his latest release.
The album's title is drawn from Raymond Carver's short story Blackbird Pie, and informed by the regenerative cut of Gray's adopted home of London, and a fascination with the natural world. The album's striking artwork – for which Gray approached Peckham-based tattoo artist, Londonboy Tattooer, depicts an Emperor moth with the City of London captured between its wingspan.
Londonboy did the striking artwork designs for all 11 tracks on the album. The images were projected on stage in various rich colors behind Gray and his supporting band (Keys, Drums, Bass, Standing Bass).
The lighting design complimented and framed Gray and the unique illustrations as they changed from red to green, purple to blue.
The audience swayed together as Gray sang one hit after another, from "Fugitive" to "Be Mine," "The Sapling" and "A Tight Ship." Fans sprung to their feet for "Sail Away" and his grand finale encore with "Babylon" and "This Year's Love."
Gray's ability to permeate the space with his rich and distinct voice is quite impressive as he moves seamlessly from the piano to the guitar. He moves with the instrumentation as he closes his eyes and lifts his hands to the air. It's as if he's singing these songs for the first time.
Although Gray's music may be followed more by the baby boomer / generation x listeners, it is never too late to explore his 11 albums and – if you are lucky enough – to see him live in concert.