The Democratic debates kick off this week in Miami, Florida on Wednesday and Thursday evening.
They will be broadcast on NBC, MSNBC, and Telemundo, and are slated to run from 9-11 p.m. Eastern time each night.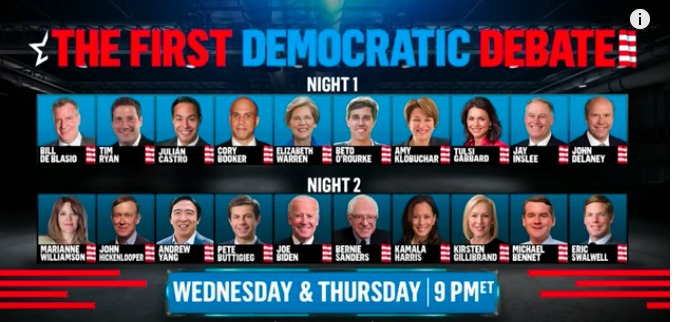 Live stream: via NBCNews.com, the NBC News apps, Telemundo, or NBC News' Facebook, Twitter and YouTube accounts.
WEDNESDAY LINEUP:
Sen. Elizabeth Warren (D-MA)
Former Rep. Beto O'Rourke (D-TX)
Sen. Cory Booker (D-NJ)
New York City Mayor Bill de Blasio
Sen. Amy Klobuchar (D-MN)
Rep. Tulsi Gabbard (D-HI)
Gov. Jay Inslee (D-WA)
Former HUD Sec. Julian Castro (D-FL)
Rep. Tim Ryan (D-OH)
Former Rep. John Delaney (D-MD)
THURSDAY LINEUP:
Sen. Bernie Sanders (I-VT)
Former Vice President Joe Biden (D-DE)
South Bend Mayor Pete Buttigieg
Sen. Kamala Harris (D-CA)
Sen. Kirsten Gillibrand (D-NY)
Entrepreneur Andrew Yang
Author Marianne Williamson
Former Colorado Gov. John Hickenlooper
Sen. Michael Bennet (D-CO)
Rep. Eric Swalwell (D-CA)