VIZIO, Inc. unveiled new features coming to VIZIO SmartCast 3.0, the latest iteration of its easy-to-use smart TV experience designed to bring users more of the entertainment they love, all in one place.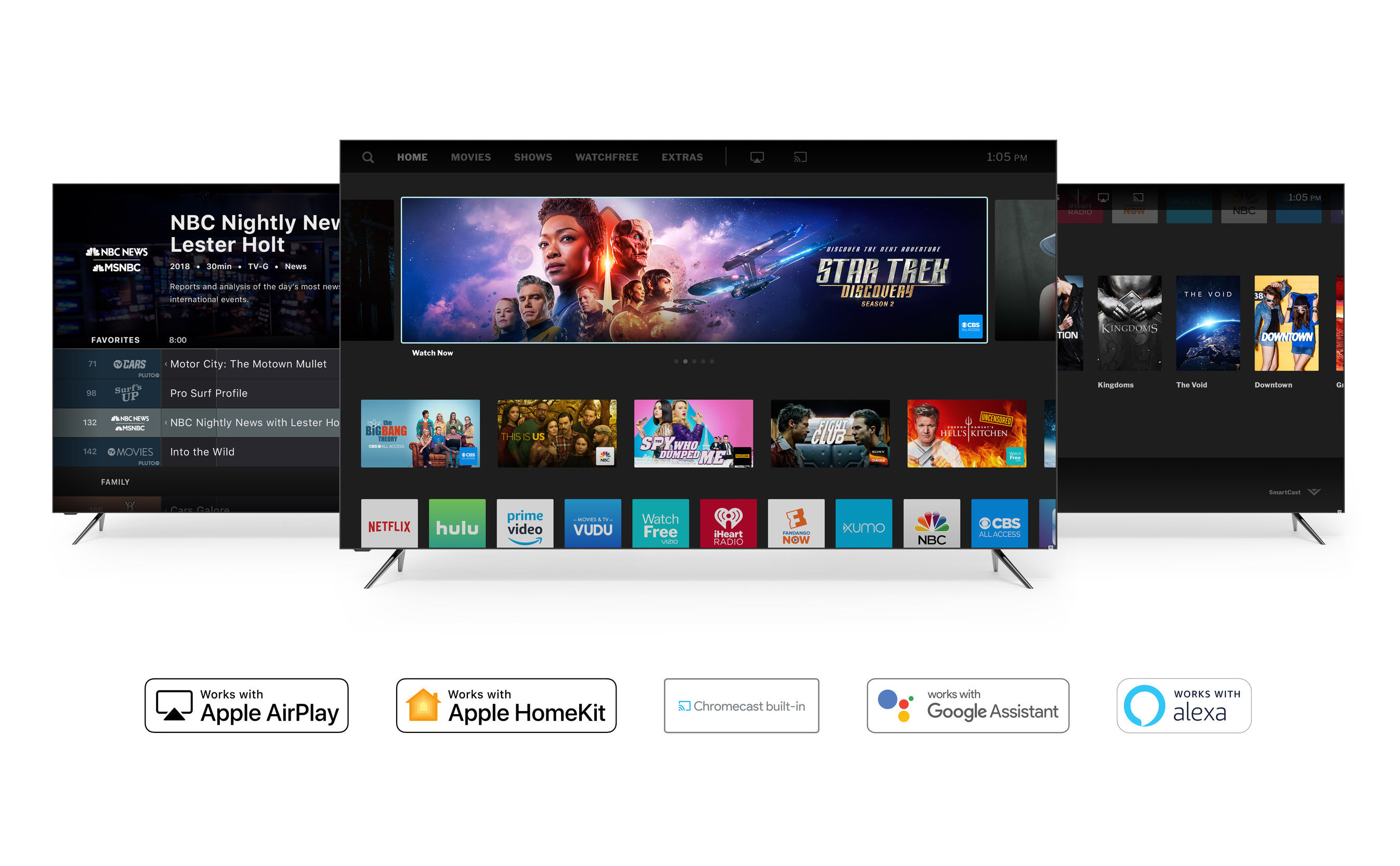 From overall performance improvements and a newly designed user interface, to upcoming support for Apple AirPlay 2 and HomeKit, expanded voice search functionality through Alexa and Google Assistant, new WatchFree channels and even more entertainment apps, VIZIO SmartCast 3.0 continues to provide users with unparalleled value. The new updates and features will begin to roll out in the coming weeks via free cloud-based updates to new and existing VIZIO SmartCast TVs and displays.
"The beauty of VIZIO SmartCast is its ability to evolve. Through continuous cloud-based updates, we're able to help users truly make the most of their entertainment experience by providing them with the latest features and content on an ongoing basis," said Bill Baxter, Chief Technology Officer, VIZIO. "With the new performance and interface enhancements, expanded feature set, and bountiful content offerings, VIZIO SmartCast 3.0 serves as a gateway to a more robust and streamlined smart TV experience."
VIZIO SmartCast is a one-stop smart TV solution designed to bring users more. The platform allows users to easily browse and access popular apps on the TV screen, stream and control content from their phone or laptop directly to the screen, and even use their SmartCast TV as the ultimate smart home companion with voice support for Siri, Alexa and Google Assistant. The latest 3.0 iteration of the platform will deliver an even more responsive smart TV experience highlighted by quick-to-access apps and a redesigned home page. The new, modern design will drive user engagement, allowing viewers to easily access trending shows and movies. By simply scrolling down the home page, users will soon be met with even more rows of content offerings, allowing them to browse and ultimately watch more of what they love.
Building on existing voice control support, VIZIO SmartCast 3.0 is always evolving to add more features and will also offer new Alexa and Google Assistant functionalities. Soon, users with Alexa-enabled devices will have the ability to search content by titles and genres without lifting a finger. Users with a Google Home or Google Assistant-enabled device will also be able to use simple voice commands to launch apps, switch picture mode, select inputs as well as pause, resume, stop, fast-forward, rewind content and more.
Whether you're a cord-cutter, smart-home enthusiast or everyday entertainment consumer, VIZIO SmartCast 3.0 provides users with versatile and intuitive ways to experience endless entertainment. New apps continue to be added to SmartCast Home™, VIZIO's on-screen smart TV experience, joining popular favorites like Netflix, Prime Video, Hulu, Vudu, iHeartRadio, Xumo, CBS All Access, NBC and more. Offering added value for Hulu enthusiasts, VIZIO SmartCast 3.0 is expanding its offering of the service to include Hulu Live TV allowing users to stream over 60 live and on-demand channels. With support for Apple AirPlay 2 and HomeKit also being added to new and existing SmartCast TVs and displays in the coming months, millions of VIZIO SmartCast users will be able to effortlessly play content more directly from their iPhone, iPad and Mac to SmartCast TVs. Additionally, VIZIO SmartCast 3.0 will offer a smart TV experience that works with each of the top voice assistants – Siri, Alexa and Google Assistant.
VIZIO SmartCast 3.0 also includes VIZIO WatchFree™, the completely free streaming service that provides access to live news, sports, movies, TV shows, viral videos, concerts and more all without the expense of monthly subscriptions or transaction fees. WatchFree is easily accessible via a dedicated input and is also located on the SmartCast Home screen. With the addition of new features and updates coming to VIZIO SmartCast 3.0 this year, WatchFree users will be able to enjoy new channels, including CNN, Paramount Movie Channel, a variety of MTV channels, Comedy Central Pluto TV, Comedy Central Stand Up, Spike Pluto TV, Spike Outdoors, BET Pluto TV, CMT Westerns and more.
To learn more about VIZIO SmartCast 3.0, check out this video. More information surrounding VIZIO SmartCast 3.0 and support for AirPlay 2 and HomeKit, Google Assistant or Alexa is also available at VIZIO.com.