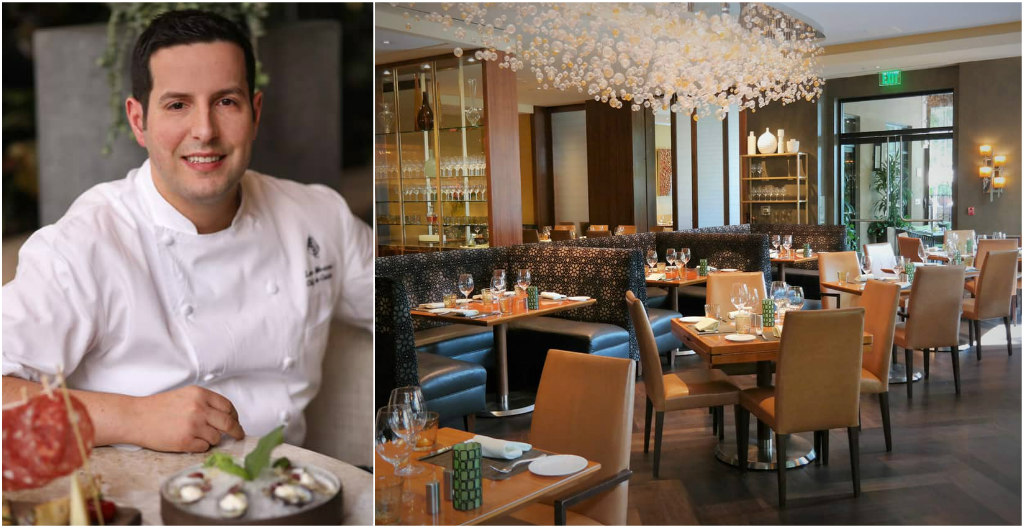 Chef de Cuisine, Luca Moriconi
Los Angeles is a city for foodies, despite what New Yorkers may think. We have some of the best chefs and cuisines from around the world. With restaurants spread across LA, from downtown to West Hollywood and Santa Monica, it takes some research to find the best of the best. Sometimes they're tucked away in a top hotel. Enter: Culina & Vinoteca at Four Seasons Hotel Los Angeles in the heart of Beverly Hills.
If you're meeting for a cocktail, Vinoteca is a wonderful high-end crudo bar which draws inspiration from Tuscany for their shareable plates of traditional Italian food.
Past Vinoteca is the perfectly lit Culina restaurant. The dining experience is not only set on the quality of the dishes, but also the room in which you're dining. With indoor and outdoor seating, the ambience is soft with modern decor.
The service is impeccable, from the hostess who greets you to the servers themselves. The mastermind behind the menu is Chef de Cuisine, Luca Moriconi. Originally from Lucca, Italy, he has been part of the Four Seasons family since 2008. He climbed the ladder starting out as Junior Sous Chef at Michelin-starred Palagio Restaurant at Four Seasons Hotel Firenze before serving as resident Italian Restaurant Chef at Four Seasons Hotel Damascus, Amman and Palm Beach.
Coming from a farming family, Chef Luca takes great pride in creating memorable dishes around fresh vegetables, fish and meats.
"Food is all about making connections – uniting with nature, brining ingredients together to create new flavours, and tying the cuisine with memories," said Chef Luca.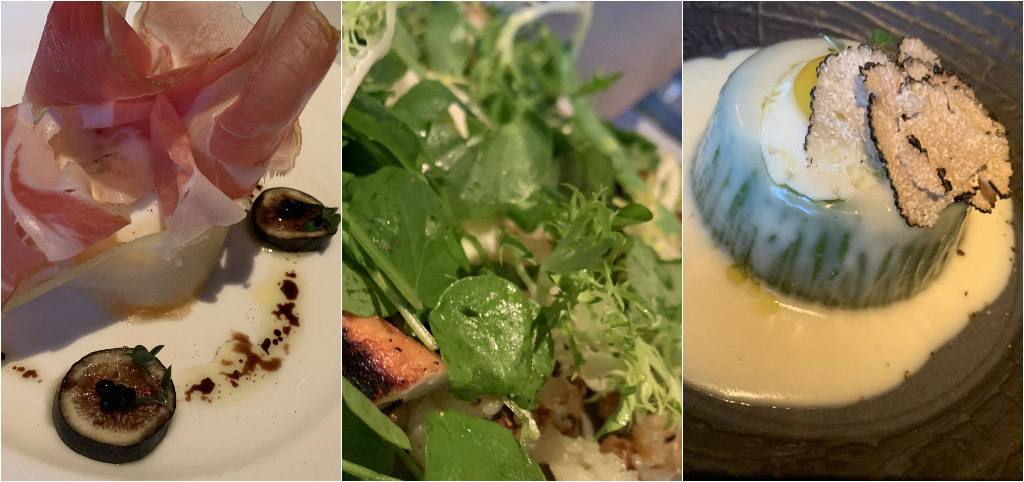 Whether you're a lover of seafood, steak or pasta, Culina has something for everyone.
To start with, I recommend:
Burrata E Prosciotto – A wonderful take on the famous prosciutto and melon duo, this dish combines the sweet and salty with Apulian Burrata,Wiser Farm Melon, Aged Balsamic and Tuscan Prosciutto.
Polpo Grigliato – A light salad made up of green beans, watercress and frisée with charred octopus, smoked potatoes with cauliflower purée.
Sformatino Di Bietole – Perhaps their best starter dish. The Swiss Chard Flan has a rich spinach flavor. It's a Pecorino Toscano Fondue with Quail Egg and shaved seasonal black truffle. Melts in your mouth.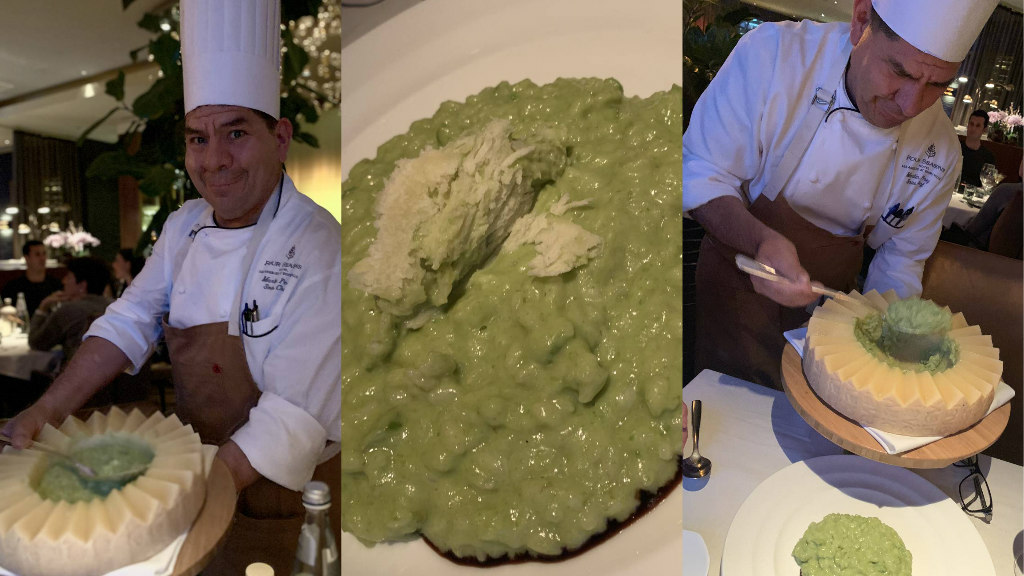 Culina's Sous Chef
As for the main course:
Perfect for anyone's birthday, their Risotto Agli Asparagi or Risotto Biancorossonero make an impressive entrance served out of an incredible cheese wheel. The Biancorossonero has a mushroom base with Sottocenere Cheese, Seasonal Truffle, Truffle Caviar and Carabineros Crudo. The Asparagi is a duo of asparagus, Piave Vecchio Cheese and Villa Manodori Balsamic Vinegar.

My choice pasta dish at Culina is their Nastrialcinghiale: homemade papardelle with tender braised wild boar sugo.
As for fish, try their Branzino Alla Martin Ara. If it's steak you're craving, they serve a premium 10oz Niman Ranch NY Strip cooked to perfection rare/medium-rare with potato purée.
They offer an extensive wine list of rich Italian reds and whites to pair perfectly with your meal.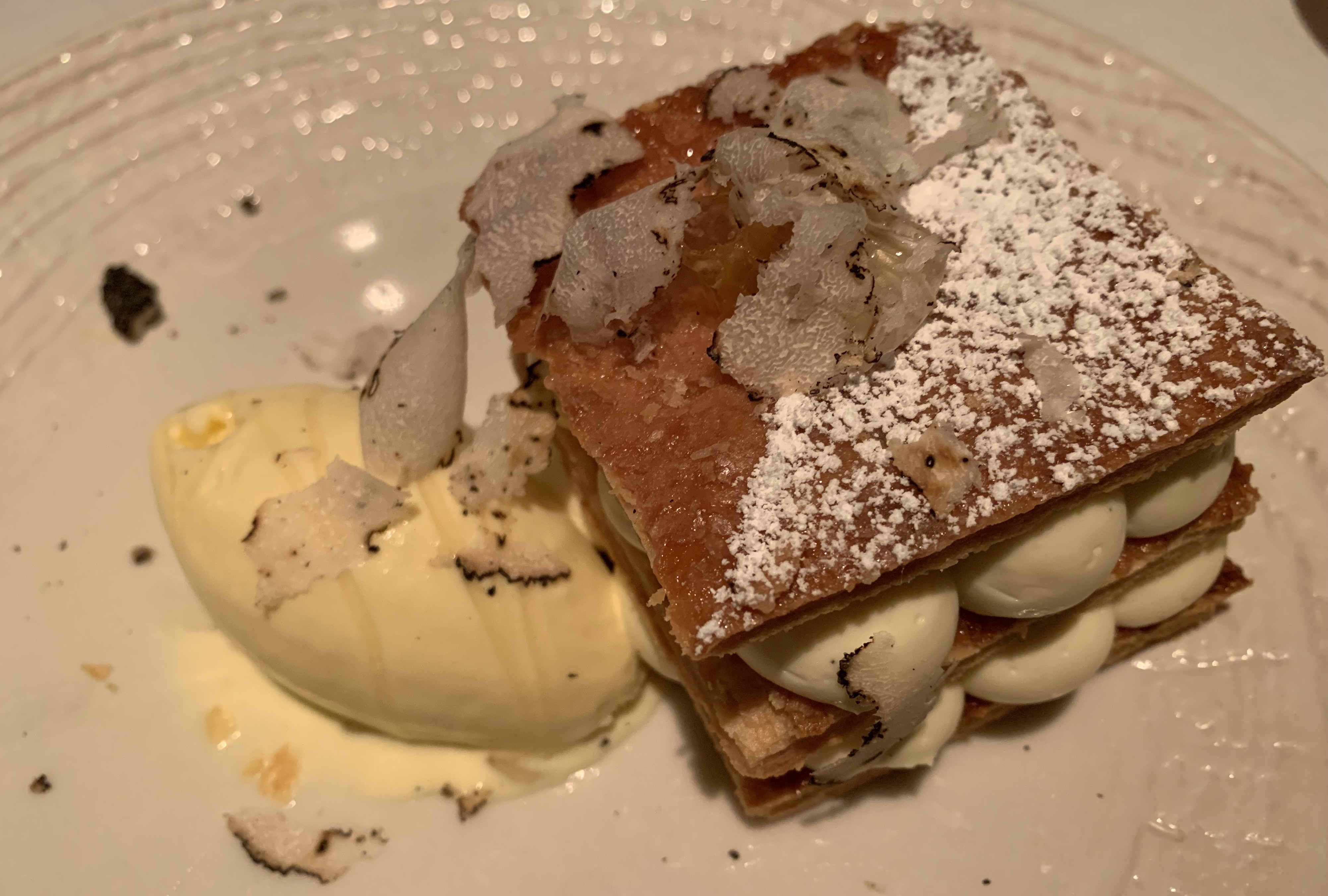 To finish the evening, their grand finale dessert is the Millefoglie. A layered dessert with sweet vanilla cream, honey gelato and black truffle.
Chef Luca and the Culina team are the entire package and a true foodie treasure in Los Angeles. Why not make it a staycation and spend the evening at the Four Seasons?!
https://www.culinarestaurant.com