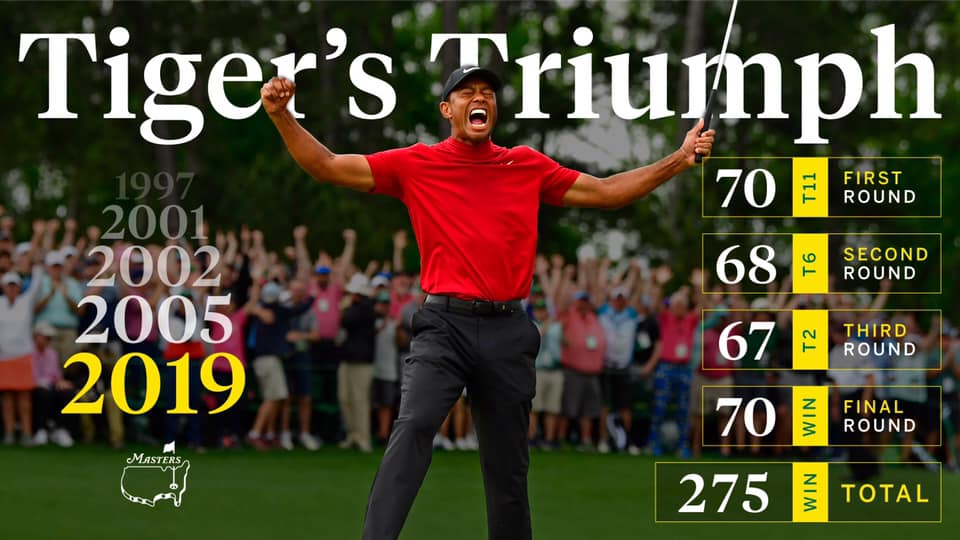 What a comeback! After suffering through multiple knee surgeries and 4 back surgeries which had all but ended his illustrious career, Tiger Woods would once again rise to the top with a stunning win at the 83rd Masters Tornament winning his 5th Green Jacket. It was such a historic win that President Trump announced Monday that he will award Woods the Presidential Medal of Freedom, the nation's highest civilian honor, "because of his incredible Success & Comeback in Sports (Golf) and, more importantly, LIFE."
At 43, Woods is the second-oldest winner of the Masters. In 1986 Jack Nicklaus won The Masters for a sixth time when he was 46. Woods now has 15 major wins, compared to 18 for Nicklaus. "I felt for a long time that he was going to win again. … He's got me shaking in my boots, guys," Nicklaus told the Golf Channel after Tiger's victory.
"‪I can't thank my family, friends and fans enough for their support. Having my family by my side today is something I will never forget. To not only be able to play again, but to be able to win again, is something I will forever be grateful for. This jacket sure is comfortable," Woods said.
Read more and watch highlights at: https://www.masters.com/