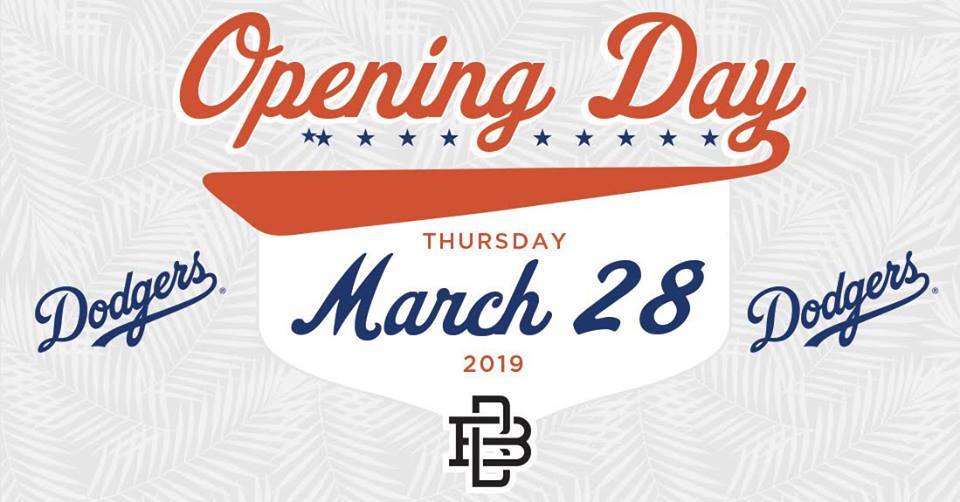 The 2019 MLB season kicks off at Dodgers Stadium Thursday, March 28th. The team will host the Arizona Diamondbacks.
Check out all of the delicious deals in celebration of opening day!
---
Boomtown Brewery
Step up to the plate (and grab a beer) for a Dodgers Opening Day Celebration at Boomtown Brewery. They'll be opening early at 11:00am for Dodger fans who bleed blue and may even be playing hooky. Their regular foodie collaborator Chef Alan will be making a delightful menu of Dodger themed eats, while the brewery will be giving two dollar discounts of beer as soon as it is game time (1:10pm) with the game itself projected on the venue's massive walls. Boomtown Brewery is also just a short walk away from the free stadium shuttle at Union Station, making them the perfect destination for all of your modern tailgating needs.
Admission to this event is FREE, so get your craft beer on before, after and during opening pitch.
Boomtown Brewery
700 Jackson Street
Los Angeles, CA 90012
---
Big Wangs & The Thirsty Merchant
Come on down and watch the Dodgers' first game of the season! There is no better place outside of Dodger Stadium to watch the boys play than at Big Wangs and The Thirsty Merchant. Both Big Wangs locations are opening early (10 am) for MLB opening day on Thursday, and Thirsty is opening at 12 pm on Thursday for the game. They're ready to be the go-to for all Dodger fans and are plenty stocked on the goods and even the deals. All locations will be serving up delicious food, drink, and 100+ HD TV's scattered throughout all of their locations. At all but Thirsty Merchant, they'll be featuring their round the clock deal of $2 for a second drink or to double up on the initial drink. With a home run for good times that won't strike out your wallet, it's bound to be a win no matter where you slide in.
o Big Wangs NoHo (5300 Lankershim Blvd., North Hollywood, CA 91601)
o Big Wangs Downtown (801 S Grand Ave., Los Angeles, CA 90017)The Thirsty Merchant
o Thirsty Merchant (12430 Riverside Dr., Valley Village, CA 91607)
Thursday, March 28th – 10:00 am at Big Wangs
Thursday, March 28th – 12:00 pm at The Thirsty Merchant