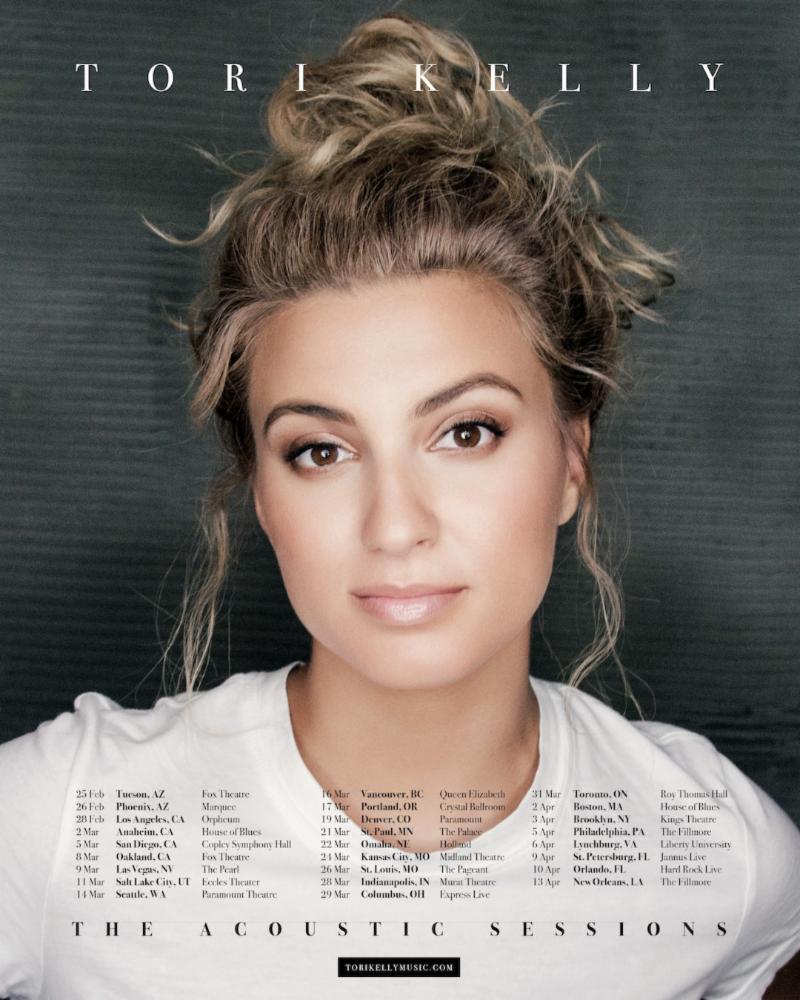 GRAMMY nominee Tori Kelly will kick off The Acoustic Sessions on February 25 at the Fox Theatre in Tucson. The North American headline tour will include a February 28 concert at the historic Orpheum Theatre in Los Angeles and an April 3 show at Kings Theatre in Brooklyn. See below for itinerary or visit www.torikellymusic.com.
A ticket pre-sale for members of Tori's fan club will begin on Tuesday, January 22, at 10:00 AM local time. Tickets go on sale to the public on Friday, January 25, at 10:00 AM local time. The stripped-down acoustic excursion follows Tori's fall 2018 Hiding Place tour, which included sold-out shows in such cities as Los Angeles, San Francisco, Washington, DC, Atlanta and Dallas.
Earlier today, Tori revealed the title and cover art for her new single, "Change Your Mind," which will be released soon. "Never Alone" (Feat. Kirk Franklin) – the single from her new passion project, Hiding Place – claimed the No. 1 spot on Billboard's Hot Gospel Songs chart last week. Read the Billboard story HERE. Tori is nominated for two GRAMMY Awards – Best Gospel Performance/Song for "Never Alone" and Best Gospel Album for Hiding Place.
Tori Kelly – The Acoustic Sessions
Date City State Venue
2/25 Tucson AZ Fox Theatre
2/26 Phoenix AZ Marquee
2/28 Los Angeles CA Orpheum
3/2 Anaheim CA House of Blues
3/5 San Diego CA Copley Symphony Hall
3/8 Oakland CA Fox Theatre
3/9 Las Vegas NV The Pearl
3/11 Salt Lake City UT Eccles Theater
3/14 Seattle WA Paramount Theatre
3/16 Vancouver BC Queen Elizabeth
3/17 Portland OR Crystal Ballroom
3/19 Denver CO Paramount
3/21 St. Paul MN The Palace
3/22 Omaha NE Holland
3/24 Kansas City MO Midland Theatre
3/26 St. Louis MO The Pageant
3/28 Indianapolis IN Murat Theatre
3/29 Columbus OH Express Live
3/31 Toronto ON Roy Thomas Hall
4/2 Boston MA House of Blues
4/3 Brooklyn NY Kings Theatre
4/5 Philadelphia PA The Fillmore
4/6 Lynchburg VA Liberty University
4/9 St. Petersburg FL Mahaffrey Theater
4/10 Orlando FL Hard Rock Live
4/13 New Orleans LA The Fillmore