I would like to introduce you to Domaine de Saint Cosme located in the Rhône region in France.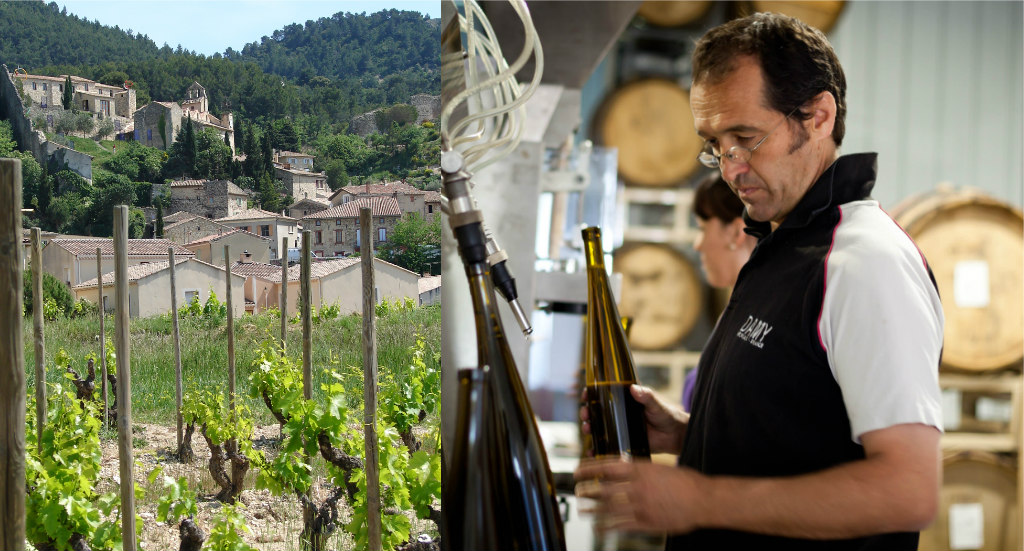 The vineyards of Saint Cosme and Louis Barruol
Today, we are featuring their classic 2015 "Les Deux Albion" Cotes Du Rhone. But first, let's get acquainted with Saint Cosme known for being one of the older wine producers in the world.
They have been involved in producing wine since the 15th century! Chateau de Saint Cosme is owned by the Barroul family. Henri Barruol, the patriarch of the family who really brought Saint Cosme into the modern age starting with the 1957 vintage, passed away at 89 years of age in January 2017. His son, Louis Barruol has been in charge of the company since 1992.
Chateau de Saint Cosme is a negociant firm that produces excellent wine in Chateauneuf du Pape, as well as in Cote Rotie and Gigondas where the domaine maintains their official location. Saint Cosme is situated close to the site of an ancient Roman villa that is said to have been planted with vines thousands of years ago.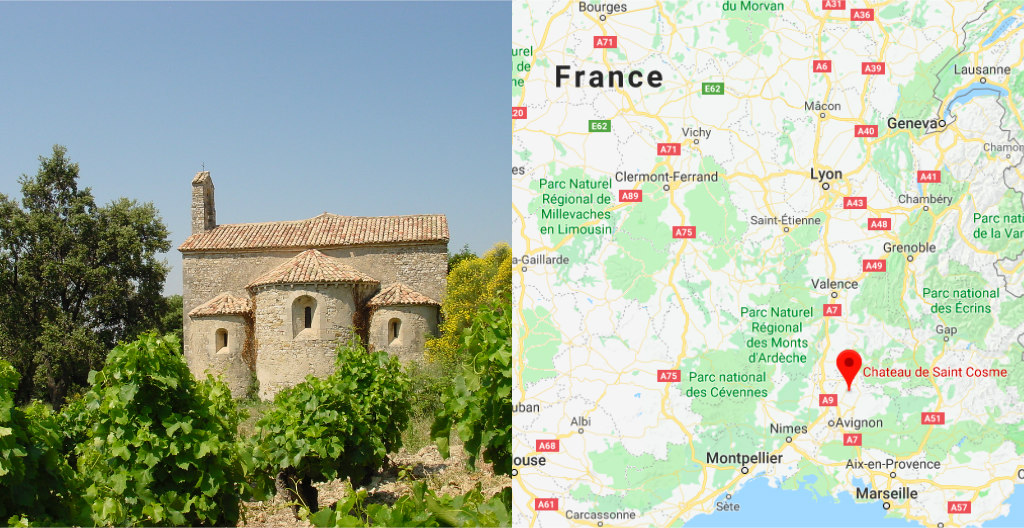 The 2015 Les Deux Albions is a classic – a deep ruby color, medium bodied. The nose has spicy berries and plums. For the palate there are notes of cherry, with a bit of a smoky taste and tannin. I decided to use a decanter and let it breathe for one hour. It made all the difference in the world. Buy a few bottles, keep them in your cellar and enjoy 3 years later.
Blend: 50% Syrah, 10% Mourvevre, 20% Grenache, 15% Carignan, 5% Clairette.
From Chateau De Segries
2017 Rose Rhône Wine, Tavel Appelation Tavel Controlee.
Chateau Ségriès, is a family owned wine business of 58 hectares, with a portion of its land situated in the heart of Lirac in the Gard. Most of the vineyards are on the average 80 years old. Of a clay-limestone, the soils contribute to the quality of the harvested grapes which is mainly done by hand. This method reduces yields to favor quality, and uses short-term processes and limited use of traditional fertilizers. Vinified traditionally, Ségriès wines have body, warmth, roundness.
Segries Tavel Rose is made from 50% Grenache, 30% Cinsault, 10% Clairette and 10% Syrah. Its deep ruby color is the first thing you notice before experiencing its nose filled with all kinds of fresh berries and cherries. On the palate, it feels ripe and round, yet quite crisp with moderate acidity.
Domaine de la Solitude, Côtes du Rhône Blanc 2016
Domaine de la Solitude belongs to one of the most ancient families native from Chateauneuf du Pape. In France as early as the 15th century, the MARTIN'S traces can be found, but in Italy they go further back up to the ancient, but just as renowned, illustrious BARBERINI. On the label, their family crests of three bees dates to the middle ages. Since the Renaissance, through the French Revolution and into modern times, the family has played a part in the narrative that has been written about Châteauneuf-du-Pape.
In the 1980s, Michel and Jean Lançon took the future of Domaine de la Solitude in their hands. Fertilizers have not been used at Solitude for a decade. Over the past few years, Michel's son Florent Lançon took over the day-to-day operations of Domaine de la Solitude, continuing to make improvements while preserving traditions. The Estate is a contiguous 100 acres, with plants divided by 86 acres of red grapes and 14.8 acres of white grapes, with vines averaging 50 years of age.
The 2016 Côtes du Rhône Blanc has 10% Grenache Blanc, 60% Clairette and 30% Viognier, giving it a floral touch with citrus accent. The wine is fresh with moderate acidity, but not unpleasant to the palate.