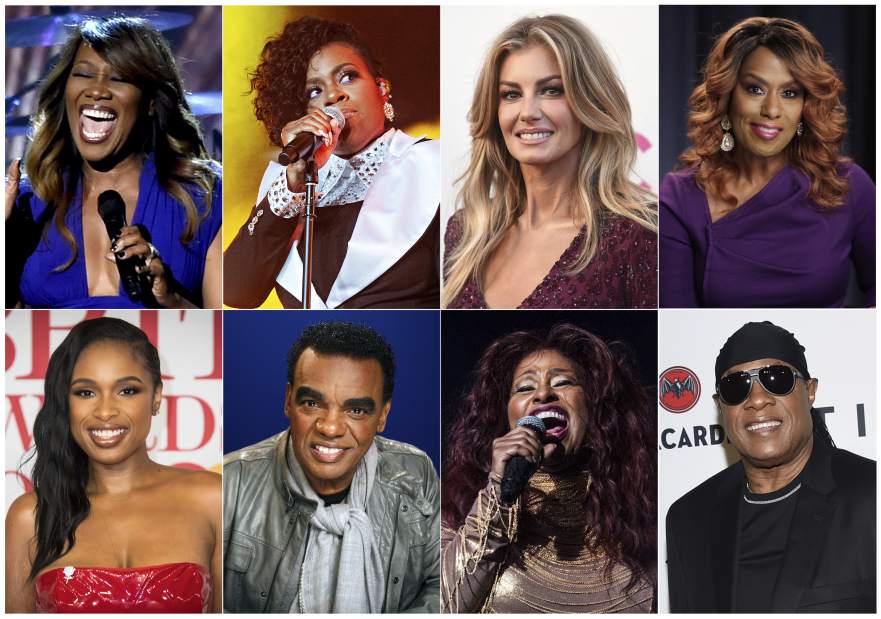 I am a huge fan of the recently deceased "Queen of Soul Aretha Franklin," but a proposed five and one half hour Funeral Service scheduled for Friday August 31st, at the Greater Grace Temple is just too much. Apparently, whomever was in charge of planning couldn't say no to anyone, because it seems like just about everyone who asked to particpate in the service was allowed. In fact, there are so many participants, they couldn't have said no to anyone, because of the amount of people who are either speaking or singing. We all love Aretha, but nobody needs to sit through a service this long. In my opinion, this is overkill on the highest level. And even if everything went exactly according to this ridiculously long schedule, it would still run longer than the estimated time that begins at 9:30 AM and ends at 3:00 PM. Take a look at the schedule for the Friday service. Here is the full list of speakers and performers slated to appear, according to Detroit's WDIV4:
9:30-9:50 a.m.: Musical Prelude: Aretha Franklin Orchestra
9:50-10:00 a.m.: Lighting of Candles: Swanson Funeral Home, Inc.
10:00-10:20 a.m.: Processional: Clergy, Ministers and Family
10:20-10:25 a.m.: Prayer of Comfort: Dr. E.L. Branch, Pastor, Third New Hope Church
10:25-10:40 a.m.: Scripture of Comfort: 10:25 a.m.: Old Testament: Bishop T.D. Jakes, Potter's House, Dallas 10:30 a.m.: New Testament: Pastor Solomon Kinloch, Triumph Church; 10:35 a.m.: The Psalm: Bishop P.A. Brooks, Pastor, New St. Paul Tabernacle Church
10:40-10:45 a.m.: Musical Tribute: Aretha Franklin Celebration Choir
10:45-10:49 a.m.: Musical Tribute: Faith Hill
10:49-11:03 a.m.: Remarks: 10:49 a.m.: Brenda Jones, City Council President, 10:51 a.m.: JoAnn Watson, Detroit City Council 10:53 a.m.: Mike Duggan, Mayor, City of Detroit 10:57 a.m.: Governor Rick Snyder, State of Michigan
11:03-11:08 a.m.: Musical Tribute: Ariana Grande
1108-11:13 a.m.: Musical Tribute: The Clark Sisters
11:13-11:18 a.m: Acknowledgements and Condolences: Barbara Sampson
11:18-11:23 a.m.: Musical Tribute: The Williams Brothers & Vanessa Bell Armstrong
11:23-11:40 a.m.: Family Reflections: Vaughn, Cristal Victorie and Jordan Franklin
11:40-11:45 a.m.: Family Musical Tribute: Edward Franklin
11:45-11:50 a.m.: Obituary: Sabrina Owens
11:50-11:55 a.m.: Musical Tribute: Alice McAllister Tillman
11:55-12:00 p.m.: Musical Tribute: Audrey DuBois Harris
12:00-12:15 p.m.: Personal Remarks 12:00 p.m.: Eric Holder, Former U.S. Attorney General 12:10 p.m.: Former President, William (Bill) Jefferson Clinton
12:15-12:19 p.m.: Musical Tribute: Pastor Shirley Caesar and Tasha Cobbs-Leonard
12:19-12:36 p.m.: Personal Reflections 12:19 p.m.: Greg Mathis, Retired Judge, 36th District Court, Detroit, MI 12:23 p.m.: Brenda Lawrence, State Representative, 14th Congressional District 12:27 p.m.: Rev. Donald L. Parsons, Logos Assembly Church, Chicago, IL 12:31 p.m.: Rev. Al Sharpton, Founder, National Action Network
12:36-12:41 p.m.: Musical Tribute: Chaka Khan
12:41-12:51 p.m.: Musical Tribute: Ron Isley
12:51 p.m.: Rev. Jesse Jackson, Founder/President Rainbow P.U.S.H. Coalition
1:00 p.m.: Dr. William J. Barber, II, Pastor, Greenleaf Christian Church, Goldsborough N.C.
1:05 p.m.: Rev. James Holley, Retired Pastor, New Light Missionary Baptist Church
1:10-1:15 p.m.: Musical Tribute: Fantasia Barrino-Taylor
1:15-1:30 p.m: Personal Reflections 1:15 p.m.: Tyler Perry 1:17 p.m.: Cicely Tyson, Actress 1:20 p.m.: Clive Davis, Chief Creative Officer, Sony Music 1:25 p.m.: Smokey Robinson, Recording Artist
1:30-1:34 p.m.: Musical Tribute: Bishop Paul Morton and Yolanda Adams
1:34-1:53 p.m.: Personal Reflections 1:34 p.m.: Mildred Gaddis, Radio Personality 1:38 p.m.: Isaiah Thomas, Former NBA Player, Detroit Pistons 1:42 p.m.: Ron Moten, Personal Friend, Franchise Owner, McDonald's Restaurants 1:48 p.m.: Michael Eric Dyson, Professor of Sociology, Georgetown University
1:53-2:00 p.m.: Musical Tribute: Bishop Marvin Sapp and the Aretha Franklin Celebration Choir
2:00-2:05 p.m.: Sermonic Selection: Jennifer Hudson
2:05-2:35 p.m.: Eulogy: Rev. Jasper Williams, Jr., Pastor, Salem Baptist Church, Atlanta, GA
2:35-2:45 p.m.: Musical Tribute: Stevie Wonder joined by National Artists
2:45-3:00 p.m.: Recessional: Jennifer Holliday and the Aretha Franklin Celebration Choir
Now, just to show you how unrealistic this whole program is; they have Rev. Al Sharpton scheduled for 5 minutes! I've never seen Rev. Sharpton say anything in 5 minutes! Then they have the Rev. Jesse Jackson scheduled for 9 minutes… Good luck with that! And just try to restrain the list of singers like; Chaka Khan, Jennifer Hudson, Ronald Isley, Fantasia Barrino, Shirley Caesar and Stevie Wonder, who will surely ad-lib past their 5 or 10-minutes of allotted time. You get my point! There's an old saying; "The best-laid plans of mice and men often go awry." Well, take it from me, these plans aren't all that "best-laid," especially in such a limited time to schedule them, and all I can say is: there should have been more "Respect" for the Queen, rather than to overdo her "Homegoing Celebration," and believe me, there "Aint No Way," this is gonna end by 3:00 PM.