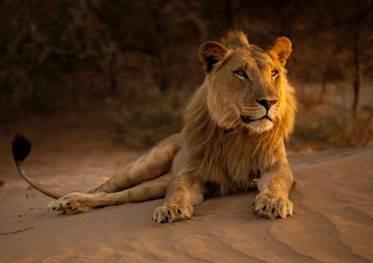 After spending nearly six years filming a remarkable pride of endangered desert lions, Smithsonian Channel is now bringing viewers the compelling narrative of their lives in Namibia's extreme, searing terrain. This story, about one of the world's most magnificent coalitions of five male lions, has not only touched the hearts of millions all over the world, it has even changed national law. KING OF THE DESERT LIONS premieres on Wednesday, July 11 at 8 p.m. ET/PT.
Will and Lianne Steenkamp's first film for the Smithsonian Channel about these endangered lions, "Desert Warriors: Lions of the Namib," received an Emmy Nomination for cinematography, and earlier this year it was recognized with a top award at the prestigious Big Cat Film Festival at the United Nations.
"It is quite exceptional for filmmakers to devote so many years of their life to follow any story, especially in such harsh conditions as a desert landscape," said David Royle, chief programming officer, Smithsonian Channel. "This is one of those rare and important examples of a film that has made a significant contribution towards saving an endangered species."
KING OF THE DESERT LIONS tells the incredible story of five male cubs – dubbed "the five musketeers" ­– who grow up on the Skeleton Coast of Namibia and set out in search of their own desert kingdom. As formidable adolescents they cover vast distances, thriving as nomadic hunters and becoming the youngest pride males ever to rule Namib's ancient desert realm. But they are beset by hardships, and when one brother decides to embark alone on a different path, it dramatically changes the course of his life forever.
Since the first broadcast of the two films, international conservation authorities, as well as the government of Namibia, have taken notice. As a result of the far-reaching exposure on the international media and local press, Namibia called for an official draft of a new Human-Lion Conflict Management Plan to address the growing human-lion conflict. Dr. Philip Stander, the desert-lion scientist who is featured in both documentaries, was commissioned to draft the new policy, which was signed into law late last year. Dr. Stander, who has devoted 20 years to studying desert lions, follows every step of the inseparable brotherhood and the movements of a group of lionesses with a new litter of female cubs, documenting the lions' triumphs, challenges and dangerous encounters with humans.