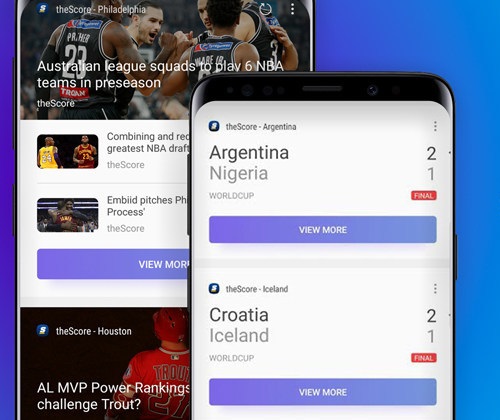 theScore, Inc. announced the launch of theScore on Bixby, which will provide sports fans across the United States with personalized live scores and breaking news throughout the Bixby Home service on select Samsung Galaxy devices, including its Galaxy S9 and S9+.
theScore on Bixby allows fans to quickly view theScore's sports headlines and live scores for World Cup soccer, NFL Football, NBA Basketball, NHL Hockey, MLB Baseball and EPL Soccer simply by swiping right on their home screen to the Bixby Home service.
Users will be able to personalize their sports experience, selecting their favorite teams and leagues to follow through theScore's onboarding flow in Bixby Home across most carriers, or through the Bixby Home settings. If users want to access more information beyond a score or news headline, they can simply tap on the theScore's content card on Bixby to be taken to theScore app if already installed on their device, or to a webpage to see more.
Bixby provides news, weather, fitness, plus other information to users within Bixby Home and is now incorporating sports content.
For more information on theScore or Bixby, please go to theScore.com or Samsung.com/bixby.