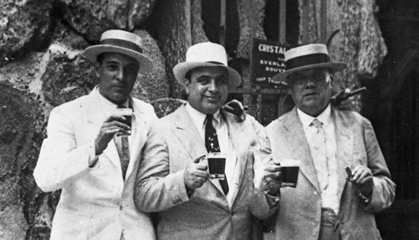 Prohibition in America was an era of profound contradictions – a period of unprecedented government intervention into the lives of citizens, and yet also a time of exuberance, decadence and casting off restraints. Nearly a hundred years later, Smithsonian Channel's DRINKS, CRIME AND PROHIBITION takes a deep dive into the underbelly of a time characterized as much by jazz, illegal booze and female liberation as it was by gangsters and brutality.
Weapons experts, historians, museum curators and mixologists weigh in on "the failed experiment" and the compelling drama it unleashed, with all its unlikely alliances, corruption and machinations of organized crime. The two-part special premieres Monday, June 11 at 8 p.m. ET/PT on Smithsonian Channel.
The national ban on alcohol was fully enacted in 1920 and soon spurred the rise of the urban speakeasy – the illegal bars where Americans of different genders, classes, races and sexualities felt free to meet and mingle – but social mixing was a decidedly unintended consequence. As curators from the Smithsonian National Museum of American History attest, the rhetoric of Prohibition's formative years was as fervently anti-immigrant and racist as it was anti-alcohol. "Alcohol is not the central story of Prohibition. Organizing around alcohol is in some ways a politically correct way to go after immigrants," Smithsonian National Museum of American History curator John Grinspan says in the program.
While cocktails were invented in the late 1800s, they really took off once Prohibition began – often as a way to mask the foul taste of bathtub gin. Cocktail historian Derek Brown provides color commentary for some of the era's most popular beverages – including the Three Mile Limit, the Scofflaw and the Southside Fizz – and explains how their resurgent popularity continues to shape the culture of hospitality today.
Prohibition's advocates believed that eliminating alcohol would improve America's moral character; instead, it drove the laws of supply and demand underground and empowered the rise of organized crime. Many ordinary Americans, angered by governmental intrusion into their private lives, looked on gangsters like Al Capone as anti-heroes, and their bold defiance was more revered than reviled. But the deadly St. Valentine's Day Massacre of 1929 proved a turning point. Newly elected President Herbert Hoover delivered a fiery inaugural address promising a new age of law and order, and Congress quickly enacted legislation that contained harsh new penalties for Prohibition crimes. Even as the stock market crashed and the Great Depression took hold, President Hoover seemed more preoccupied with taking down Capone than with managing the economy.
Although Prohibition ended almost one hundred years ago, its effects still linger — organized crime, vastly expanded federal law enforcement powers, prison overcrowding and even the War on Drugs all have their roots in Prohibition. DRINKS, CRIME AND PROHIBITION tells the enduring story of an era in which fun-loving flappers and well-crafted cocktails seem to make the Twenties roar, even as deeper currents of violence and corruption fuel them.