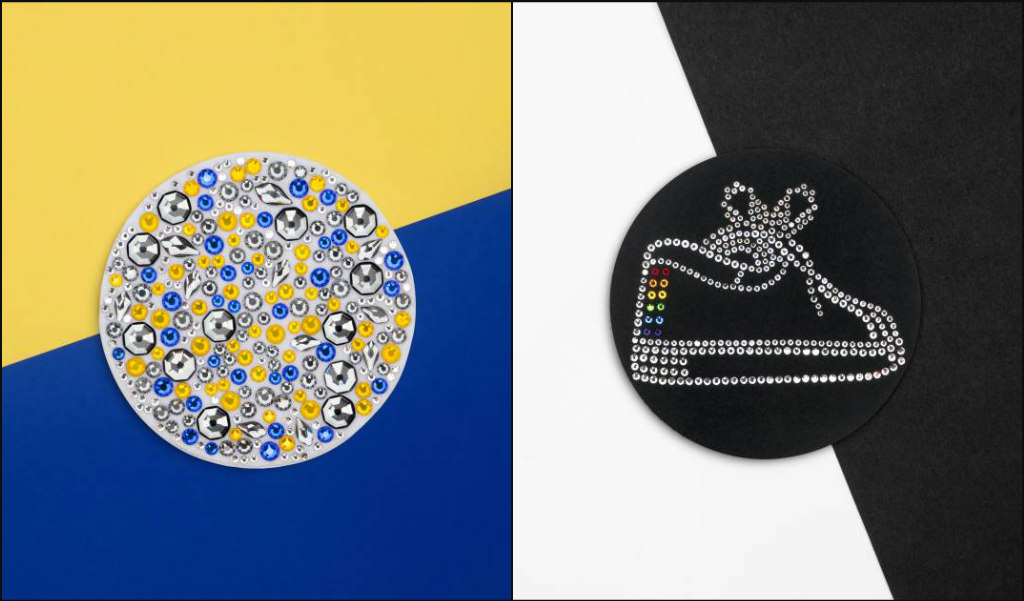 In celebration of the 2018 Council of Fashion Designers of America Fashion Awards, Swarovski has partnered with five designers to create a collection of limited-edition crystallized fashion patches, to be sold in select Swarovski stores beginning June 4.
The three-inch diameter fashion patches are designed to be peeled and adhered to clothing or bags, adding a stylish, custom crystal embellishment to any look. Crafted with crystals from Swarovski, each of the unique designs, made by Rosie Assoulin, Kenneth Cole, Tabitha Simmons, Jason Wu and Nadja Swarovski, will benefit the CFDA Foundation.
Each crystallized fashion patch will retail for $19, with 100 percent of sales benefiting the CFDA Foundation. The collection is available at five Swarovski locations in New York City through June 14, including the 10 Columbus Circle, 365 Madison Avenue, Penn Plaza (200 W. 34 Street), 30 Rockefeller Plaza, and Times Square (1565 Broadway) stores.
Nadja Swarovski, Member of the Executive Board of Swarovski said, "Every year our partnership with the CFDA continues to grow and develop, and this year we are delighted to unite with an amazing collection of designers, all previous Swarovski Award winners, to create these colorful crystal fashion patches. Benefitting the CFDA's inspirational work with emerging talent, they are the perfect way to customize a look while also supporting the next generation of American fashion."
The Kenneth Cole design is inspired by the overwhelming response to the sale of the company's KAM sneaker when it was modified to reflect the company's alignment with the LGBTQ community and its commitment to universal acceptance, inclusion and human rights.
The Tabitha Simmons design incorporates a dragonfly motif, while Jason Wu'sdesign is inspired by the colors and shapes of stained glass.
Swarovski is proud to support the best and brightest in design through its 17-year partnership with the CFDA Fashion Awards. Each year at the Awards, a young designer is honored with the Swarovski Award for Emerging Talent and a leader in philanthropy is honored with the Swarovski Award for Positive Change.
Rosie Assoulin, Tabitha Simmons and Jason Wu are previous winners of the Swarovski Award for Emerging Talent and Kenneth Cole is a previous winner of the Swarovski Award for Positive Change.
The CFDA Foundation is an independent, not-for-profit organization, which was created to raise funds for charity and industry activities. Through innovative partnerships with brands, retailers, and CFDA designers, the Foundation is able to leverage fashion and effectively generate awareness and funds for these charitable causes.
The 2018 CFDA Fashion Awards will be held June 4 at the Brooklyn Museum in partnership with Swarovski