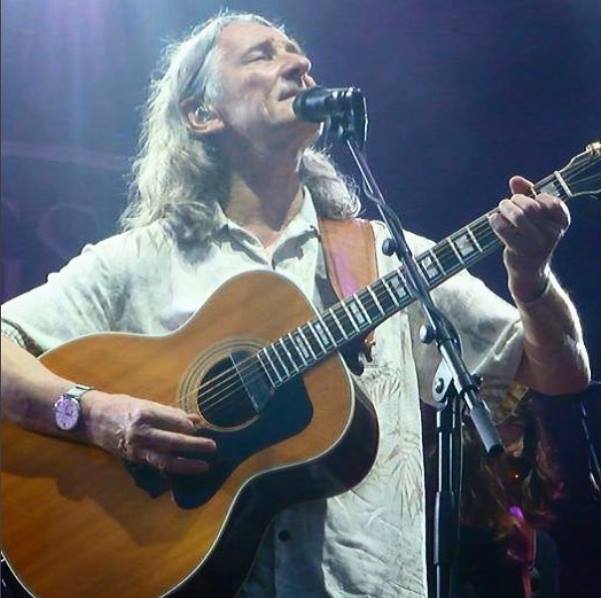 Roger Hodgson, known for all of the classic Supertramp mega-hits that he wrote, composed and sang, embarks on a new world tour that kicked off June 12 in Austria and ends on November 18 in Vancouver.
The enduring appeal of Hodgson's compositions – songs like "Give a Little Bit," "The Logical Song," "Dreamer," "Take the Long Way Home," "Breakfast in America," "It's Raining Again," "School," "Hide in Your Shell," "Fool's Overture," "Had a Dream" and "In Jeopardy," continues to thrill and be celebrated by multi-generations, creating yet another sold out tour.
Roger Hodgson co-founded the legendary group almost five decades ago. Album sales now exceed 60 million. Their hugely successful album Breakfast in America will celebrate its 40th anniversary next year. Touring consistently to packed and appreciative audiences worldwide, Hodgson continues to be honored by critics and fans alike for his music and performances as well as his philanthropy.
Roger on tour: https://www.youtube.com/watch?v=WMLNeSbtVN0
Click HERE for VIP* Packages on Roger's Store
EUROPE
Jun 12 Festung Kufstein, Austria
Jun 14 Volkshaus, Zürich, Switzerland SOLD OUT! VIP*
Jun 15 Festi'neuch – Neuchâtel Openair Festival, Switzerland TICKETS
Jun 16 Le Forum de Liège, Liège, Belgium SOLD OUT! VIP*
Jun 17 Stone Free Festival at The O2, London, England TICKETS
Jun 21 OverOslo Festival, Oslo, Norway SOLD OUT!
Jun 22 Wrightegaarden, Langesund, Norway TICKETS
Jun 24 Grieghallen, Bergen, Bergen, Norway TICKETS VIP*
Jun 26 Luxor Theater, Rotterdam, Netherlands SOLD OUT! VIP*
Jun 28 Koninklijk Theater Carré, Amsterdam, Netherlands SOLD OUT! VIP*
Jun 29 Koninklijk Theater Carré, Amsterdam, Netherlands SOLD OUT! VIP*
Jun 30 RETRO C TROP Festival, Tilloloy, France TICKETS
CANADA and USA
Jul 13 Sugar House Casino, Philadelphia, PA, USA SOLD OUT! VIP*
Jul 14 Spyglass Ridge Winery, Sunbury, PA, USA TICKETS VIP*
Jul 15 American Music Theatre, Lancaster, PA, USA TICKETS VIP*
Jul 17 Maryland Hall for the Creative Arts, Annapolis, MD, USA SOLD OUT! VIP*
Jul 18 Bergen Performing Arts Center, Englewood, NJ, USA TICKETS VIP*
Jul 20 Les Grandes Fetes TELUS in Parc Beausejour, Rimouski, Canada TICKETS
Jul 21 La Fete du Lac des Nations Festival, Sherbrooke, Canada TICKETS
Jul 24 Humphreys Concerts by the Bay, San Diego, CA, USA TICKETS VIP*
Jul 25 The Pacific Amphitheatre, Costa Mesa, CA, USA TICKETS
Jul 27 Chukchansi Gold Resort and Casino, Coarsegold, CA, USA TICKETS VIP*
Jul 28 Snoqualmie Casino, Snoqualmie, WA, USA TICKETS VIP*
EUROPE
Aug 9 Sildajazz International Jazz Festival, Haugesund, Norway TICKETS
Aug 11 Summar Festivalurin, Faroe Islands, Denmark TICKETS
Aug 14 Calle de la Plaza do Toros, Alicante, Spain TICKETS
Aug 16 Tio Pepe Festival, Jerez de la Frontera, Spain SOLD OUT!
Aug 17 Plaza do Toros de Ubeda, Úbeda, Spain TICKETS
Aug 18 Cap Roig Festival, Palafrugell, Spain SOLD OUT!
Aug 20 Kunstrasen Bonn Gronau, Bonn, Germany TICKETS VIP*
Aug 21 Open-Air Parkbuhne im Clara Zetkin Park, Leipzig, Germany TICKETS VIP*
Aug 23 Stadtpark Open Air, Hamburg, Germany TICKETS VIP*
Aug 24 Amphitheater, Hanau, Germany TICKETS
Aug 25 Seaside Festival, Spiez, Switzerland TICKETS
Aug 26 Weserwiesen Open-Air, Beverungen, Germany TICKETS VIP*
Aug 28 Musical Theater, Bremen, Germany SOLD OUT! VIP*
Aug 29 Giebener Kultursommer, Giessen, Germany TICKETS
Aug 31 Sauerlandpark, Hemer, Germany TICKETS
Sept 1 Rosengarten, Mannheim, Germany TICKETS VIP*
Sept 2 Zeltfestival Ruhr, Bochum, Germany TICKETS
Sept 4 Kurpark Classix, Aachen, Germany TICKETS
Sept 6 Kultur & Kongresszentrum Liederhalle, Stuttgart, Germany TICKETS VIP*
Sept 7 Munich Philharmonic, Munich, Germany TICKETS VIP*
Sept 8 Berlin Tempodrom, Berlin, Germany TICKETS VIP*
CANADA and USA
Oct 26 Grand Theatre, Québec, Canada SOLD OUT! VIP*
Oct 27 TD Place, Ottawa, Canada TICKETS VIP*
Oct 29 Theatre St-Denis, Montréal, Canada TICKETS VIP*
Oct 30 Place des Arts, Montréal, Canada SOLD OUT! VIP*
Oct 31 Theatre St-Denis, Montréal, Canada TICKETS VIP*
Nov 2 Casino Rama Resort & Casino, Rama, Canada TICKETS (on sale June 16)
Nov 3 Casino Rama Resort & Casino, Rama, Canada TICKETS (on sale June 16)
Nov 6 Potawatomi Hotel & Casino, Milwaukee, WI, USA TICKETS VIP*
Nov 7 Potawatomi Hotel & Casino, Milwaukee, WI, USA TICKETS VIP*
Nov 8 Potawatomi Hotel & Casino, Milwaukee, WI, USA TICKETS VIP*
Nov 9 Potawatomi Hotel & Casino, Milwaukee, WI, USA TICKETS VIP*
Nov 12 River City Casino & Hotel, St. Louis, MO, USA TICKETS VIP*
Nov 13 River City Casino & Hotel, St. Louis, MO, USA TICKETS VIP*
Nov 15 Grey Eagle Resort & Casino, Calgary, Canada TICKETS VIP*
Nov 16 River Cree Resort & Casino, Enoch, Canada TICKETS VIP*
Nov 17 River Rock Casino Resort, Vancouver, Canada TICKETS VIP*
Nov 18 Hard Rock Casino, Vancouver, Canada TICKETS VIP*
Roger on tour: https://www.youtube.com/watch?v=WMLNeSbtVN0