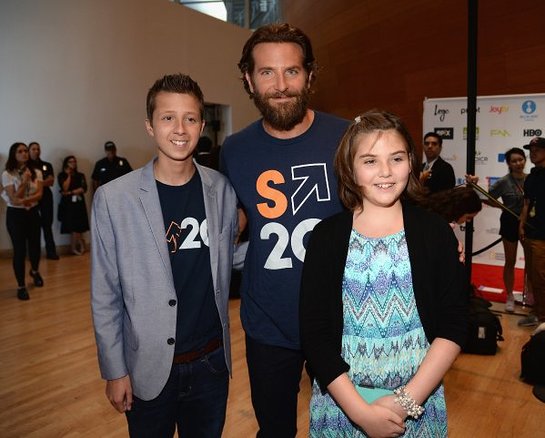 The entertainment community is coming together for Stand Up To Cancer (SU2C) and its sixth biennial roadblock televised fundraising special, supporting urgently needed research and new treatments for cancer.
With a dazzling array of top talent, the show will air Friday, Sept. 7 (8:00-9:00 p.m. EDT/PDT, 7:00-8:00 p.m. CDT), marking 10 years since the first telecast and 10 years of lifesaving research achievements by SU2C.
Bradley Cooper, Academy Award®-nominated actor, will return as co-executive producer along with the renowned live-event producing team Done + Dusted, working again with the Stand Up To Cancer production team, after a successful partnership for the 2016 telecast.
The live telecast will broadcast from Los Angeles. As in years past, ABC, CBS, FOX and NBC, along with AUDIENCE Network, Bloomberg TV, Bravo, Discovery Life, E! Entertainment, EPIX, Escape, ESPNEWS, FM, Freeform, FS2, FXM, FYI, HBO, HBO Latino, ION Television, Laff, Logo, MLB Network, MTV2, Nat Geo WILD, SHOWTIME, Smithsonian Channel, STARZ, STARZ ENCORE, STARZ ENCORE ESPAÑOL, TNT and WGN America, are donating one hour of simultaneous commercial-free prime time for the telecast, with additional networks to be announced. The entire telecast will also be available to stream live and on demand on Hulu.
For the third time, Stand Up To Cancer Canada will simultaneously broadcast a Canada-inclusive telecast across four major English-language Canadian broadcasters: CBC, City, CTV and Global, as well as Canadian services AMI, A.Side, BBC Earth, CHCH, CHEK, Cottage Life, Fight Network, Game TV, HIFI, Hollywood Suite, Love Nature, Makeful, NTV, OUTtv, Smithsonian Channel Canada, T+E and YES TV, in addition to streaming live on the CBC TV App, cbc.ca/watch and CBS All Access, and available on demand on TELUS Optik TV in Canada.
"It was truly inspiring to be part of the 2016 Stand Up To Cancer telecast and to stand beside Mitch Carbon, whose life was saved by participating in a clinical trial," said SU2C co-executive producer Bradley Cooper. "I am proud to return as co-executive producer to highlight the ten years of impact Stand Up To Cancer has made in cancer research." Carbon, a pediatric cancer survivor, benefited from treatment he received in an SU2C–St. Baldrick's Foundation Pediatric Cancer Dream Team clinical trial.
Hundreds of celebrities have supported the SU2C biennial telecasts over the past 10 years; and names of participants, as well as musical performers for the 2018 telecast, will be announced in the weeks leading up to the telecast. Stars who have taken part in the previous five SU2C telecasts include Gwyneth Paltrow, Julia Roberts, Seth Rogen, Denzel Washington, Emma Stone, Samuel L. Jackson, Tom Hanks, Ken Jeong, Michael Douglas, Matt Damon, Halle Berry, Justin Timberlake, Jessica Alba, Robert Downey, Jr., Jon Hamm, America Ferrera, Taylor Swift, Anna Kendrick, Ben Stiller, Kerry Washington, Viola Davis, Kristen Wiig, Ed Helms, Sofia Vergara, Dave Franco, Matt Bomer and Sonequa Martin-Green. The 2016 telecast featured musical performances from Celine Dion, Charlie Puth, Alessia Cara and Gallant, as well as Dierks Bentley, who was joined by Keith Urban and Little Big Town.
Following five historic fundraising telecasts, the 2018 telecast is especially significant for SU2C, as it will commemorate 10 years of raising awareness and funds for groundbreaking cancer research that is helping to save lives now.
More than $480 million has been pledged over the past 10 years in support of SU2C's innovative cancer research. Work by SU2C researchers has contributed to FDA approval of five new cancer treatments.
The organization has brought together more than 1,500 of the best scientists from over 180 leading institutions to work together on 24 of Stand Up To Cancer's signature "Dream Teams," among a total of 79 team science grants and awards, whose research is aimed at ending cancer's reign as a leading cause of death worldwide. SU2C-funded researchers have planned, launched or completed more than 180 clinical trials involving over 12,000 patients.
SU2C's vast scientific program is overseen by a blue-ribbon Scientific Advisory Committee of top researchers, and most grants are administered by SU2C's Scientific Partner, the American Association for Cancer Research (AACR), the world's first and largest professional organization dedicated to advancing cancer research.