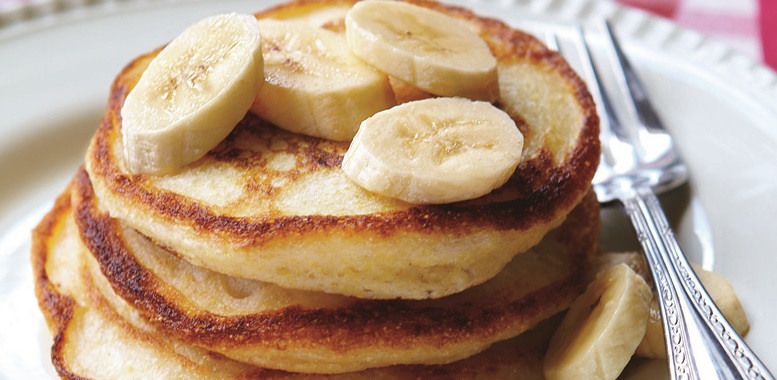 Dole is celebrating the premiere of AVENGERS: INFINITY WAR with some fun and healthy "Powering the Hero from within" recipes. From T'Challa Teriyaki Kabobs and Vibranium Lasagna for Black Panther to Arc Reactor Latkes and Stark Industries Banana Pie Oatmeal for Iron Man.
We're gonna flip it with FIRST AVENGER FLAPJACKS for Captain America:
WHAT YOU NEED:
Pancake Mix:
5 cups all-purpose flour
1 cup cornmeal
2 tablespoons sugar
1 tablespoon baking powder
1-1/2 teaspoons baking soda
1-1/2 teaspoons salt
For the Pancakes:
2 cups low-fat buttermilk
1/2 cup liquid egg whites
2 tablespoons canola oil, plus more for skillet
2 cups Pancake Mix (above)
2 large DOLE® Bananas, sliced

WHAT TO DO:
TO MAKE THE PANCAKE MIX:
COMBINE the flour, cornmeal, sugar, baking powder, baking soda and salt in a large container with a tight-fitting lid. Shake to mix. Use within 2 months.
TO MAKE THE PANCAKES:
WHISK together the buttermilk, egg whites, canola oil in a large bowl. Add the pancake mix and stir to combine (don't worry about getting all the lumps out).
BRUSH a nonstick griddle or large nonstick skillet with canola oil and heat over medium-high heat. Check to see that the griddle is hot by placing a few drops of water onto the cooking surface. The griddle is ready if the water dances across the surface.
LADLE batter onto griddle (about 24 small pancakes). Gently flip when bubbles begin to set around the edges of the pancakes. Continue to cook 2 to 3 minutes or until the pancake is set. Repeat until all batter is used.
Serve topped with banana slices.
For more recipes and nutritional facts visit: https://www.doleliving.com/en/recipe/first-avenger-flapjacks/